Expert Advice for Staying Safe in the Summer Sun
Give Your Skin a Sun-Safe Season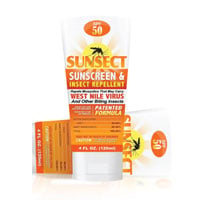 We aren't called the Sunshine State because of Floridians' cheery dispositions. While those brilliant rays may have granted our state its motto, the evidence of their detrimental effects can be found written on the skin of local sun-worshipers and cautious folks alike.
And it's not just the "young at heart" who should be concerned — the actions people take as children, teens and young adults can leave them vulnerable to sun-inspired cancers decades later in life.
The real objective in the battle of fun vs. safety is balancing sun exposure with a health-conscious regimen — one is worth little without the other. In order to do exactly that, dermatologist Dr. Marc J. Inglese (a Tallahassee native affiliated with Dermatology Associates of Tallahassee) lays out three-step approach to ensure that this summer your skin won't have to pay the price of having a little extra fun.
1. Shade "The first and foremost line of defense in sun protection is always shade."
The sun is at its brightest from 10 a.m. to 3 p.m. If your day's plans include outdoor activity during this particular time slot, (and let's face it, they probably do), then consider bringing an umbrella with you or hanging under the awning. There's no shame in staying (or looking) cool. It's a decision both your skin and loved ones will thank you for. Plus, you still get to join in on the festivities, just from a more temperate vantage point.
2. Sun Protective Clothing "Sun protective clothing is foolproof — it doesn't wash off and you don't have to reapply."
While fascinators might be big in the UK, they haven't quite made it across the pond just yet and frankly, the tiny, feathery headpieces aren't all that practical. But a fashionable summer hat can bring a touch of vintage charm to your ensemble (fellows, try an exaggerated fedora, circa 1920s; ladies, look for a wide-brim hat with a floppy silhouette), as well as adding an extra level of protection to your skin on a hot day.
Before your next beach trip, be sure to add these items to your checklist: wide-brim hat, UPF shirt, UV protection sunglasses and a long, but loose-fitting coverup.
3. Sunscreen "Sunscreen should only be your third line of defense, after shade and sun protective clothing. It's not foolproof. It washes off whenever it gets wet. Even more importantly than that, is that no one puts sunscreen on the way it's intended."
Sunscreen … you hated it as a kid and, if truth be told, you're probably not a fan now. The good news is you may not have to be. According to Dr. Inglese, the only surefire way to successful use sunscreen is to glop it on in an exceptionally thick and downright icky manner, and to do so often.
If the chalk-white nose, cartoon-tourist style isn't quite the look your after, bump up steps one and two and opt for a higher strength SPF — 80-plus. The increase of strength will make what you do put on that much more effective.
---
Double Duty
When it comes to Sunsect, it's a sunscreen and an insect repellant. Developed in 1993 by a team that included Thomasville physicians Dr. Ed Hall, Dr. Steve Johnson and Dr. Alan Waller, the SPF 50 product first used by the military is now available to the public. Usually, when sunscreen and insect repellent are used together, they cancel each other's beneficial effects. With Sunsect, the bug-repelling DEET is encapsulated in an emollient, causing it to evaporate slowly without breaking down the sunscreen components. Easy-to-carry 2-ounce tubes of Sunsect are available locally at Kevin's Fine Outdoor Gear and Apparel for $6.95.