Experience the Natural Beauty of Door County, Wisconsin
Plus there is plenty of delicious cheeses, cherries and more to gorge on.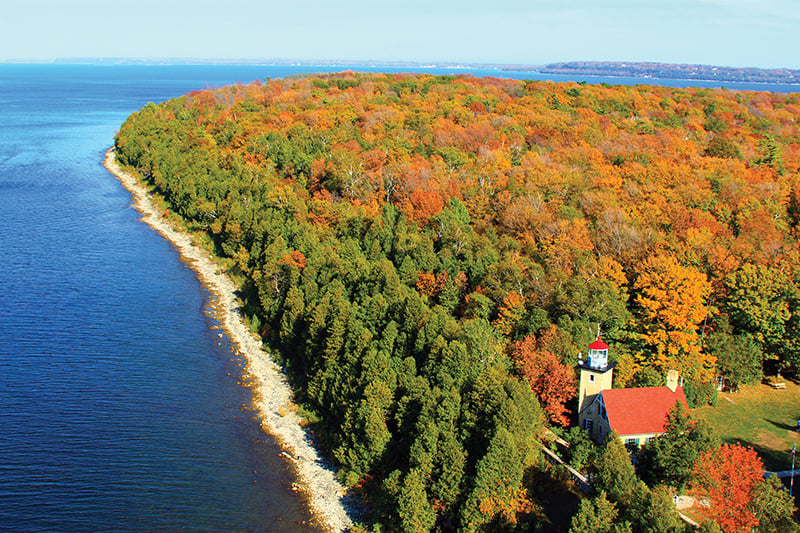 In between bites of cherry walnut cream cheese, bacon maple bourbon-glazed tenderloin and the cheesiest of tater curds, I discovered Door County, Wisconsin, and its inner workings, beautifully woven together.
Every restaurant, shop and winery exhibited local pride and neighborliness. Resting between Green Bay and Lake Michigan, this community and its love for cheeses and cherries welcomes guests with an open, you guessed it, door.
Nestle in at the Beachfront Inn
Nothing screams "Good morning!" like tossing the blanket aside, stepping into my slippers, ripping open the drapes, and feasting my eyes on the views given to me outside my window. Baileys Harbor's Beachfront Inn hosted me in a second-floor room overlooking Lake Michigan, a body of water I had never dipped my toes in.
With an early morning wake up call, I groggily peeked out of my window to see the sun's dewy light waking up the lake's waves — happily noticing the American flag at the end of the dock waving me hello.
Closed during the winter season, but proudly flicking on the "No Vacancy" sign in the spring, it is no surprise the Beachfront Inn books up. Once I pried myself away from the window view, I braced for the May Wisconsin weather — AKA chilly — and went out to enjoy the inn's front lawn.
Closing the door behind me, I found I had stepped into a Wisconsin paradise. Bordered with bright yellow and pure white daffodils, the Beachfront Inn welcomes its guests with a floral ambiance.
Facing the lake sat blue and yellow lawn chairs, perfectly contrasting with the crisp, green grass and the sparkling water. I could have lounged on the lawn all day and been perfectly content. But I had other Door County adventures to embark on and lots of cheese to eat.
Cheese, Cherries and More Cherries — Oh My!
My whole life I've been convinced I was incapable of being full, even after a big meal. Whether that's a blessing or a curse, I'm not sure. But what I am sure of is I have never been as full as I was during my time in Door County.
They aren't afraid to serve up some carbs, which are my personal favorite. During my stay, I had the pleasure of ordering off the menu from a wide array of dining experiences.
Nestled in a booth inside The Harbor View Grill, I tasted a menu filled with the love of not only the two-man show running the restaurant, but other local vendors as well. What used to be an automobile shop, this restaurant takes pride in their family-styled, local cuisine, multiple course meals.
Gathering cheese from Renard's and succulent white fish from Charlie Henriksen Fisheries, I indulged in their dishes. From appetizers featuring cream cheese with cherry walnuts and dried cherries, homemade hummus with a dash of hot sauce, and Door County cherry salad with a homemade cherry vinaigrette, I was sold.
For the meat lovers, don't leave Harborview Grill without salivating over their tenderloin. The cherry pork tenderloin, basted in a decadent sauce and topped with a cherry, had me wanting more.
Established in 1896, the White Gull Inn Bed and Breakfast is a staple spot for the most important meal of the day. In fact, the White Gull Inn was deemed the winner of Good Morning America's Best Breakfast Challenge.
To say I had high expectations was an understatement. Sipping on my morning coffee, eyeing an informative placemat offering literature on the history of the White Gull Inn, I ordered the famous, medal-adorned Cherry Stuffed French Toast. Placed in front of me was a plate full of toasted bread, filled to the brim with Wisconsin cream cheese, topped with tart cherries and powdered sugar.
For a fine dining experience, with some casual cheese grazing, the Glacier Ledge restaurant doesn't disappoint. Located right off the highway, this new eatery stops travelers with a cheese craving.
While waiting for your table, feel free to scope out the wide array of meats, cheeses and wines offered in the shop next door. Unbeknownst to me, the cheese is made directly beneath my feet — in a cheese cave. The elevator took me underground where a stone hallway allows you to look into different rooms, displaying different aging cheeses, all at different temperatures.
Once seated at the table I splurged on multiple charcuterie boards, allowing time to savor each and every cheese.
To round up my restaurant visits, across the street from the water sits the Old Post Office Restaurant — a historic spot famous for their fish boils. Behind the restaurant sits a large cauldron filled with boiling water. I watched the Boil Master toss in red potatoes, onions and Lake Michigan white fish into the pot —waiting for the large flames and the infamous "boil over".
Served buffet style, the whitefish and vegetables are served with homemade bread and cherry pie alamode. The freshly cooked, "pot to table" meal is so filled with tradition you'll feel like a local.
No Whining at the Wineries
Laughtenbach's Orchard Country Winery & Market is truly what dreams are made of. Bushels of white cherry blossoms bloom in rows, filling up 100 acres of Wisconsin land.
Operating as a family affair, owner Bob Laughtenbach and his two daughters run the business. In fact, an abundance of grape wines are named after Bob's grandchildren — Lauren Elizabeth, for example, is a Pinot Grigio and pairs best with grilled shrimp.
On the winery's tour and tasting, I got a firsthand look into the history and background regarding the monumental aspects of opening up a winery, and the now operation of Laughtenbach's wine making.
Tasting the wine amidst two rooms filled with machinery made my visit an authentic one. Oh, and don't forget to practice your pit spittin' skills at the Cherry Pit Spit.
With wines titled Call Me a Cab, Gimme One Good Riesling and Carmen's Last Dance, Harbor Ridge Winery adds flare and humor to their signature beverages. Claiming they're "solving the world's problems one sip at a time," this winery offers comfort and a buzz when you step through the door. Waltzing upstairs and watching the bustling shop below, the owner excitedly poured dozens of red, white and fruit wines — many of which are award-winning.
Even if you aren't a fan of wine, Harbor Ridge's owner and wife are reason enough to shop around in their market. Their love for their work is truly inspiring and shines through each pour and drop.
Wilderness in Wisconsin
Door County, Wisconsin, has so much earthy land to explore, and Door County Trolley, Inc., gave me the opportunity to enjoy the hidden treasures of the area. Owner AJ Frank and his scenic tour business has been operating since 2000; to fully immerse himself into his company, each trolley is named after one of his kids.
The trolley allowed me to overlook breathtaking bluffs amidst Peninsula State Park and provided informational tidbits regarding Door County. For an added twist, bring on a cherry mimosa offered in Door County Trolley's shop.
And while there's plenty of adventuring on land, the waters surrounding Door County beckon locals and tourists. Kayak anyone? Unfortunately, I was unable to kayak near historic caves and bluffs due to inclement weather, so instead I kayaked through Mud Lake in Baileys Harbor with the Door County Kayak Tour group.
After maneuvering through a winding stream amongst willows and grasses, the lake opens up into a wide, open body of water. Adorned with lily pads and bordered by tall pine trees, the lake reels you in — making it hard to kayak back to shore.
Admittedly, I believed if I'd seen one lighthouse, I'd seen them all. That was until I walked the 97 steps in the Cana Island Lighthouse. Surrounded by Lake Michigan, this lighthouse is still active today and is a rare lighthouse that still uses the original lens.
The amount of history within the walls of the lighthouse as I walked up the steps was a truly authentic experience. I imagined myself as a lighthouse keeper, carefully making my way up the spiral staircase, hoping to lead ships back home.
The balcony surrounding the lighthouse acts as a reward for climbing the steps, granting visitors spectacular views of Lake Michigan and the sounds of waves crashing on the shore.