Exercise Makes for Healthy Cats and Dogs
Preventive health care is not a lot different for dogs and cats than it is for people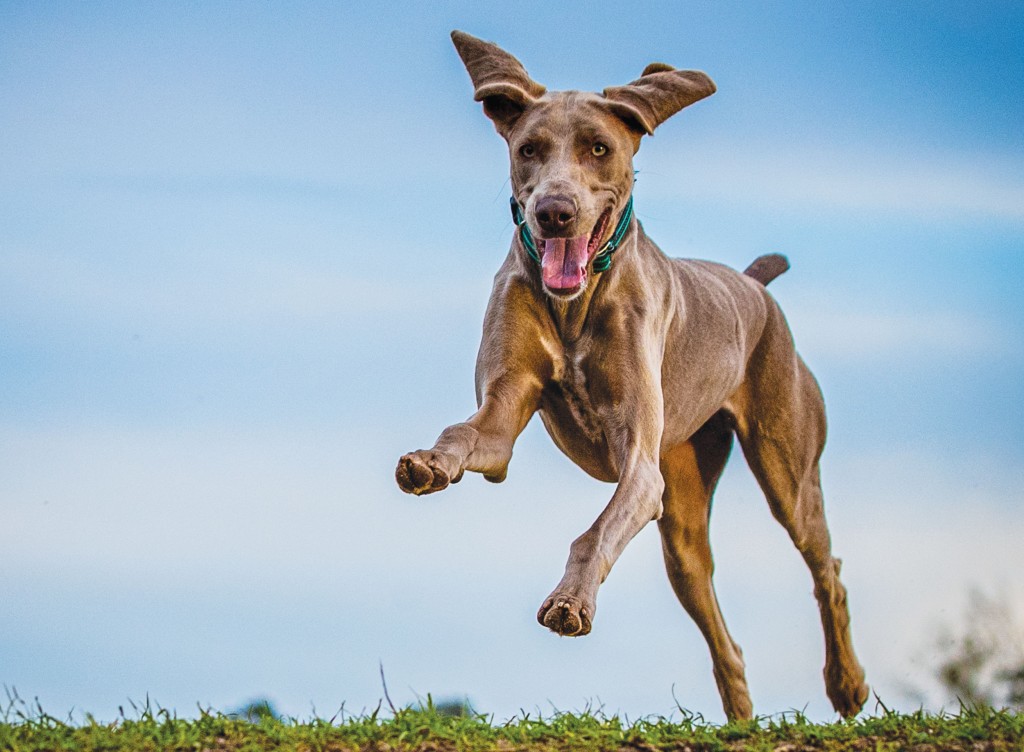 Having a pet is a long-term commitment. That wiggling ball of fur you bring home as a puppy or kitten will most likely spend its entire life, up to 15 or 16 years depending on the breed, with you. It's your responsibility to give that pet the best life possible.
Veterinarian Shane Burkhead at North Florida Animal Hospital said, "Preventive health care is not a lot different for dogs and cats than it is for people. It's all about being proactive — having them examined on a routine basis by a doctor. Pet owners are doing a better job of noticing things and bringing them to our attention, and we're doing a better job of doing blood work and searching for issues. I think all of that gives today's pets a real shot at a long, active life."
"Proper maintenance will eliminate 90 percent of the health issues your pet would otherwise face." — Margaret Hankley, DVM
A visit to the vet, at least annually, also ensures the pet is getting the vaccines and parasite screenings it needs and sets pet owners up to provide proper flea, tick and heartworm prevention.
But what you do at home is as important as routine vet visits.
Dogs and cats need exercise to burn calories, stimulate their minds and stay healthy. Exercise also helps pets avoid boredom, which can lead to destructive behaviors and anxiety issues. Supervised fun and games will satisfy many of your pet's instinctual urges to dig, scratch, herd, chew, retrieve and chase.
Bradfordville Animal Hospital's Margaret Hankley, DVM, said, "Even cats, to keep them from turning into Garfield, you always want to make sure they're getting proper exercise. Just like with us, if you're just sitting in the same spot day in and day out, it's not good for your body. It's not good for your mind."
"Dogs require a lot more exercise than we would expect because they have the stamina to go for a long time," Burkhead said. "When they're in shape, they can cover a lot of ground, and it's probably more than we would ever want to try to tackle on a normal walk.
"You take a hunting dog or working dog, for instance, that is out in the field every day running back and forth, covering maybe six or seven miles in a single hunt. That's the kind of distance we're talking about to keep them in shape."
Added Burkhead, "Your average dog sitting in the house on the couch gets excited and runs around the backyard when you come home, and you maybe throw the ball a few times. That's just not enough."
The other half of keeping a pet at a healthy weight is proper nutrition.
"One of the biggest issues we run into is people overfeeding their pets," Hankley said. "Pet obesity is almost the norm now. I see more overweight or obese pets than I do pets that are the appropriate weight."
Burkhead said people feed their pets recommended amounts and think it doesn't look like enough. But, he said, sedentary house pets don't need a lot of food.
Hankley said to be careful about the type of food you buy. She says there is a lot of trendy food being marketed that's not always in your pet's best interests. She suggests asking your vet for recommendations based on the pet's needs and your budget.
And then there's grooming. Most dogs don't need to be bathed more than a few times a year. Hankley said if you bathe your pet more often, make sure the shampoo doesn't contain harsh chemicals. Frequent brushing also keeps your pet clean and reduces shedding. Check for fleas and ticks daily.
Veterinarians also now recommend brushing your pet's teeth.
That can be challenging when you're looking at the long, sharp teeth of an unwilling German Shepard, but Burkhead said the trick is to start them young.
"Dental hygiene is hugely important because the older they get, the worse their teeth get, which leads to trouble," he said. "It's a constant source of bacteria in their mouth. The area between the gum and the tooth is the most biologically active area in the entire body. Whenever they chew their food, they crunch and disrupt vessels in the gums. Bacteria gets in the bloodstream and circulates throughout the body, which, over time, can cause kidney failure or heart murmurs."
He suggests that when you're cuddling with your pet at night, get in the habit of grabbing the toothbrush and pet toothpaste — it's flavored and supposedly tastes good. Over time, Burkhead said, pets start looking at brushing sessions as a treat and a bonding time.
"If you can do it even once a week, anything to help get rid of some of the plaque in the mouth, it's going to be hugely beneficial," Burkhead said.
Hankley summarized things. "Proper maintenance," she said, "will eliminate 90 percent of the health issues your pet would otherwise face."