Everything You Should Probably Know About Beekeeping
A few common questions answered by those who know best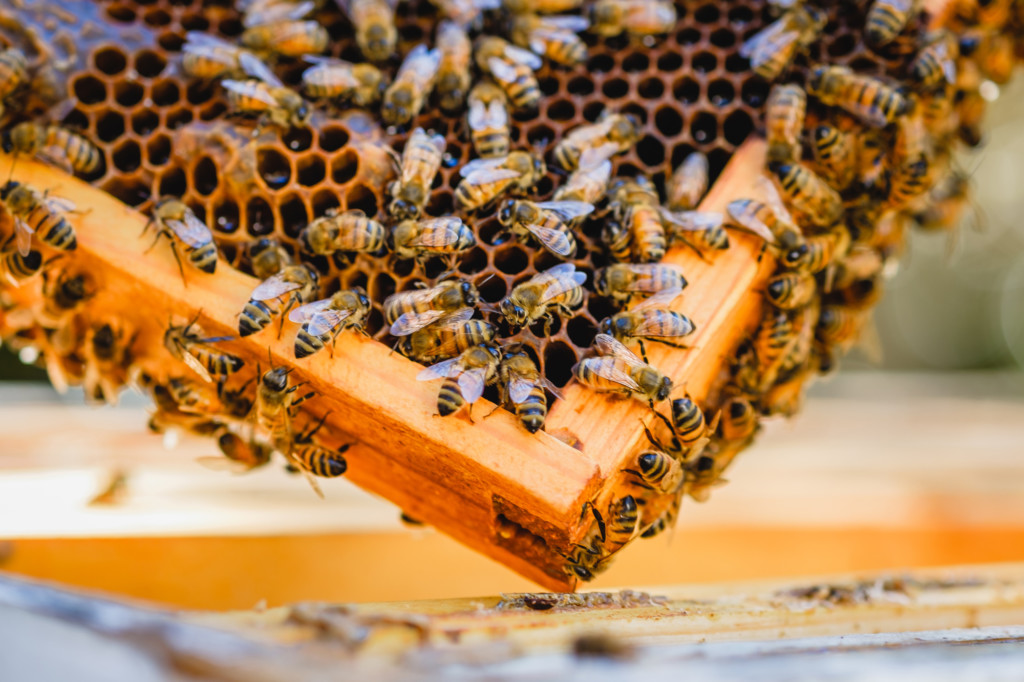 How to Get Started
Beekeepers cite a cost range of about $300 to $600 to get started in beekeeping.
That includes wooden boxes with a frame, the foundation and a stand; protective clothing that includes a suit, a veil and gloves; and various tools and gadgets including a smoker, which beekeepers use to calm their bees.
Some beekeepers recommend starting with a "baby bee hive," in which you purchase a three-pound package that holds thousands of bees, including a queen, and dump it into the home that you've bought or built for them.
If all goes as it should, you'll soon have a functional and productive hive that numbers in the tens of thousands.
Yes, you must buy the bees.
"You'd be surprised at how many people think you just put a box out there, and the bees are going to come," said Tony Hogg, owner of Full Moon Honey in Monticello and former president of the Florida State Beekeepers Association.
North Florida beekeepers know Hogg as a leading advocate of bees and a protector of them, including for his efforts to help beekeepers southwest of Tallahassee keep their hives fed and intact after Hurricane Michael.
You can find bees and bee equipment for sale online or in the Tallahassee area. You can start with the Apalachee Beekeepers Association (ABA@beekeepers.org) or with the Tallahassee Beekeeping Meetup Group (meetup.com), which in late December boasted more than 400 members. It meets monthly.
Beekeepers urge newcomers to attend a daylong introductory course that the Apalachee Beekeepers Association conducts around each spring.
Otherwise, they say, join the association or the meetup group.
At the very least, ask around. Beekeepers love to help beginners.
Beekeepers also recommend starting with at least two hives.
Once you start observing and learning, they say, a second hive will help you spot differences in the hives that might signal a problem in one of them.
State Registration
Whether you're keeping one hive or hundreds of them, you must register with the Florida Department of Agriculture and Consumer Services.
The law also requires that you keep European honeybees, which state and industry officials consider less defensive than their African cousins.
You can apply online with the Department of Agriculture and Consumer services. The fee is $10 for up to five colonies. A colony refers to the group of bees that occupies one hive.
Shortly after registration, a state apiary inspector will visit and inspect the colonies for bee diseases such as American foulbrood and pests such as the Varroa mite and the small hive beetle, all of which can result in a hive's destruction.
The inspector also will require a water source for the bees.
In addition to pollen and nectar, the later of which they store in their stomachs and eventually help turn into honey, bees forage on water, said Brandi Simmons, a specialist in the apiary inspection section of the state Department of Agriculture and Consumer Services.
Bees will visit the closest water source, so you want to keep them away from your neighbor's bird bath or pool, she said.
These considerations underscore the time you'll have to spend with your bees to keep the hives healthy and to prevent the bees from leaving, beekeepers say.
"There's a lot of land mines out there … pests, beetles, mites — a lot going on," said James Rish, owner of Rish Tupelo Honey in Wewahitchka. "It's like being a plumber; it's a four-year apprenticeship."
That includes recognizing signs of an imminent swarm — that is, when the queen leaves the hive with a large group of worker bees and forms a new colony — and knowing how to prevent it, Tallahassee beekeeper Michael Callan said.
Callan said he found it difficult to say precisely how much time he spends with his bees but emphasized that they require constant monitoring and, when necessary, adjustments.
"You have to be around a lot of the time," he said. "You can't just go off for two months or ignore them for two months, because they won't survive or they'll just leave."
"You have to be committed," he added. "And you have to care about it."
Local Laws
A spokesman for the city of Tallahassee said he could find no ordinances or restrictions regarding beekeeping in the Capital City.
Check with your neighborhood or homeowners association on rules. Just as importantly, check with your neighbors on how they feel about it and whether relations could become sticky.
Some beekeepers keep their hives outside of town, on property of family or friends and away from their neighbors.
Yet beekeepers emphasize a lack of risk to everybody.
Many say they've rarely if ever been stung. "The last thing a bee wants to do is sting you," beekeeper Lisa Lazarus said.
Because of its barbed stinger, a honeybee loses a chunk of its body — and its life — upon pulling it out of a human.
That's not to suggest that honeybees know that their sting will kill them. Regardless, Lazarus said, "I have found them to be very reasonable."
"Bees aren't going to sting because they see a human," said Brandi Simmons, a specialist in the apiary inspection section of the state Department of Agriculture and Consumer Services.
"They are only going to sting when they're defending their home or resources."
Taste Depends on the Place
So whose honey is the best?
"I don't mean to brag," said Shelly Hatton of Indianhead Acres, referring to husband Michael Callan's honey, "but everyone says it's the best honey they've ever tasted."
And here we thought Tupelo honey was supposed to be the best.
Then again, we're talking about beekeepers, who love their bees and defend their honey-making honor.
The flavor and color of honey vary depending on the plants, blossoms and nectar in a hive's neck of the woods or neighborhood.
Tupelo honey, for example, is the product of the blossoms of the tupelo gum tree, and it's known for its greenish cast, slower crystallization and distinctive taste.
Tupelo schmupelo, some might say.
"I would put my bees up against Tupelo any day of the week," said Rick Flagg, of Frenchtown Beez.