Tim Dorsey Brings Murder and Mayhem to Sopchoppy
As a writer of Florida novels, Tim Dorsey keeps 'serging'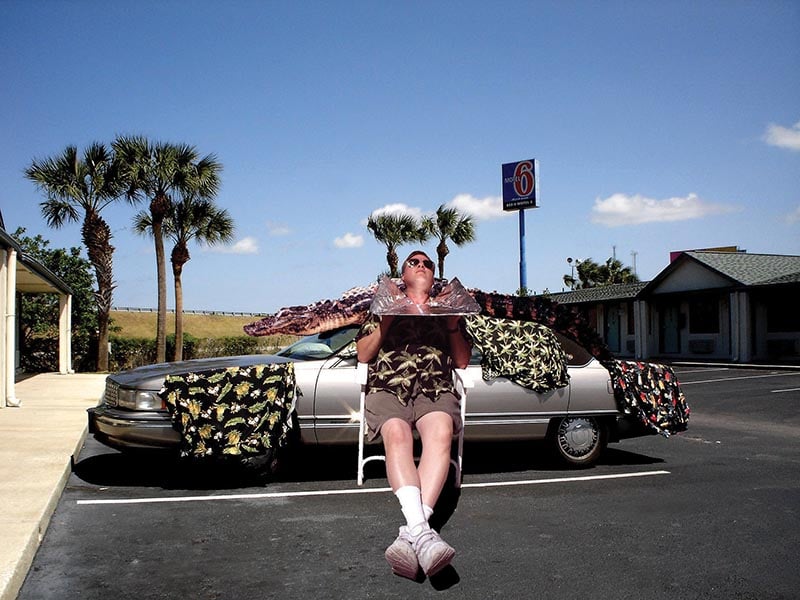 When Rafael Nadal won his 10th French Open tennis title in June, John McEnroe asked him if he ever fears that his latest win in a major tournament will be his last.
Nadal confessed to no such fear.
Tim Dorsey is built differently, way differently, and produces titles of a different sort. In April, he ambled to the front of an upstairs room at The Edison restaurant in a gaily colored print shirt festooned with cocktails, shorts that struggled some to do their essential work, crew socks, Velcro-closure shoes and a boyish haircut that positively said mischievousness.
Dorsey, from downstate, was in town to address adoring fans as part of the Word of South Festival on a day that coincided with the Worm Gruntin' Festival in Sopchoppy. It is doubtful that attendance at the latter much affected turnout at the former. The crowds are distinct, although Sopchoppy figures prominently in Dorsey's latest novel, Clownfish Blues.
Dorsey began his speech by photographing his audience with his phone, something he does routinely, explaining that he likes to document all of his book tours, not knowing if there will be a next one. As he did so, he told a story about a couple for whom attendance at a stop on one such tour changed their lives.
He photographed that audience, too, later posting the group shot on Facebook. There, easily recognized in the image, was the couple, both of who were married at the time, just not to each other.
When their other halves discovered the photo, two divorces ensued and the Dorsey fans, encouraged surely by their mutual interest, got hitched. Here, then, was the kind of anecdotal stuff that one would expect from Dorsey. Of such stuff, his novels are stitched.
When he affords himself a few days away from the keyboard, one-time journalist Dorsey likes to travel the back roads of Florida with a camera, collecting shots of places that may figure in a future book.
For him, he said, writing is like method acting. Employing the vocabulary of acting coach/pioneer Konstantin Stanislavski, he said it is important to "experience" a place before attempting to "represent" it in print. To wit, the gymnasium in Sopchoppy, built in Spanish Mission style from native lime rock in 1935 as a Works Progress Administration project. The rocks, rather than uniformly hewn, were pieced together in the fashion of a stone chimney. The gym hosts monthly performances of the Sopchoppy Opry, and you can rent it yourself for 200 beans a day.
We encounter the gym early in Clownfish, on page 12, where it is likened to the Alamo. A few pages later, Dorsey's recurring protagonist, Serge A. Storms, escorts a local woman, Lou Ellen — whom he meets at the Sopchoppy Grocery sizing up zucchinis — to the idle facility. Serge picks a lock, throws back a bottle of malt liquor and consummates his minutes-old relationship with Lou Ellen at midcourt.
Dorsey's novels move quickly, and Serge is hard to resist.
Clownfish has much to do with a scheme to game the state lottery, but it passes through North Florida, as many Dorsey novels do, and its stops in Sopchoppy, Port St. Joe and the Apalachicola National Forest are sure to engage Tallahassee readers.
Serge, who can be relied upon to devise fabulously elaborate ways to dispatch bad people who capitalize on the frailties of the vulnerable, resists the term, "serial killer."
"Serial killers are sick, pathological," Dorsey said. "Serge is a sequential killer. He detests bullying and dispatches scam artists and low-lifes who will not listen to reason. He lives in Florida, so he is kept very busy."
They all die slowly.
The enterprising Serge carries worm grunting to a new level, setting aside stob and rooping iron in favor of a sound system that he buries in the ground and cranks up with the bass on full. It is enough to drives buckets of crawlers from the ground — and centipedes, snakes and small mammals.
Dorsey, who favors hotels that include a numeral in their name, is not always content with things as they are. He tells the story of the time that he dickered with a hotel maintenance man who had air-conditioning units set at 72 degrees. Dorsey prefers 65.
As a product of difficult negotiation, the hotel staffer lifted the cover off the unit in Dorsey's room, punched buttons, and 72 became 69. Dorsey wasn't satisfied.
Left alone, he closely examined the unit, whose model number he has memorized, and decoded it.
Turning to his audience at The Edison, Dorsey brandishes and displays his phone. On the screen is a photo of a thermostat. It reads 60.
Dorsey is as proud as Serge would be standing over a shyster staked out over a fire ant bed.