Ethnic Grocery Stores Provide Exotic Ingredients for International Dishes
A Taste of the World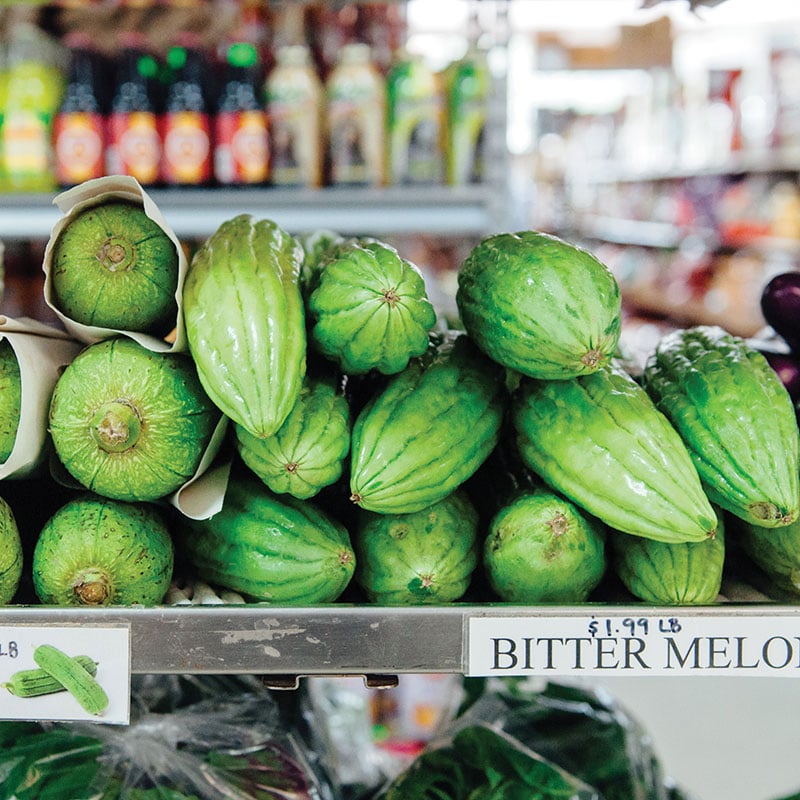 Tallahassee has become increasingly multicultural, and its palate has expanded along with its demographic makeup. The marketplace has responded to the demand, and ingredients once deemed exotic and hard to obtain in North Florida can be found every day and in many places.
Mike Nguyen remembers when his parents opened their first store on South Magnolia Drive almost 30 years ago, at a site later occupied by The Catfish Pad and now home to Mayuri Indian Restaurant. Mike's Oriental Market was one of the first Asian food stores in Tallahassee — one of the first ethnic grocery stores of any kind — and the cilantro in its produce section was familiar to Asian cooks but foreign to most Tallahasseeans.
"Now everyone knows what cilantro is, and you can find it everywhere," Nguyen said.
Cilantro, tamarind syrup, basmati rice and Thai eggplants are among the hundreds of foods that can be found in ethnic grocery stores — and in many supermarkets. Several factors have contributed to the growing interest in ethnic cooking. One is migration from South Florida, which traditionally has been rich in cultural diversity — particularly cultures and cuisines of Latin origin. Over the years, Florida A&M University and Florida State University have attracted international students from around the globe. Tallahassee's Asian population continues to grow, many drawn to the computer and information technology sectors that serve state government.
In addition, Tallahassee is becoming a choice retirement location because of its mild climate, ample health care providers and cultural events. In particular, people who went to college here in the 1960s and '70s choose to return for their so-called "golden years." Many have traveled the world and lived in cities with diverse populations, further expanding their culinary and dietary worlds.
Over the years since the Nguyens first opened Mike's Oriental Market, their business has grown along with Tallahassee's taste for ethnic cuisine. They moved the store from South Magnolia Drive after three or four years to a location on Apalachee Parkway near Capital Circle Southeast, where a CVS Pharmacy now sits. After 10 years, they moved across the Parkway to the shopping center that has been home for more than a dozen years. Their parents retired almost four years ago, and Mike and his brother Kevin decided to expand into the space next door so they could separate the seafood business from the Asian grocery. Kevin runs the grocery, now called Lynn's Oriental Market, and Mike the seafood market, now called Capital Seafood Market.
"It helps move traffic around," Mike said. "We had people coming in just for fish, and this makes it easier for them to get in and out, and people coming in for the market didn't always like the smell of the fish, so this works out for everyone."
So why the name change?
"I have no idea why my parents decided to name it for me in the first place," Mike said with a chuckle, "but Lynn is our mom and the market is named for her. Our crew in the seafood market, some have been with us for 10 or 15 years, and we let them rename it. It's not just Mike, it's all of us, and we're in the capital city, so there you have it."
The overall population of Tallahassee grew from 150,624 in 2000 to 181,376 in 2010. The biggest growth in any single population group was Asian, with Indian almost doubling Chinese to become the largest Asian group. The number of Indian groceries continues to grow, and some established stores have expanded.
Gopi Patel opened India Bazaar in the Parkway Village Shopping Center in 2003. About five years ago, he bought Little India and moved his business to the larger space on Mahan Drive, near the intersection of North Magnolia Drive. The move allowed him to expand his offerings, particularly Middle Eastern foods. While his clientele is primarily Indian and Pakistani, he said his customers come from all ethnicities and races.
"The most popular items are the frozen foods," he said. "Everybody likes ready-made foods."
Earlier this year, Tallahassee got its first Halal butcher shop when Apna Bazar International Grocery and Meat Market opened. Halal means "permitted or lawful" in Arabic, and it refers to food that Muslims may consume under Islamic dietary guidelines. In addition to the ban on pork, pork byproducts and alcohol, Halal requires that animals for consumption be slaughtered properly and humanely and in the name of Allah.
Based in New York with Florida stores in Tampa, Orlando and Jacksonville, Apna Bazar's Tallahassee location is in the Mahan Commons shopping center, on Mahan Drive just west of Capital Circle Northeast.
"A lot of ethnic groceries buy packaged Halal meats for resale, but we cut it ourselves," said manager Qaisar Javaid. A sign at the back of the store, near the door into the butcher room, lists prices for lamb, goat and chicken. The 4,000-square-foot store also features a large grocery section, as well as a colorful produce section when you first enter.
"We serve the Indian community, but a lot of people who aren't Indian come in and ask a lot of questions," he said.
Padma Jambulapati sees her 3-year-old Southern Growers market as more than an Indian market. "We have Indian groceries, yes, but we serve Americans and Chinese, too. Our focus is on vegetables."
Padma's husband, Ravi, drives her to the store, just a few doors down from Lynn's Oriental Market and Capital Seafood Market in Cross Creek Square, six days a week from their farm in Whigham, Georgia, and returns for her in the evening. He farms between 200 and 300 acres of peanuts and 150 acres of cotton, she said, but the 10 acres of vegetables he tends keep the Southern Growers produce bins stocked year-round.
"We are closed on Wednesdays," she said. "That's when we take produce to Atlanta. Then on Thursday, he delivers it to this store about 11 o'clock in the morning."
International students at FAMU and FSU learn quickly upon arrival in Tallahassee where to shop for the ingredients for their native dishes. For Korean students, New Seoul Oriental Market is one of the first stops. With Korean Bar-B-Q next door, the shopping center at 2624 W. Tennessee St. offers both groceries and prepared food. While smaller than some Asian markets, it offers all the basics, and for years it was the only place to buy Korean specialties, students say. Plus, it's the only Asian market on the west side of town, easily accessible to students by Star Metro buses.
Young Sun Lee, a doctoral candidate at Florida State, moved to Tallahassee with her husband in fall 2011. She said she can find the basic ingredients for Korean cooking at New Seoul or Lynn's Oriental Market, and she and her husband drive to Atlanta once or twice a year to buy specialty items.
"Living in Tallahassee, it is somewhat difficult to enjoy Korean food to the fullest," she said.
The number of Latin groceries in Tallahassee appears to have dropped over the past few years. Part of the decline can be attributed to the recession, which forced a number of small businesses to shut down, and part to the increasing availability of Latin specialty foods in mainstream supermarkets.
"I can go to Publix and get everything I need," said Jose de Jesus Fernandez, a native of the Dominican Republic who grew up in the Northeast, lived in South Florida for many years and moved to Tallahassee several years ago. "Dry beans. Canned beans. Cilantro. Frozen yucca. Chorizo. Anything."
His girlfriend, Christine Willingham, added that local shoppers sometimes don't realize how good they have it. She moved to western Maryland last summer and found availability to be limited and prices to be higher, with Haas avocados $2 apiece and saffron available only by the ounce — for $18.99.
"Living here," she said, "you take it for granted."