Environmental Protection and Real Estate Development Were Both Concerns of the John H. Phipps Family
Striking a balance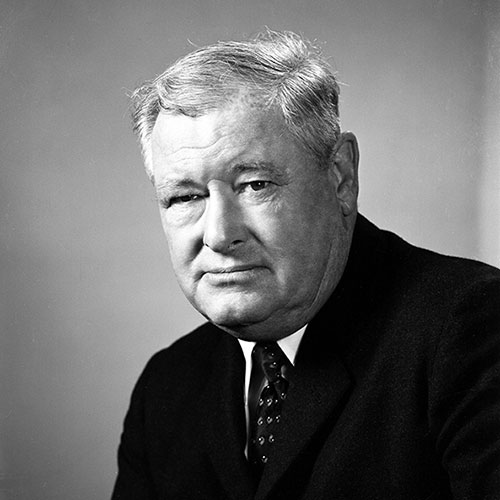 The John H. "Ben" Phipps family is one of the few "Yankee" plantation owners to put their roots down in Tallahassee and become a part of the community.
Through their personal efforts and the Phipps Company they established, cattle raising in Florida was improved, trees in Tallahassee were preserved, the area's first television station was built, and a downtown hotel was renovated, to name but a few of their contributions.
Mrs. "Clippy" Phipps is still active in the Garden Club, Goodwill, the Tallahassee Symphony, St. Johns Episcopal Church, Grey Ladies and many other charities. Before Ben's death in 1982, they traveled the world promoting conservation of trees, wildlife and the natural environment. Ben, Dr. Archie Carr and J. Powers started the Caribbean Conservation Corporation, the premier sea turtle conservation organization seeking to save the green turtle.
Ben went to great lengths to establish purebred French Charolais cattle in the United States, shipping them first to St. Pierre and Miquelon, an island off the coast of Nova Scotia, then to Canada and finally, after four years of waiting, to Tallahassee, all necessary to make sure they would not bring in hoof-and-mouth disease. Ben had hoped his cattle, about 100 heifers, would revolutionize the beef industry. At that time, they did.
John H. "Ben" Phipps
State Archives of Florida, Florida Memory
One of the early conservation fights Ben and Clippy took on was an unsuccessful effort to save the ancient oaks along North Monroe Street. But they did succeed in saving those along Meridian Road, making it one of the five canopy roads. Ben planted the magnificent stands of oaks along Miller's Landing Road from acorns.
Not only have the Phippses succeeded in saving much of what was here, they have ploughed millions of dollars into the economy through real estate development, cattle, timber and communications. Before World War II, Ben bought radio station WTAL. Clippy managed the station as well as the farm while Ben was away at war. Clippy said she only did what Ben, in long letters from overseas, told her to do.
In 1955, Ben built this area's first TV station, WCTV, originally located on North Monroe Street, and now in a sprawling new complex on State Road 12.
The Phipps Company has renovated apartment buildings and recently remodeled the old Duval Hotel and its restaurant, now called the Radisson. Along the way, they bought Cash Hall and television station W17AB. Their 10,000-acre Ayavalla Plantation is devoted almost wholly to growing timber. Near the house, fruit trees are cultivated and the fruit carefully canned or preserved for the winter, when the house is alive with visitors who come down for hunting season. Domestically raised quail are not permitted to be used or raised on the place, as on some neighboring plantations. It is felt that the natural wild quail are much more challenging to hunt.
After their marriage in 1928, Ben and Clippy spent a long honeymoon in Kenya and decided they would like to stay there and run a coffee plantation. But through the insistence of family and the children starting to come along, they decided they should return home.
Ben was very active with his family's business investments, and Clippy said they moved around a good bit in the early years to wherever Ben's work took him. They decided to settle in Tallahassee and moved here in 1937. They found that in north Leon County, "with its rolling countryside, broom sage and giant live oaks, they could easily imagine themselves in Kenya," as Ben's sister Peggie Boegner described it.
Ben engaged the late Horrie Culpepper to build a home on Brill Point for approximately $3,600. Later, Durrel Stone, architect for the new Capitol, and the House and Senate buildings, helped Ben design the present home with its breathtaking view of Lake Jackson.
Ben once said that he and Stone sat on the ground beneath a big oak tree at the site and that he drew a sketch of the kind of house he wanted to build. Clippy said Ben did much of the design himself, because he wanted something warmer and less stark than Stone had envisioned.
"He made a paper model and moved the parts around until he finally got what he wanted," she said. "He wound up with columns both in the front and back."
The story of the Phipps family's rise from poverty to wealth reads like something straight out of a storybook. Peggie Boegner tells it in a recently published book, "Halcyon Days," spanning three generations of Phippses, from Henry J. (Harry) to John S. (Jay) and finally John H. (Ben).
"It encompasses a memorable 100 years of our country's history that began as a dream of 'rags to riches' in 1850, evolved into the gracious way of life in the early 1900s, and all but ended by 1950," she wrote.
Harry was the son of Henry Sr. and Hanna Frank Phipps, emigrants from Shropshire, England. They settled in Pittsburgh in an area known as Barefoot Square with their three sons and one daughter. A neighbor and later business partner of one of the sons, Harry, was Andrew Carnegie, whose mother worked for Henry Sr. binding shoes.
It was a hard life on Barefoot Square, and the Phipps brothers and Carnegie determined early to escape its poverty. Escape they did, William into the ministry and Harry eventually into steel. John died an early death.
Years later, Carnegie wrote of keeping an eye on Harry, thinking him a bright young man. He told of a revealing incident:
"Once he asked his brother John to lend him a quarter. John handed him the shining quarter without inquiry. Next morning an advertisement appeared in the Pittsburgh Dispatch: 'A willing boy wishes work.'"
The ad brought Harry to the attention of an iron and railroad spike firm that hired him as an errand boy.
"He launched himself on a sea of business. There was no holding back a boy like that," Carnegie said.
Eventually, Harry became the second largest stockholder in Carnegie Steel.
When Harry was close to 60, the company was sold to J.P. Morgan's U.S. Steel, with Harry's share coming to $40 million, Peggie said. After setting up various trusts for this children and grandchildren, he spent the rest of his life giving money away on housing for low- and middle-income people, tuberculosis hospitals, education and numerous other causes, "giving only where his heart and mind told him the cause was just."
Leon County and conservation causes around the world are still reaping the benefits of some of Grandfather Phipps' millions, made more than 100 years ago, but still shared by his modern-day heirs.