Enjoy Stress-Free Gourmet Cooking at Home
Personal Chefs Provide Healthy, Restaurant-Quality Meals in Your Own Kitchen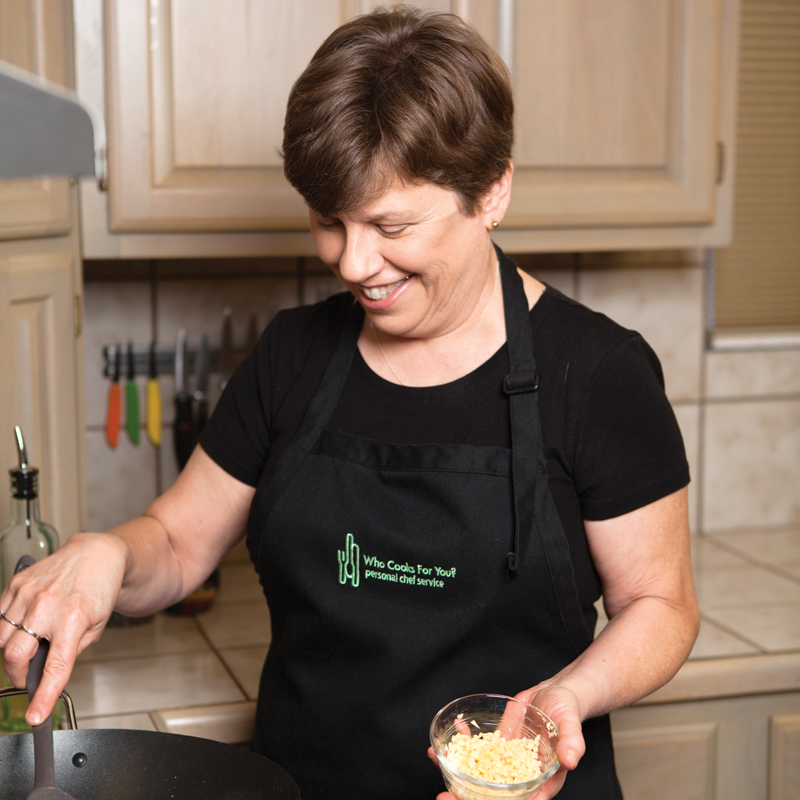 Dine at home or go out for a chef's creation? You no longer have to choose. You can have it both ways.
If cooking a meal at the end of the day simply doesn't fit your hectic schedule — and who among us hasn't had days like that? — your choices are no longer limited to either sitting down in a restaurant or grabbing a bag of cholesterol and calories from a fast-food drive-through. Meal options have expanded incredibly in Tallahassee over the past several years, with "healthy" a common theme.
Most dining establishments offer takeout, so you can go home, pull on your comfy sweats and eat a restaurant-prepared meal. But tasty, healthy takeout and gourmet frozen entrees can also be found in many local grocery stores, including New Leaf Market, Earth Fare, Trader Joe's, Whole Foods and Fresh Market. Publix supermarkets continue to expand takeout options; the recently remodeled Publix at Centerville Road and Capital Circle Northeast has a gourmet takeout section along with its traditional deli offerings.
But the ultimate in "having it all" when it comes to gourmet convenience meals just might be using the services of a personal chef. Not to be confused with private chefs, who traditionally tend to work with one client only and do all the cooking for the client's family, personal chefs provide personalized cooking services for a number of clients. Personal chefs work with clients to plan meals that suit their tastes and dietary needs, then they do all the work: shopping, chopping, cooking, cooling, freezing and cleaning up. Most personal chefs serve only one client on a given day, preparing multiple meals at a time. Many also will cater dinner parties and special events, as well as offer small-group cooking classes in clients' homes.
Prices vary according to the number of meals prepared and the cost of the food. Chef services, minus the cost of food, start at about $275 for 12 individual meals or servings of entrées with sides. If the food costs $200, for example, the total cost comes to $475, or about $40 for each meal per person or serving. That's not much more than eating out at a mid-range restaurant.
Cindy and Jim Miller were the first clients of Who Cooks for You, and they're still thrilled with Chef Paula Seamon and her meals more than three years later.
"We were both working so hard and neither one of us is a very good cook, so we were pretty desperate for help," Cindy Miller recalled with a chuckle. "It's just wonderful. The best part about it is that it lowers the stress. It's so great not to have to worry about dinner."
Seamon visits their home once a month and prepares 16 meals for them, two servings of each meal. They agree on the menu in advance and, on cooking day, Seamon does the shopping early and spends several hours in the Millers' kitchen, preparing the meals for the month. Most go into the freezer, but a meal or two is left in the refrigerator for the clients to eat in the next day or two. Among the Millers' favorites are Seamon's chicken potpie and her chicken piccata.
"I really like her kale and quinoa casserole, too," Cindy Miller said. "That would be a good option for vegetarians. She's incredibly creative."
Jim Miller was a bit skeptical about using a personal chef at first, but he's a confirmed fan now.
"Her food is so clean," he said. "The less you eat of processed food, with all the additives, the more you can taste the difference."
Because most of the meals are destined for the freezer, certain foods are not good options for a personal-chef service.
"The dishes need to be things that will freeze, thaw, reheat and still taste good," Seamon said. "Many fish dishes don't work. I adapted a lasagna recipe, so it's made with zucchini instead of pasta in a Bolognese sauce."
Being a personal chef is a second career for Seamon, who has an academic background in botany and spent 21 years with the Nature Conservancy. Based in Tallahassee, Seamon traveled the country to train firefighters in how to conduct prescribed burns, controlled blazes that remove underbrush and help reduce the chance of wildfires. When she decided it was time for a change, she wanted to combine her knowledge of and interest in nutrition with her love of cooking.
"I absolutely love what I do," Seamon said. "I was gone so much with the Nature Conservancy, two or three weeks a month, and I'm grateful for the chance to get to know the community."
Her client list is diverse. In addition to the Millers, she cooks for single parents, families in which both parents work, and senior citizens, including a couple in their 90s who want to stay in their own home instead of moving to an assisted-living facility.
"The thing my clients have in common is they all want to eat healthy and reduce stress in their lives, while having more time," she said.
It's a win-win situation for both client and chef: The client gets great, nutritious food and the chef avoids the exhausting demands of restaurant work.
"I love to cook. I've always loved to cook, but I didn't want to work holidays and every single Sunday," said Jaime Green of Jaime's Personal Chef Services. "I make my own schedule, and I can choose who I want to work with."
Being a personal chef is also a second career for Green, who decided social work wasn't really for her and went back to her roots in the culinary world. She opened her personal chef business in 2013. She, too, has diverse clients with a variety of dietary needs, and in late 2014 frequently taught classes at Brown's Kitchen Center.
"So often when you eat, you really don't know what's in it," Green said. "I can guarantee you'll have a healthy meal and you'll know everything in it."
That's important to Nancy and Bill Brown, who divide their time between Ohio and Maine but come to Tallahassee every year for two or three weeks of plantation hunting. They began using Green's services in 2013 and are thrilled with her food. Nancy Brown said she prefers nutrient-dense foods such as sweet potatoes and broccoli, and she likes to eat organic and in season. Green can accommodate all her dietary preferences and restrictions, she said.
"I'm gluten-free and my husband is almost dairy-free, and that's no problem for her," Nancy Brown said. "He also likes to eat what he kills, and she made quail roasted in parchment, surrounded by vegetables, that was just incredible. We had a dinner party, and people who had been eating quail their whole lives were just amazed. They'd never had anything like it."
Matt Burke
Chef Michelle Ross
According to the U.S. Personal Chef Association, most clients want healthy meals made from organic and/or regionally grown products that address their individual dietary or medical needs. The focus on organic and regionally grown products parallels the growth in the number of farm-to-table restaurants. The closer food is produced, the less time before it hits the plate and the fresher and more nutritious it is. That also means there's less need for preservatives or so-called "stabilizers."
Michelle Ross opened catering and personal chef business Chef Chelle in 2008. While she does cook for individuals who call and request her services, the majority of her work is teaching people how to prepare and eat food that is both nutritious and delicious. She works with clients of the Florida Department of Children and Families and through the Department of Agriculture and Consumer Services, and many of her clients have serious health problems that require nutrient-dense foods.
"I don't cook for a month and freeze meals for clients," she said. "I go once a week and fix meals that can stay in the refrigerator."
With a bachelor's degree in social work from Florida State University, a master's degree in social work from Florida A&M University and a culinary degree from Keiser University, Ross uses her unique combination of skills to educate young and old alike about nutrition. She employs behavior modification techniques to get people to break their bad food habits, and she worked on a three-year project with students at Ruediger Elementary School, Griffin Middle School and SAIL High School to get them to eat a more plant-based diet.
"As far as the students, I'd say it was successful. I got them eating a vegetable sloppy joe, and they loved it," Ross said. "As for the cafeteria staff, it wasn't as successful. It's more labor-intensive to prepare fresh food; there's a lot more chopping involved in a vegetable sloppy joe than in opening a can."
All of the schools had gardens, and the produce was available for her meals. They also composted their kitchen scraps. Introducing children to the difference in taste between freshly picked produce and vegetables out of a can was a joy. As a nutrition consultant, she asks clients what it is that they want, and then shows them how they can get it in a healthier version.
"You take out the butter and cream and you substitute Greek yogurt and herbs. You substitute some of the potatoes with cauliflower for mashed potatoes, but you have to replicate that 'mouth feel,'" Ross said. "Food can't just be good for you. It has to taste good and it has to feel good in your mouth for you to want to eat it."