Encouraging Young Adults to Explore the World Can Help Them Find Themselves
Gap Year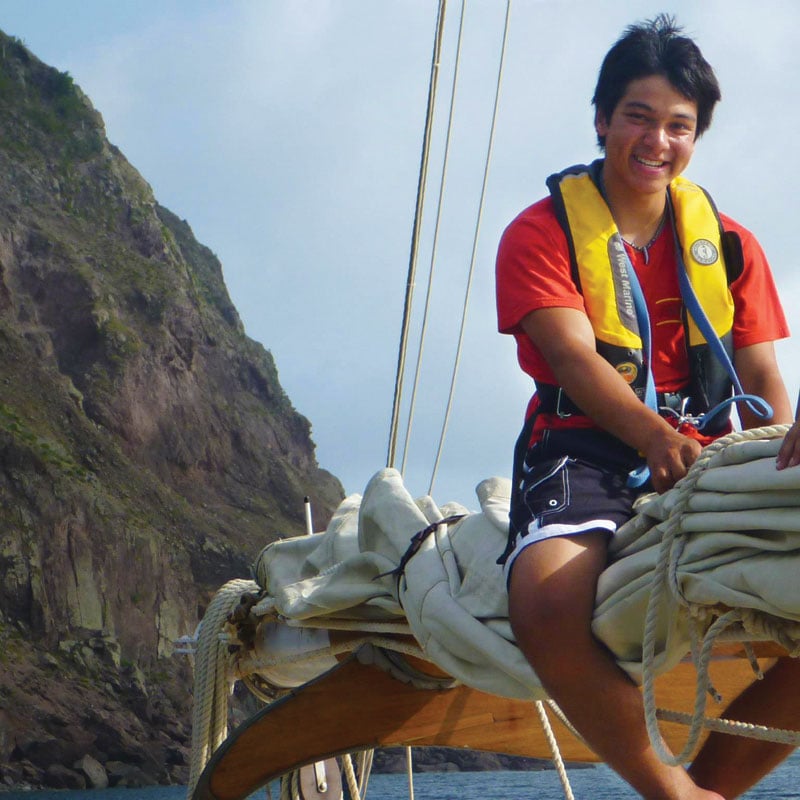 The pressure to succeed can be an intensely motivating factor for many young adults as they contemplate whether pursuing higher education or joining the workforce is the right course for them. For concerned parents, the stress revolving around their children's decision can be just as great.
According to experts, there's another option beyond school and work on the table that's worthy of consideration. They call it a "gap year."
The term refers to a full 12-month period in which one focuses their energy on nonacademic endeavors in the hopes of broadening their cultural comfort zone and gaining worldly experiences. Usually, that means travel.
Contemporary notions of the gap year originated from the Grand Tour of Europe during the late 17th to early 19th centuries. At that time, young British, aristocratic men took the Tour to explore the continent's greatest art, history and culture.
Today, at least in the United States, the practice of a gap year is far less leisurely. In many cases, the time is spent in a state of continuous volunteerism.
"There are several advantages of volunteering in a developing country for a gap year," said Joe O'Shea, Ph.D., author of "Gap Year" and director of Undergraduate Research at Florida State University. "The most important is the productive dissonance that these immersive experiences provide. It's unlikely that a young person would have her assumptions about herself and the world around her challenged with the same intensity, frequency and breadth as she would get in a developing community."
While many parents may not be opposed to the idea of having their child take a break to enjoy the world from a new vantage point, they worry: Won't new grads lose their scholastic mojo by taking a timeout from academia?
It's a reasonable concern, and one O'Shea confronts directly in his new book, slated for publication by the Johns Hopkins University Press in early December.
"Some parents worry that if their child took a gap year he or she wouldn't come back and go to college," said O'Shea. "The evidence actually suggests the opposite: When students take a structured gap year they are more likely to go to college than their peers and have increased academic motivation. Other parents might worry about the safety of their child during their year. Are there risks? Sure, there are risks with every experience and any time one travels — but they are worth the reward."
In the summer of 2011, the Leichus family was forced to mull over such pros and cons for their eldest son, Daniel.
His was a unique case. Daniel, who had just graduated from Bolles School in Jacksonville, had started college a semester early at Northwestern, taking advantage of an early enrollment opportunity. Then Harvard came knocking.
It was where Daniel had always wanted to go. His dream school. But in order make the switch, he'd have to take an entire year off and agree to start the following fall, pushing him back to the Class of 2016.
In a letter dated June 30, 2011, addressed to Daniel, the university's Dean of Admissions and Financial Aid wrote: "You should know that Harvard strongly encourages students to take time off before or during college. Students undertake a wide variety of activities including work, travel and part-time study. Virtually all report that their time off was extremely rewarding."
They even used the term gap year.
Betty Leichus, Ph.D., Daniel's mother, was intrigued. Ultimately, she gave her blessing.
"I think my son will always be a perpetual student," said Leichus. "I didn't have any fears about him not ever wanting to go back to school. The only fear that I did have was that perhaps he would get out of that mode of not studying, not taking tests and not being on the ball."
Daniel spent his year productively, accepting a nine-month internship at a local Tallahassee engineering firm, Bing Energy. Though his wasn't the prescribed volunteering experience modern scholars like O'Shea have recommended, it was customized to meet his needs — a key component to a happy gap year.
According to Daniel, the internship — a paid, 40-hour-a-week position — gave him an appreciation for hard work and the financial stability to enjoy his remaining time off.
For the last few weeks, he chose to take a 40-day Sea|mester trip to the Caribbean to hone his sailing skills.
It was the trip of a lifetime.
"The working definitely taught me what it was like to work full time," Daniel said. "It's much different than going to school. In my opinion it's much harder. On the other hand, the sailing adventure was very rewarding. Not only did I get college credit for a class about sailing and oceanography, I also had just so much fun. Just being able to look out at the horizon from the boat and not see any land at all — that was a great experience."