Elizabeth Landers Bird-Dogged Bernie Sanders
On the Campaign Trail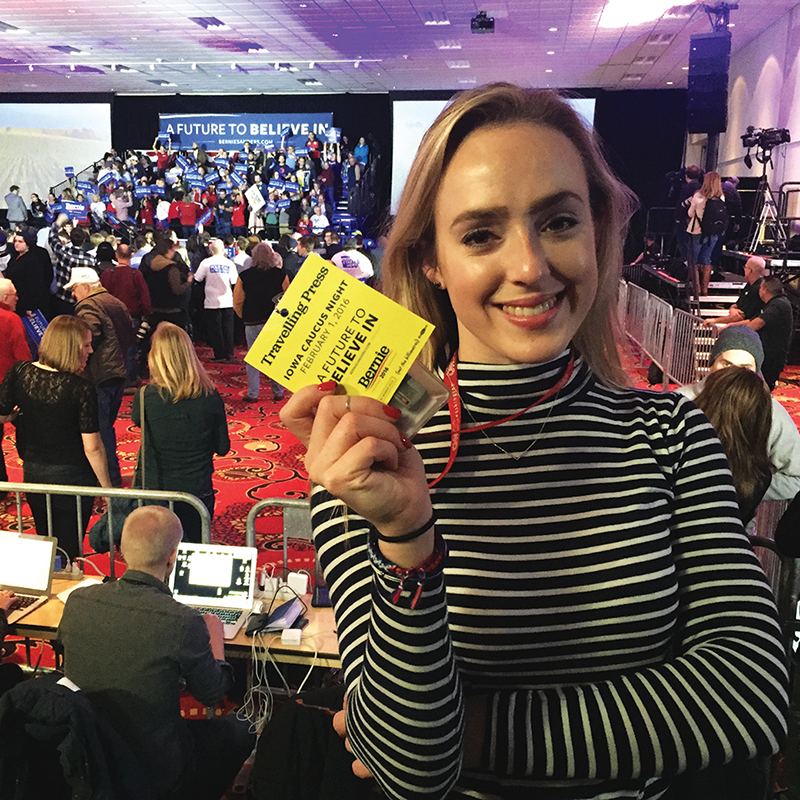 Elizabeth Landers didn't always know she would work in television news, but she did spend most of her childhood engrossed in political happenings.
"I very vividly remember in 2000 when the entire national and international media descended on Tallahassee when the hanging chad happened," she said. "It piqued my interest even as a kid." She followed that interest through her time at the Maclay School, even submitting freelance pieces to Tallahassee Magazine in high school and college.
Landers' precocious civic engagement doesn't come as much of a surprise. Her mother was a television news anchor with WCTV and The Florida Channel, and her father played a role at the Governor's Office during Reuben Askew's administration.
"Governor Askew would come over when I was a kid, and Dad let me sit at the dinner table with him," Landers recalled. "I'd ask him what it was like to be the governor of Florida."
That early fascination turned into a career. After graduating from Tufts University in Boston in 2013, she started at CNN as a news assistant. She began tracking Sen. Bernie Sanders' presidential campaign in January of this year.
Reporting on a presidential campaign allowed Landers to bear witness to big moments as well as more personal ones.
"We were in Lawrence, Kansas, and Sen. Sanders went for a walk," Sanders said. "People came out of their businesses, yelling 'Bernie! Senator Sanders! Come inside!' We walked by a barbershop and he said, 'You know what? I need a haircut.' The whole press corps filmed him getting a haircut on our little iPhone cameras — it turned into a mini-viral event. Bernie's sort of spontaneous like that sometimes."
Landers said that growing up in Tallahassee helped prepare her for the national political scene.
"Tallahassee is a small city, but I think that politics in Florida is immensely important," she said. "Covering national politics, I notice a lot of names of people in Tallahassee. I knew their kids growing up, and now they're players in politics on a national level."
While it can get lonely on the road, Landers enjoys the independence her job offers.
"It's very satisfying to feel like a one-man band," she reflected. "I travel with my own tripod and camera and live unit. I can produce live TV from anywhere in the world via satellite. I can do my own news-gathering. I work by myself in the field. Oftentimes I was the only CNN person traveling with Sanders' campaign — I have to be really self-reliant and self-sufficient."
When asked what her future looks like, Landers says definitively, "This (Sanders) was the dream gig for me. I think that there are lots of possible doors that this could open. For right now, I'm looking at the next day, the next week … right now this job is so demanding I don't really have a lot of time to focus on what comes next."
Her advice for young Tallahassee women looking to get into journalism is simple: "Do as many internships as you can. Submit writing samples. Read news. Tweet news out. Go out and about in the community and talk to people. With technology now, you can create whatever you want using so many different media. You can be your own best advocate."