Elegance or Diversity?
Two Visions of What Lies Ahead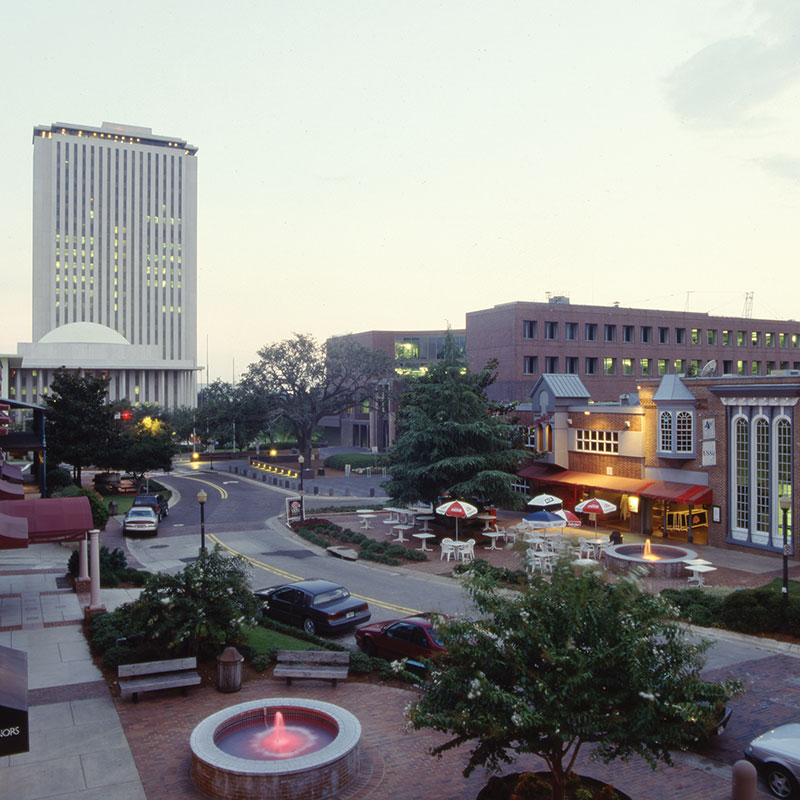 Talleon Planner's Log WKO 487
My Projections Terminal seemed to be out of tune, giving me a very unlikely looking future projection for the Talleon-Oyster Belt economy interface on which I was working. To see what was wrong with the machine, I decided to test it by running projections of old Tallahassee, starting back in the early 1980s. I entered the base variables and adjusted the set, then sat back to watch an amazing future-past unfold on the screen.
Elegance
Tallahassee, Florida, 1997 — We've been lucky and successful in "eating our cake and having it too." The heading of a 1980 brochure of the Tallahassee Chamber of Commerce read "The Elegant Tallahassee," and it has become a pleasant reality, despite a growing population.
The heritage of the past has been preserved. Old houses, mansions and some historic buildings have been saved, tastefully restored and put to good use. The Capitol Complex presents a serenity and style hardly matched by other state capitals, let alone other cities in Florida. The live oaks, Spanish moss and canopy roads still dominate the landscape.
Downtown has regained its full vitality. Store offices and parks are pleasant and attractive and different enough to remind residents and visitors that this is not just any Main Street, U.S.A., but a unique and distinct place, Tallahassee.
Even the surrounding countryside retains its charm. The new suburbs are scarcely visible to the casual observer from the roads or from the air. The drainage problems that plagued many parts of Leon and Wakulla counties have been solved, and the marine ecosystem, the fishing, shrimping and oystering industries, and the numerous recreation facilities along the coast, lakes and rivers are doing well and not disturbing each other.
The economy is stable and continuing a steady but controlled growth. There is a sizeable base of clean industry. Education is doing well, and the quality of teaching and research is the hallmark of both universities.
Consolidated, Competent Government
How was this possible? Many things contributed, not the least of which was the recession in the early 1980s, which may have been a blessing in disguise. For a while, it slowed things down enough to give people time to carefully think through the next steps toward their future. This coincided with the consolidation of city and county governments. From luck or inspired foresight, the structure of the new government and its ways of keeping a continuous dialogue with residents and interest groups were based on the most advanced findings of political science, planning theory, governmental policy and management information systems. This ensured that competence, efficiency, transparency, honesty and performance became the continuing standards of the new government.
Growth of 'Clean' Industries
When overall economic conditions began to improve, Tallahassee was ready. A number of prestigious, advanced and "clean" industrial research companies were attracted to settle here, giving the local economy still more stability. This injected money into the economy without too much population growth. The research and development institutes needed to bring only a few people from elsewhere and soon reached a stimulating symbiosis with the universities and state government. This kept to a manageable level the growth of the suburbs and the demand on housing and municipal services.
The major anticipated problem — inadequate transportation — did not materialize. True, traffic volume increased for a while, and some road construction had to be carried out, but the impact on the appearance of the city was minimized by splitting roads with medians with large trees still standing, and by perfecting the one-way road system. Downtown, an underground bypass tunnel system connects key streets, and for incidental travel downtown, the city has installed a fleet of rental electric mini-cars, operated by inserting a credit card. These are found at convenient locations and can be left at another location after use.
A commuter train on the old Seaboard Coastline track, with a new extension to Woodville, Wakulla, St. Marks and Shell Point, helps reduce traffic. An improved bus system, with smaller buses and more frequent runs, complements the train and the roads.
Communication Replaces Transportation
Most significant in its impact on Tallahassee life has been a trend started by some research companies. They were the first to install video computer work consoles in the homes of their employees, making it unnecessary to travel to the office more than once or twice a week. State and local government offices and the universities followed suit, though at a much slower pace. But already, only about two-thirds of the total work force actually commutes downtown on a given day. The gift of the year for the person who has everything is a golf cart or a fishing boat. With a video computer console.
The universities, after a period of retrenchment and review of strategy, have settled into a new pattern. Enrollments are slightly lower, but teaching quality has improved. Continuing education and retraining have become major emphases.
Culture Blossoms
Culture and the arts have thrived. There is now a long-awaited permanent State Art Museum and a symphony orchestra. The Civic Center Auditorium hosts frequent theater performances, and there are several excellent art galleries and studio theaters. A 24-hour elegant coffeehouse/wine restaurant, the Cloak and Dagger, where the best of a Viennese coffeehouse, English pub and French brasserie combine into a unique concept in restaurants, has already surpassed Berns of Tampa in fame.
Of course, this happy turn of events did not come cheaply. In the span of a decade, Tallahassee became one of the most expensive cities in the Southeast in cost of living. This forced some of the less affluent residents to move to adjacent counties. They easily stay in touch with the city, however, while being able to preserve a variety of quaint lifestyles of an earlier period. Those who stayed have joined the move toward a stable, solid prosperity in this advanced, serene and attractive community.
Fascinated, I watched this pleasant tale and had to force my attention back to the present. Obviously, the Projection Terminal was severely uncalibrated, its Hurwicz Alpha factor way off balance. After checking a few circuits and making some readjustments, I tried again, only to encounter another and stranger report.
Diversity
Tallahassee, Florida, circa 1996 — The development of Tallahassee during the last two decades of the century turned out to be somewhat unusual but decidedly interesting. For a while, it was not easy to see the wisdom of many decisions made in the early 1980s. To some, they are still atrocious mistakes.
The credit (or blame) for much of the change goes to a flamboyant young man who wanted to make a name for himself by running in the city elections. He was elected, somewhat to his own surprise. Because of the subsequent consolidation, he became known as the Last Mayor of Tallahassee.
The mayor surrounded himself with smart but unconventional advisers to help him tackle his new responsibilities, and he was able to persuade, cajole and trick the reluctant city into what was long called the "messy alternative." (He was later booted out of office. He made the mistake of promising a comprehensive report on the changes wrought by his new policies and appointing a staff to prepare it. But the staff could not keep up with the pace of change and, after six months of frantic efforts, suffered nervous breakdowns and crying fits. The Last Mayor had them whisked away to quiet Miami for treatment and recuperation, a move that was promptly attacked by one of the local newspaper editors as a "junket.")
In one of the first unobtrusive moves, an unconventional economic system was put into effect. It eventually provided a new form of taxation and government lending that undercut high interest rates and stimulated performance-oriented business. In the interim, a nonprofit fund was formed. People could pay tax-deductible contributions into this fund, and the money was used to provide easy credit for small, innovative enterprises that would otherwise not be funded. The scheme was then expanded to include small, one-person service businesses, making it easy for students, high school dropouts and otherwise unemployable people to go into business for themselves.
Refugees Contribute
Simultaneously, in a controversial move inexplicably called by the Last Mayor "an opportunity not to be missed,'' the city encouraged a sizeable but selective influx of Cuban and Haitian refugees from Miami. The much-feared soaring of crime, unemployment and general chaos did not materialize, and the nation was stunned by the striking solution found here. Instead of providing employment, the policy simply made it easier for all of these people to become self-employed. The Apalachee Innovation Development Agency provided assistance with legal, bookkeeping and tax matters and gave emergency aid to those few who failed until all were on their own.
Inventors Welcome
The priorities for the Innovation Park were redefined. Ongoing negotiations with large, long-established research firms were broken off. Instead, the country was searched for young, unconventional researchers and entrepreneurs whose ideas no one else was willing to listen to, much less fund.
Most of these were initially put up in empty downtown buildings. Later, modular units were plugged into the structure of Campbell Stadium after it was found unsafe for the thousands of frantic Seminole fans. (While negotiating for money for a new stadium, the Seminoles won some of their biggest victories ever in the new, expanded Bragg Stadium. The victories did not succeed, as fervently hoped for by fans and the team alike, in "bringing back Bobby Bowden," who had mysteriously disappeared without a trace. Vicious rumors had it that he had been injured by an automobile slipping into reverse on the used car lot where he was doing a TV commercial and was "made" to disappear. Although absent, Bowden inspired his angry team to an excellence never again achieved by any college football team.) Tallahassee soon became a hotbed of innovation, small business and inventors. Even government and the universities were able to benefit from the supercharged network of small service businesses.
Tallahassee is now at the threshold of the 21st century, the only place in the world outside of Haiti itself where genuine Haitian art is produced. "Tallahassee Haitian" is now preferred by connoisseurs. The arts and crafts of the local Cuban-Haitian communities are widely renowned, and the cuisine here is as varied and rich as that of Singapore.
Unified, Unique Transport
To improve transportation, someone had the idea of consolidating TalTran, the school bus fleet, the airport limousines and the taxi companies into one comprehensive agency. The same buses serve office workers, schoolchildren and shoppers on a staggered schedule. Each driver is responsible for his or her own vehicle and is allowed to share in the profits generated from the competitive routing (aided by mini-computers) during the rest of the day, when the system operates on a dial-a-bus basis.
The need to include the colors of all previous agencies into the design of the buses gave a marvelous opportunity to Haitian artists to produce moving masterpieces in the Haitian tradition. The buses have become a tourist attraction in themselves. When obsolete, they are bought by art collectors at prices that not only cover the cost of acquiring new buses but support the entire system so that rides now are free.
Some people moved farther out, mainly toward the Gulf. They commute to town by rail or bus on those days when they must come to the office, otherwise communicating electronically. Many share efficiency apartments downtown or have rooms in one of the many small hotels within walking distance of the downtown office buildings where they can stay for one or two nights.
Central Power Source
Not all changes were small-scale. Not far from the city in a wooded area, a giant structure was built that from afar looks much like just another wooded hill. It has satellite dishes, relay towers and a television tower with a rotating restaurant. On clear days, one can see the hydrofoils leaving from St. Marks to go to Tampa or New Orleans.
The structure, "Talleon Mountain," houses the city's major power plant, recycling and waste treatment centers, complete with solar collectors, windmill generators on top and rental greenhouses and gardening terraces interposed with strips of experimental forest. The hill is actually a large, irregularly shaped, tent-like tensile structure, an engineering triumph of the new School of Engineering and Technological Policy.
Nearby, the "Hanging Gardens of the Seminoles," run by FAMU's experimental genetic agricultural research station, not only supplies the county with fresh produce but the country with new strains of genetically improved vegetables, fruits, herbs and wine preferred by organic gardeners all over the world.
Even the most grudging opponents cannot deny that the messy policy has been successful, much as they may hate the way it has transformed Tallahassee into a colorful, chaotic, exotic place.
It was by now evident that the machine was beyond repair. I was right — we should have bought a Manchurian or Tibetan model instead of those unreliable Japanese-American conglomerate ones. I called the service department to have it replaced. But I couldn't help wondering: What if Talleon actually had gone down one those seemingly impossible roads described by the crazy Projection Terminal, instead of the actual course that we are now following into a precarious future?
---
Thorbjoern Mann was an associate professor at the Florida A&M University School of Architecture.