Dying is easy; comedy is hard
Rookies and vets stand up to make us LOL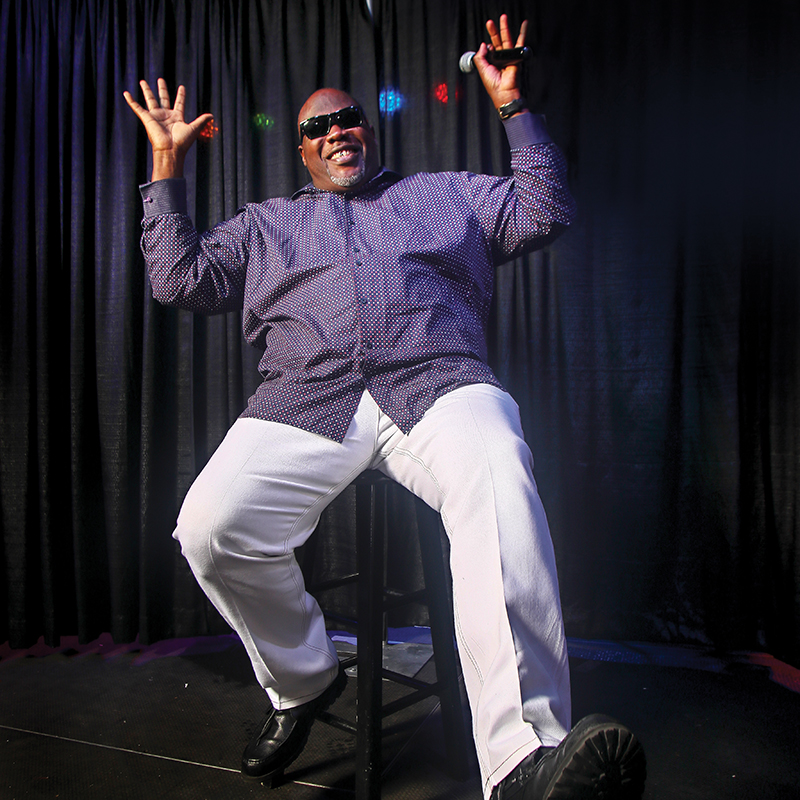 On the last evening of summer, a few hundred of us gathered at The Moon. We plunked down our hard-earned beans for admission and a drink or four at the bar. We settled in. Entertain us, we said. Make us laugh. Go on. Whatcha got?
After an opening act that was polished to within an inch of its life, Christopher Titus took the stage, and for 90-some minutes, he delivered exactly what we craved.
Titus is at the top of his game, with six cable specials to his name. He writes a new 90-minute show every time he takes to the road; no golden oldies, nothing tried and true.
With a scrawled and crumpled cheat sheet close at hand — and rarely looked at — Titus riffed his way through a combination of life-observation humor and sharp social and political satire. His well-aimed volleys at a certain president were sprinkled with the kinds of cultural observations that are meant to keep all of us — liberals and conservatives alike — from getting too smug.
Every once in a while, he would veer off tangent, usually because he was picking on the people sitting in the front or bantering with hecklers — or worse, laying into some guy who was taking video of the show. (I wouldn't trade places with that jamoke for all the gold in Quincy.) Then he would come up short and confess, "Ah hell, I forgot what comes next," and turn to his cheat sheet and laugh a little and mutter "oh yeah" and take us on another rolling wave of laughter, groaning and head shaking.
This guy wasn't dying. He was killing.
A quick dash across town later that evening, to Club Downunder, finds another rising star bringing the funny to a crowd of several dozen FSU students. Joe List has broken through to the late-night and cable strata, with appearances on Conan and Letterman and as a finalist on "Last Comic Standing." Subdued and dry where Titus is an in-your-face force of nature, List takes the crowd where he wants them. And right where they want to be.
Titus and List represent the top tiers of the food chain — the tip of the comedic iceberg. But take a closer look around Tallahassee, and you can find the rest of that iceberg just below the surface.
Every Thursday night at the Junction @ Monroe — known to regulars as the J@M — owners Russ and Josie Pangratz host The Comedy Cove. The J@M taps into a national network of comedians, ranging from the just-getting-started to bona fide road warriors with impressive late night and cable credits. Since they began presenting standup in June 2017, J@M has presented several dozen national-level acts, such as Mike Ivy, Steve Sabo and JB Ball, alongside a wide smattering of established local jokers like Mike Pantzer and Austin Mann.
The national acts are often very good — hungry strivers nipping at the heels of guys like Chris Titus and Joe List. One pair of performers drove 14 hours to get to Tallahassee, did their sets and got back in the car for another gig another day's drive away. That's commitment — the kind you have to have to become the next Chris Rock or George Carlin. (Ask your parents.) Here's a safe bet: Check out the Comedy Cove and in a few years you'll catch people like this on Kimmel and say, "I saw 'em when."
Every show features a local Master of Ceremonies and offers a couple of homegrown aspirants a chance to test material and hone their timing. To say that some of these cats are not quite ready for primetime would be generous, but even with that, there is a certain fascination with watching a newbie trying to juggle the sacred trinity of Material, Timing and Delivery. When one of them clicks — even for a moment — it's like a giant flashbulb has gone off in the room. Even the performer can look surprised.
I've only seen one guy get the hook before he was done, and that was a clear case of mercy killing. Almost everyone manages at least a few laughs (aside from the guy with the hook around his neck), and watching the greenhorns struggle only enhances our appreciation for the folks who have put in the time, the miles and the on-stage deaths to get to where they are today.
Our MC, who goes by the moniker, Comedian Lil' Man, is generous with everybody who fronts-up to the prospect of public ridicule. His career began a couple of decades ago when, as a young man with absolutely zero stage experience, he was asked to open a show for Rudy Ray Moore. (That's MISTER Dolomite to you.) Lil' Man has paid his dues and made his bones on the road. And he's got the chops to show for it.
Tallahassee boasts several venues that "bring on the funny" on a regular basis. Bird's Aphrodisiac Oyster Shack hosts comedy every Wednesday night. Krewe de Gras in Midtown presents a monthly comedy night, promising a mix of national and local talent. Club Downunder hosts a monthly open mic night for aspiring funny folk from the campus and community. And if you want snacks with your giggles, check out LOL Nachos. This West Pensacola munchie nirvana also hosts regular comedy events.
All these joints keep a current Facebook calendar. You want laughs? Tallahassee's got 'em. All you need to do is turn off Comedy Central and get out of the house.
---
Here are a few tips for getting the most out of your comedy night:
Plan to get what you pay for. No cover charge means watching newbies working out delivery and persona. Lots of fun, but be prepared to endure the occasional disaster. Not that those aren't funny, too.
Be generous. Anyone who has climbed onstage knows how hard it is. If you are suffering, you can bet the performer feels even worse.
Join in. Good comics love repartee. Remember: Material. Timing. Delivery. If you speak up, do it well.
Be careful where you sit. If you sit in the front rows, you run the risk of being picked on from the stage. This can be a ton of fun, but if you are uncomfortable with, say, having your clothes or body shape mocked, you might want to sit in the back.
Be careful about sitting in the back. You might get picked on from the stage.
If you have a problem with "adult language," it may be best to stay home and watch "Little House" re-runs. You've been warned.