Dressing the 'Urban Graduate'
A Sneak Peak at Russell Simmons Men's Fashion Line, Argyleculture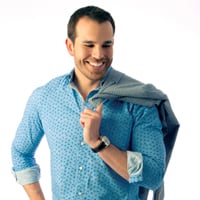 Once upon a time (in the 1990s) a young guy with fashion sense looked to the urban streets for inspiration, and dozens of designers — many of them with links to the rap music business — popped up to provide him with a look that was oversized, bold and definitely different than what his daddy was wearing.
One of the iconic labels from that era was Phat Farm, created by "the godfather of hip hop" and cofounder of Def Jam Records, Russell Simmons. As the years passed, young designers who were the creative engine for the Phat Farm line "wore older clothes and wanted to be more mature," said Simmons, cobbling together a look from American classic lines such as Ralph Lauren, Lacoste, Calvin Klein and Tommy Hilfiger.
To appeal to more mature millenials — who Simmons calls "urban graduates" — he teamed with renowned designer Joseph Abboud to create a new men's fashion line, Argyleculture, and was in town last fall promoting it at Macy's in Governor's Square. His "grown up" urban look is more tailored and features better quality materials, construction and details.
Simmons describes the Argyleculture aesthetic as "this ethnic twist on the classics, this urban prep." The look might include skinny jeans, a bow tie, tortoiseshell glasses, a vest or cardigan, and a patterned shirt under a rugby. "Probably the ones who are going to be the most sophisticated in the way they mix and match our clothes will be the younger customers," he says.
But a toned-down version can work even for Gen X and Baby Boomers. "It's a different look, it's a young man's look. But you know people 35 they still want to feel a little edge, a little personality," he says. Simmons himself is 55 and wore a simple V-necked sweater over a gingham shirt from his fall line at the Macy's appearance.
Photos: Scott Holstein; Models: Bill Graham, Sherrod Bolden and Jon Yeaton
Every man needs to know how to tie a bow tie. If you haven't learned yet, check out this useful diagram.