Dressing the Table
Don't skirt what makes you happy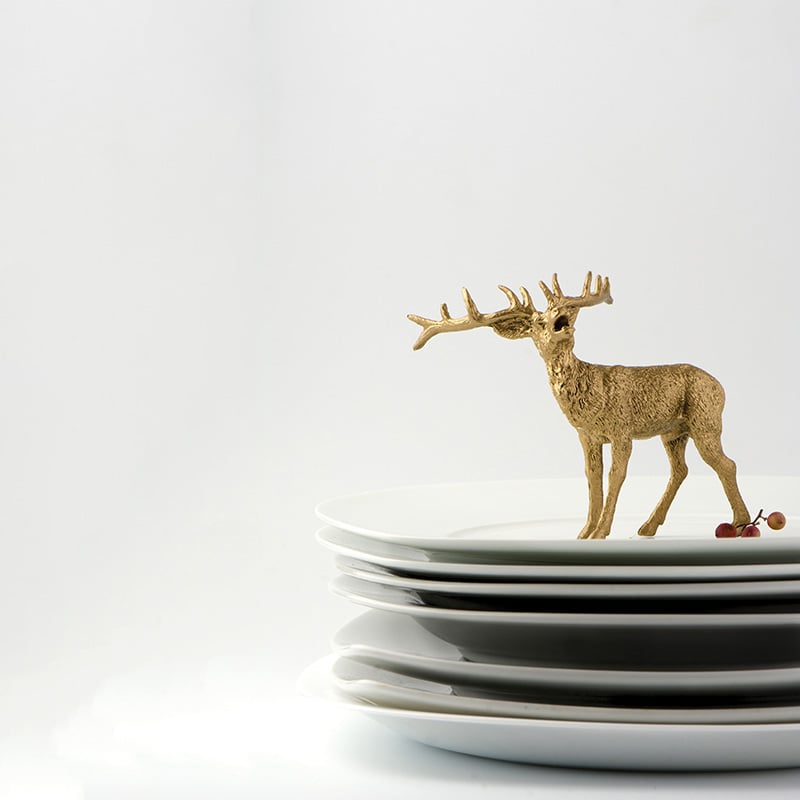 We've asked the experts about how to set a holiday table. You may be expecting a compendium of oh-so-amazing ideas that will dazzle your friends, bring joy to the family and create a Pinterest-worthy look.
This is not that kind of story. (OK, maybe just a little bit.)
If you're just looking for a "look," by all means, hit up Pinterest. Pick a theme — simple, rustic, DIY, gold, evergreen, white, red, elegant, party, modern, black, tartan plaid … you name it — and the inspirational website will have possibilities in spades.
But today, we're going to take a moment to deconstruct that table, to get a little philosophical for a few moments before diving into the world of chargers, place cards, Christmas china and the virtue of placemats versus tablecloths (Local design expert Everett Thompson is definitely on Team Tablecloth. More on that later).
For starters, do you only break out the good crystal and china during the holidays? Or never use them at all? Why?
"Use your nice things," Thompson commands us. "I don't understand buying nice things and shoving them into a closet or sideboard. I'm all for going to that china cabinet and getting the dishes that are on display, taking them down and using them … and if the display is disturbed when your guests come, that just shows that we really use this stuff."
Hostess Stacy Chick concurs. "I always use the good stuff," she declares. "I don't have anything in the china cabinet that's precious. Needless to say, once you do that, something's going to break, right?"
She recalls the time a guest broke a martini glass that was part of a set given to her septuagenarian mother when she got married. "I like to use it because it's beautiful, it's vintage, it's delicate and it's fun." But, she told the chagrined woman, "You know what? It's not a party until somebody breaks something."
Beautiful cut crystal bowls or a silver compote can serve as the base for holiday centerpieces, rather than the plastic containers usually supplied by florists, says Janet Davis, owner of Hilly Fields Florist & Gifts. In addition to personalizing the design, guests might also think it was you who did the artful arranging … and she'll never tell.
Got holiday china and linens? Use them throughout the season, not just for Christmas dinner, Chick and Thompson say. Perhaps not every piece, every day — "too overwhelming," says Thompson. Chick has just inherited her family's "super traditional" Christmas Spode, which she'll be using for dinner at her house. "I'll probably mix that up this year with some more modern touches, because I do like things to not be 100 percent expected," she said.
In Thompson's book, nothing creates a backdrop for a table-scape better than a tablecloth — no patterns please, and you can't go wrong with white.
"I'm a big fan of tablecloths because I think they bring a little more formality and backdrop to a table," he says. "Putting the tablecloth there, you're just simply giving a backdrop to the beautiful china, which is a good thing."
But, hey, if a tablecloth busy with holly and berries and birds and ribbons printed on it gives you a lift, go for it.
All the experts urge you to think about what you really want from the holidays and what style makes you happy.
"I like to see people express themselves with their colors and their flowers. Nothing to me is totally off limits," says florist Davis. "If you want a tropical Christmas, you can have a tropical Christmas. If you want a shabby chic Christmas, you can do that with hydrangea. There are so many styles you can go with."
Bottom line, says Thompson, entertaining — whether it's an open house or dinner for two — is about "creating a moment." When life is serious and you're busy and trapped and tied to your devices, "I think a dinner party is a fun way to stay 'Stop!'," he says. "You set a formal table with your fine stuff, throw in a few fun elements and make it a great evening to talk with your best girlfriend or your good buddy. As opposed to text, or cell phone or email."
---
The Center of Attention
When it comes to the pièce de résistance of your holiday dinner party décor — the centerpiece — the sky's the limit on colors, components and design, but there are a few practicalities to keep in mind, says Hilly Fields' owner Janet Davis.
Davis suggests those who want a traditional evergreen design consider foregoing the northern greens for native Southern varieties, such as short- and long-needle pines, hollies and cypress.

Keep fresh water in your centerpiece, and the greens can last throughout December. Just swap out flowers as they fade.

Keep in mind the size of your table — "You don't want to have greenery hanging over into your guests' plates"— and how low your chandelier hangs. A lower-slung arrangement also works well to make it easy for guests to converse when they're seated. "You want people to make eye contact and go home friends," she says.

Any candles should be unscented, and you might consider using a flameless version or putting candles in a glass container. "If it's a crowded room and people are reaching over a buffet, you don't want the chance of burning or turning over a taper if somebody bumps it," Davis advises.

— Rosanne Dunkelberger
---