Dressing Dapper On A Budget With Dustin Daniels
An informed fashion sense makes Daniels is the king of wearing high and low.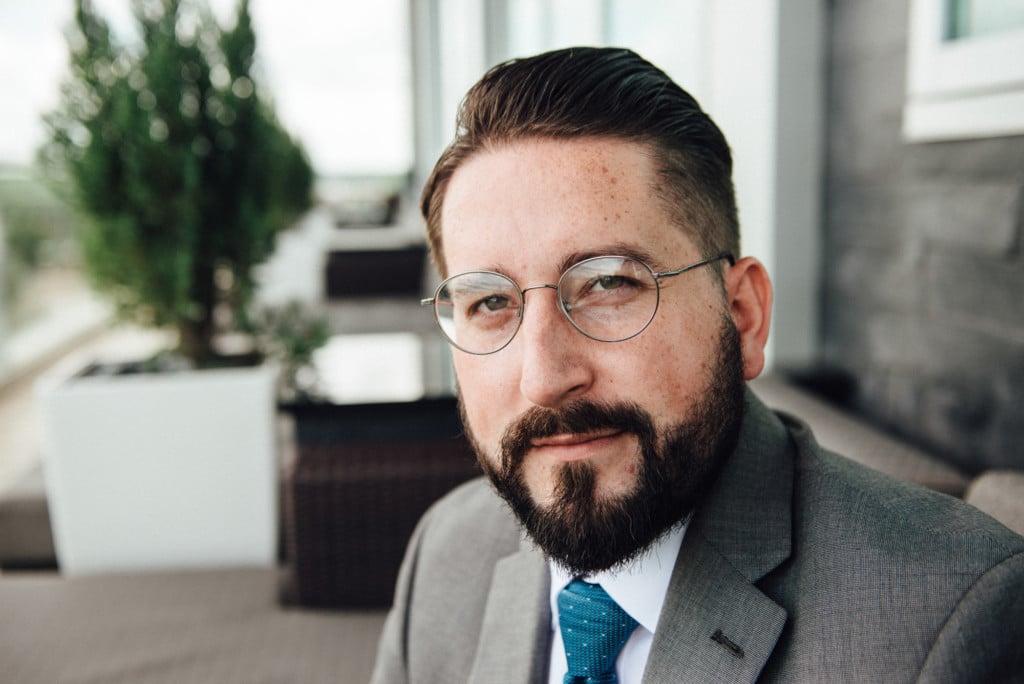 Dustin Daniels' first fashion crush was on a necktie — a green and purple number his stepfather wore to his uncle's wedding.
In their working-class household in Weeki Wachee, it was the only time he'd seen his stepfather wear a tie.
"I always liked it, but it always sat at the back of his closet," Daniels, a Tallahassee mayoral candidate in 2018, said in an interview.
"My freshman or sophomore year, when I went to my first formal dance in high school, he gave me the tie. I wore it, and still have that tie today."
It sparked the taste for dressing — although he demurs when asked whether he qualified as a style icon. "It's funny to me to hear you say that," he said. "Formal wear was not something I grew up wearing," Daniels said over a cup of joe at The Hideaway coffee house in Midtown.
"My dad didn't wake up and put on a suit every day. Everyone I knew — their parents didn't wake up and put on suits every day. So there's something special about having to put on a tie, walk the walk and talk the talk."
Daniels began talking the talk while a student at FSU, where he served as student body president.
During an International Student Leadership Conference, he met Andrew Gillum, who later brought Daniels into his mayoral campaign and hired him as chief of staff.
Daniels, who also lectures in international economics and social policy at FSU, stepped down from his city job to seek election as Gillum's successor.
That turned out to be John Dailey, who defeated Daniels in the November mayoral election. As evidence of his fashion style, Daniels wears a rather weighty Invicta watch on his left wrist.
"It was a gift from my parents when I graduated from college," he said in an interview before the election.
That gift aside, a civil servant's salary didn't allow for a lot of flash. Neither did growing up among the working poor.
"I remember when I was growing up, begging my parents to buy me new clothes, name-brand shoes, and we didn't have it. I feel like a jackass now, thinking about the pain that I put my parents through, not understanding that they just didn't have the means to do it," he said.
He learned to improvise. "I had to be a little more creative with my style back then," he said. "Style is a way folks can express their culture and different ideas. I've always been attracted to it."
Graduate study at the London School of Economics further informed Daniels' dress sense.
"When you're in London, you've got to step your game up. You can't just roll out of bed and put on a hoodie and go to class. This is the style capital of the world. That may have pushed my limits beyond what I was comfortable wearing. You have to. It's a requirement."
Call Daniels a budget-minded dandy.
"I am a whoever-has-a-sale guy," he said. "I work for the public sector. You can't just be stroking checks for high-profile attire. You don't need to. JCPenney, Macy's, Target has a suit sale? That'll work."
Yes, he owns a tuxedo. No, it's not Italian. "It's just a regular JCPenney brand. The good news is that your style can be affordable — it doesn't have to be expensive," he said.
Daniels doesn't consider the tux a luxury. "When you rent a tuxedo for the third time and continue to pay rental costs, it's more cost-effective to just go ahead and buy one.
In this town, we have a lot of galas and formal events, so it's good to have."
In dress — as in politics — Daniels takes his cue from a certain Founding Father.
"Thomas Jefferson said, 'In matters of style, swim with the current; in matters of principle, stand like a rock.' In one sentence, that's a pretty good description of myself," he said.
"You've got to keep up with the times, sure. It's funny, because I guess I'm getting to the age when, stylistically, things that were cool back then are starting to be cool again. Style is cyclical."