Dress for Success Tallahassee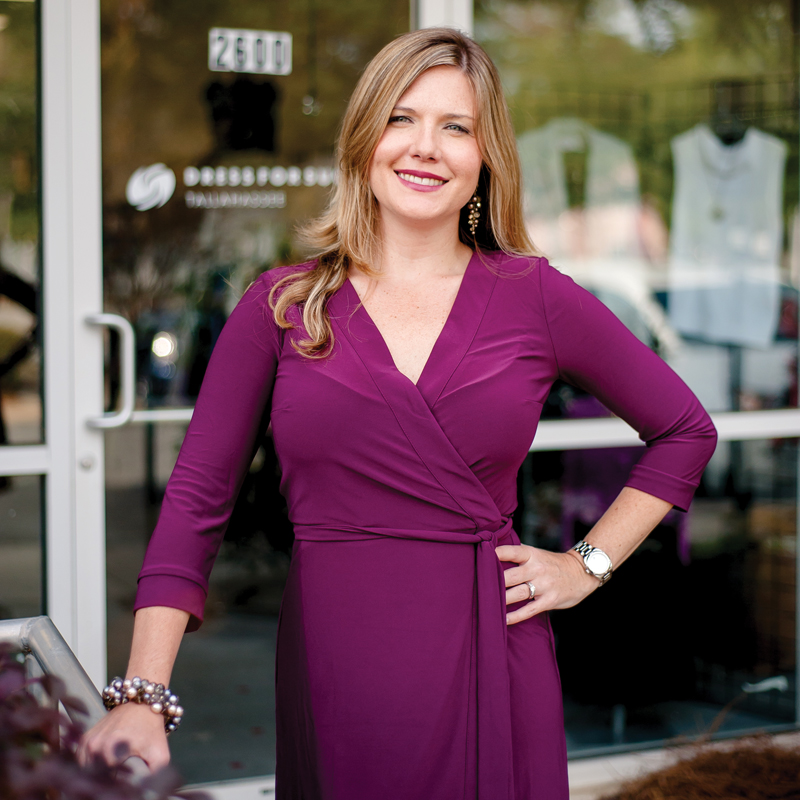 Seven seconds. That, says Forbes magazine, is all the time it takes to make a first impression. It's an important consideration for anyone operating in the business world, but exceptionally daunting for a woman interviewing for a job after a long period of unemployment.
While there are many resources available locally to help her develop the skills to find a position, including retraining, résumé writing and interview techniques, to name just a few, the nonprofit Dress for Success Tallahassee is at the ready to give women in need that last bit of "oomph" to make a favorable first impression — a polished, professional interview outfit.
Since 2010, the local affiliate of the international Dress for Success franchise has "suited" nearly 600 women with a complete interview look, including suit, shoes, handbag, jewelry and other accessories — all free — from its "boutique" in a strip shopping center on Park Avenue near Capital Circle Northeast.
And when the client lands a job, she can return to the storefront and get another personal shopping experience, supplying her with three more outfits.
"The goal is to get them as close to a week's worth of clothing as we can," said Wendy Hedrick, the nonprofit's board chair and founder.
Kay Meyer
Dress for Success Tallahassee board chair and founder Wendy Hedrick and Program Manager Carolyne Jones.
Currently, there are 16 "Referral Partners" — job centers such as CareerSource Capital Region and Tallahassee Community College's Career Center, as well as other charitable nonprofits, state agencies and businesses — directing their clients to Dress for Success.
"We are willing to work with any and everybody who wants to partner with us. We only ask that they send us women who are actively job searching and are low income," Hedrick said. "We leave (it) to the partners to decide whether a woman would really benefit from our services."
The boutique has the look of a high-end consignment store, with clothing (heavy on the suits) arranged on racks by style and color, a display of shoes (heavy on the low-heeled pumps) and accessories, including hose and bras, if that's what a woman needs. Clients are usually greeted by a volunteer who listens to her needs and then helps her select an appropriate outfit.
While a set of nice clothes is a boon, there's also a powerful, not-so-visible effect from what the nonprofit calls a "suiting."
"They come in sometimes … defeated, in a way, because of their circumstances," said program manager Carolyne Jones. "So you have to kind of help them out a little bit with their confidence and their self-esteem … . Sometimes you have to take a little time and listen to their stories."
Kelly Evans, who was referred after completing CareerSource courses, explained: "You just don't understand what it does for you as a person to have somebody help you when you don't have money and you're down," she said. "Everything they have is so nice, and it gave me the encouragement I needed to get to where I was going. You know how it is; when you get up and you get dressed … your whole aura is positive."
Evans did land a job, quickly gained responsibilities and reported that she had sold her first house when she stopped by the storefront to pick up a pair of black pumps.
"I feel on top of the world," she said. "The upscale ladies that I've run into that can afford to donate, I've told them … and as soon as I've sold a few houses, I'm sure I'll give back too."
Kay Meyer
Felicia Dilbert is coordinator of the Going Places Network by Walmart, which offers support to women in the midst of a job search.
While clothing and accessory donations are appreciated, cash is particularly needed, said Hedrick. Ongoing expenses include rent, utilities, office supplies and Jones' part-time salary. Jones, said Hedrick, "runs all of the day-to-day boutique activities, manages volunteers, works with referral partners, makes sure clients know how to get here, makes sure we have enough volunteers and that they know what they need to do. Generally making sure things run smoothly."
Although the local nonprofit has an international parent organization that provides advice and support, all money is raised locally. Where Dress for Success is particularly helpful to the local affiliate is in its partnerships with national corporations. Lia Sophia sends an annual box of jewelry and Thirty-One gives new briefcase totes, said Hedrick. But perhaps the most notable contribution comes from Walmart, which created a special line of black suit separates especially for Dress for Success. The suits also "wash up beautifully," she said, particularly important for women who don't have a dry-cleaning budget.
Walmart also helped develop the Going Places Network, a 10-week series of once-a-week training sessions to help unemployed and underemployed women on their job search through coaching, networking and support.
"They form bonds, they form friendships, they cheer each other on and … they really get to know each other every week," Hedrick said. "Then, when it comes to doing the mock interviews, they feel comfortable practicing in front of each other and encouraging each other. It's a really neat process to see."