Downtown Community Church Connects Communities Virtually
Christ-like in nature, Downtown Community Church opens its doors for online event hosting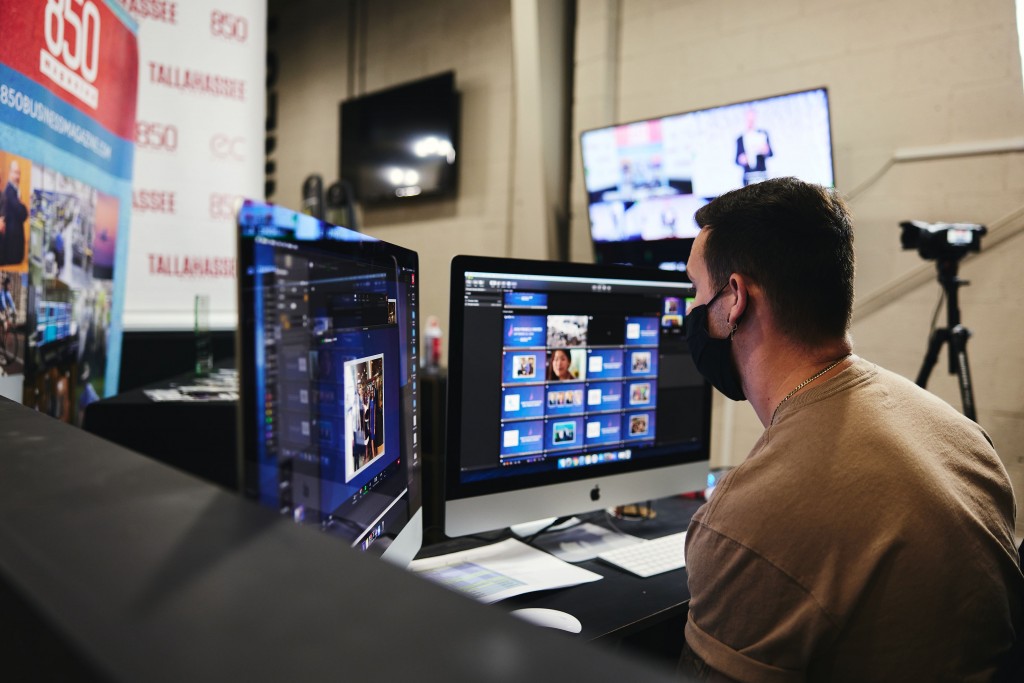 The landscape of our professional and personal lives are ever changing, especially in 2020 as we've utilized digital platforms more than ever to meet with clients, host group events, catch up with friends and gather in praise as a congregation. Downtown Community Church quickly realized that they not only had to adjust to this shift, but they also had a lot to offer the Tallahassee community. 
In the days prior to nationwide shutdowns due to COVID-19, Downtown Community Church made the decision to pivot to an online format in order to keep their congregation and community connected during uncertain times. The staff possessed the will but lacked the equipment, ultimately making the decision to invest in four cameras plus computers and wireless mics.
"We had to make a perspective change and really think about the ways we could evolve and still meet as a church," said William Colle, executive pastor of Downtown Community Church. "Our intention is to bring church to people exactly where they are by making the experience user-friendly and inclusive."
The church offers two online services on Sundays, but they've realized that congregants can experience Sunday any day of the week by rewatching the recordings. There is also the ability to share the services virtually, which has gained the church new attendees that they may not have reached before. 
The staff learned the ropes transitioning from pre-recorded services to livestreaming. With brand-new technology, successful services and a fresh take on community outreach, Downtown Community Church made the decision to open up the church to others who wanted to host online events and gatherings. 
"Our mission is to love God, make disciples and be great neighbors," said Colle "In order to serve and add value to our community, we opened our facilities and made our resources available for rental b
y anyone who may need them."
The church facility is available for day and half-day rates; that includes the use of three auditorium cameras, a lobby camera, mics, computers with graphics and broadcasting capabilities, and a volunteer staff that will help run the production. In the auditorium, there is a center, left and right camera, and a camera in the lobby that can be used for pre- and post-show conversations. 
The proceeds from the rentals are invested back into the community through the church's Hope Program, a one-on-one, after-school program serving youth by offering emotional, educational, relational and spiritual mentorship. Currently, there are 30 youth and mentor volunteers in the program. 
The Hope Program was originally founded by a group of teachers in nearby Gadsden County who realized that literacy is the most valuable tool we can equip students with in their journey to becoming successful adults. As members of the church, they utilized their backgrounds to create a program that emphasized literacy mentorships. 
The funds raised for the Hope Program will go towards fuel to bus the students in, food for the weekly mentor dinners, overall program maintenance, and purchasing books that highlight diversity. 
For the future, Monica Sanchez,  executive director of the Hope Program, is working to launch an online "Netflix for Books," where students in the program and in local schools will have access to thousands of books.
"In all that we do, we want to express that the church is bigger than solely a Sunday morning," said Colle. "We want to be an asset and a resource for Tallahassee, whether that's raising reading literacy rates, feeding the hungry, or building friendship and fellowship that last a lifetime. Ultimately, we want people to experience the hope and compassion that comes from Jesus."