Downsized Desserts
Tastes Trend Toward Smaller Sweet Treats, but the Explosion of Taste Remains the Same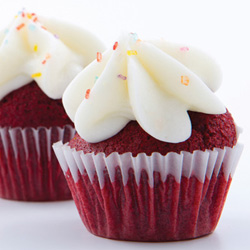 These days, bigger doesn't always mean better. Ordering whole cakes and pies for a birthday party or special event is becoming a thing of the past. Today, sweet lovers are asking chefs to make smaller portions of their favorite desserts.
While some may think this is a recent phenomena, the trend of small desserts can be traced back to 18th century France. Petit fours (meaning small oven) were a luxury confection at the time.
"They're just cute," says Jean Bates, owner of Lucy and Leo's Cupcakery, of her modern take on the French treats. "I think it's just a quick and easy snack as opposed to a big cupcake."
Bates offers her customers cake balls, a miniature version of the shop's regular-sized famed cupcakes comprised of cake and frosting balled together and dipped in chocolate.
"I think you get a variety, you don't have to make a choice to commit to a entire dessert," she says.
Across town, pastry chefs Linda Richards and Steve Newman at The Cake Shop are dishing out pint-sized cupcakes.
"They're very popular at The Cake Shop," says Richards. "People come and buy them all day long."
According to Richards, small cupcakes are the most popular little desserts, accounting for 20 percent of the shop's sales.
"People come in and get a variety of small desserts," says Richards. "They'll get one slice of cheesecake, a couple of cupcakes, a brownie and a raspberry bar. Then, wherever they're going, … they will have all these choices."
Don't confuse a "small" dessert with a "mini." Small desserts are ones you can finish in three or four bites, says Richards, and the minis in one or two bites.
"I don't think mini is growing rapidly," she says. "I do think that people are scaling back from whole cakes and whole pies and buying one slice so they aren't tempted when they go home to have three or four more slices."
Small or mini, the trend of shrinking desserts is climbing and cupcakes aren't the only treats being downsized. Today, folks can stroll into their favorite eatery and find smaller versions of all their favorite desserts on the menu or displayed behind the glass cases.
"We have a large variety of mini desserts which are sold by the pound," says Publix spokesman Dwaine Stevens.
According to Stevens, downsized desserts make up just over a third of the dessert sales at Publix. Chocolate-dipped strawberries are one of the most popular, along with petit fours, mini eclairs, cream puffs, cannoli and bite-size brownies.
Many restaurants offer shooters — also known as dessert shots. Simply put, it's your favorite sweet stuffed in a tall shot glass.
Heather Johnson, marketing director for a 15-unit franchise of Applebee's Bar and Grill, says the restaurant acknowledged guests "were craving just a little something sweet to top off their meal."
For $2.29 each, diners can choose from three tasty shooters — strawberry cheesecake, chocolate mousse and hot fudge sundae.
"Delicious options like dessert shooters and brownie bites with ice cream for $1 are a huge hit with guests because smaller portions with a lower price point make it easy to say yes," says Johnson.
Olive Garden offers Piccoli Dolci or "little dessert" treats layered with cake, mousse, berries and pastry creams.
Coffee lovers can indulge in Starbucks' Petites, a line of mini treats introduced last March. They have their choice of birthday cake, rocky road and raspberry truffle cake pops dipped pink or dark chocolate, peanut butter mini cupcakes and red velvet whoopie cakes to go with their hazelnut vanilla latte.
"Starbucks Petites build on the hot culinary mini trend and has been widely embraced by customers as a delicious afternoon treat," says a Starbucks company spokesperson.
Although desserts may be tiny, that doesn't necessarily mean they're low cal. Katherin Synder, registered dietitian at Tallahassee Memorial Hospital, encourages people to restrain themselves even when ordering little desserts.
"Desserts in general have little or no nutritional value, and they're usually very high in saturated fats and total fat and calories," says Synder. "Typically you probably can save calories versus ordering a main dessert, but if you have three of the small desserts, it may be like eating one big dessert."
Richards says she watches customers weigh out the pros and cons when they're trying to decide what to purchase. "They think that, 'Well, I'll have this one cupcake but I'm not having a whole cake,'" she says. "I think people are being more aware of their choices, and what people do say to me is that they eat it and it's done and they don't have to look at a cake for two or three days."
While Applebee's full-sized chocolate chip cookie sundae weighs in at 1,540 calories, a chocolate mousse shooter is no lightweight at 460 calories a pop. Starbucks' cake pops and mini cupcakes all have less than 200 calories.
"People don't have to feel bad when they're eating sweets, they just want to be mindful and think: 'If I'm going to have sweets it's probably a better idea to go ahead and choose the smaller version,'" says Synder.
Others see mini desserts as a growing — and lasting — trend.
Ashante Henry-Owens co-owns With Love Events catering service with her sisters, Kajsa and Quintal. Together, the trio sets up dessert buffets of candy bars, cake pops, shooters, whoopie pies and other little specialty treats, catering weddings and social events in the Tallahassee area.
"I think they're becoming a trend because it gives people more of an option instead of limiting them to just cake," says Owens.
Bates attributes much of her success at Lucy and Leo's Cupcakery to her mini cupcakes. "I think that our success just in smaller dessert portions … is they're more affordable, and they're an indulgence that people can have without spending a lot of money or eating a whole lot of food."
It's apparent the popularity of small desserts is a gradual trend growing at a steady pace in the minds and taste buds of folks of all ages.
"They're for kids, office co-workers, a pick-me-up for somebody who's not happy … somebody who is sick or who's celebrating something," says The Cake Shop's Richards. "They're for everyone."