Downloading Kindness
After his wife's death, a father of four aims to make good deeds a central part of an 'awesome' movement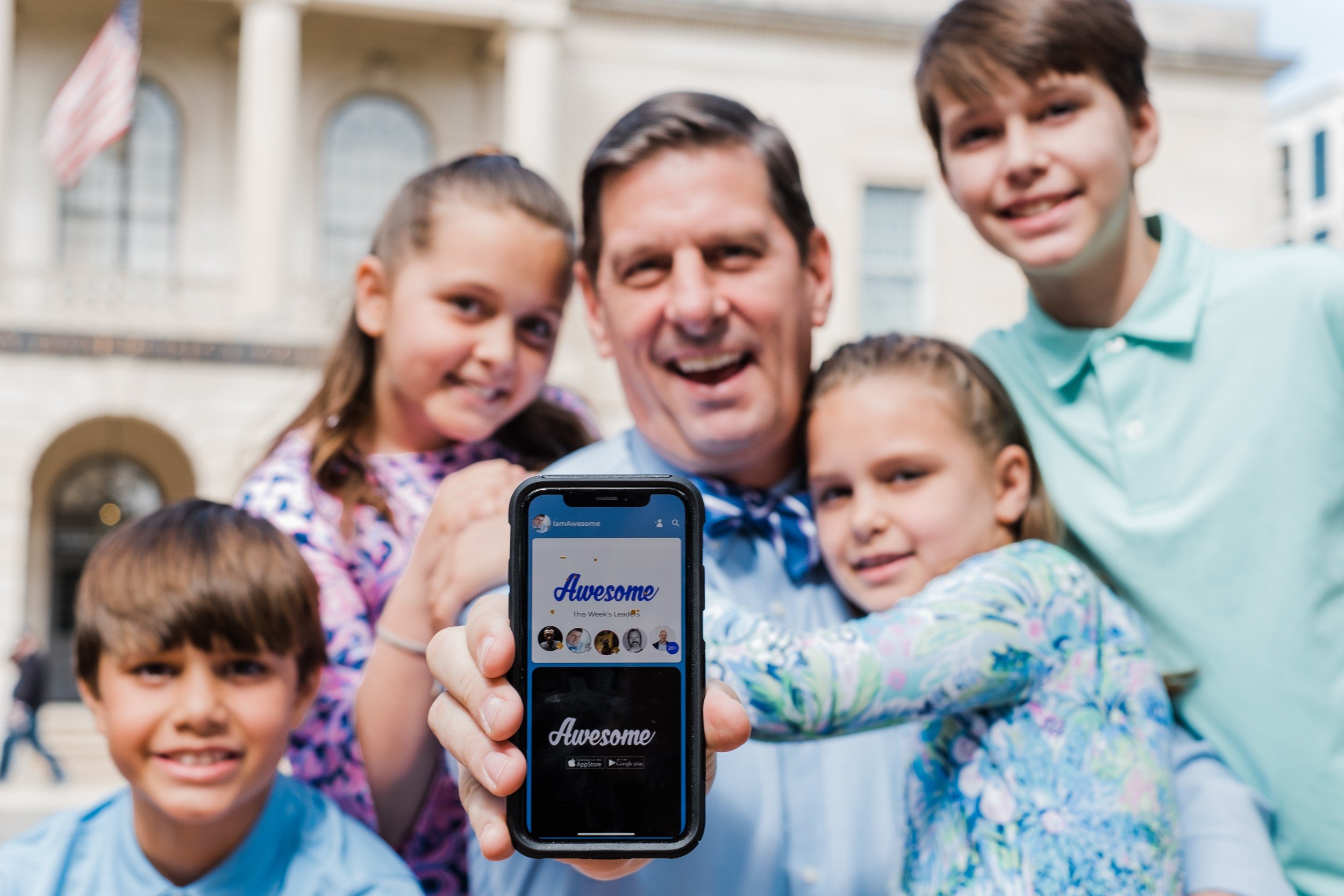 Bert Pope wore a smile as big as his bowtie, and he wasn't about to remove it — certainly not while discussing one of his favorite topics.
"When you do one act of kindness, there's a feeling of empowerment and satisfaction you get," he said. "But for the other person, you just made their day more magical, so they also feel great." 
For Pope, kindness is a flat stone skipped across a smooth lake. Kindness creates a ripple effect starting with the person who set it in motion. 
Pope aims to create waves of kindness, and he thinks he's doing so as founder of Awesome Company Worldwide, an organization that synthesizes technology with kindness. From that company, he created the Awesome App, which focuses on sharing and spreading kindness.
Pope accentuates awesome, so much so that he carries a pocketful of "Awesome" coins and hands them out to people when he sees them doing kind, caring or awesome things. At least he did before March and the coronavirus pandemic. His LinkedIn header declares, "I am Awesome. Positivity starts with me." 
Talk with him about it, and he'll declare in no uncertain terms — in a happy bowtie, for certain — that he's awesome.
That's because he wants you to feel awesome, too. "I want to create channels for people to perpetuate kindness and positivity," he said. 
Dan Ausley, who has known Pope since pre-kindergarten, called his friend "one of the most positive people I know, always thinking about other people." 
Pope is a third-generation Tallahassee resident who runs Bert Pope & Associates LLC, a real estate company that specializes in luxury homes in the Panhandle area.
He married Jill Yadao in 2006, and they had two boys and two girls — Kent, now age 13; Lilly, 11; Banks, 9; and Blair, 8. In 2016, Jill died at age 33 from injuries in a car accident, leaving her husband to raise their four children, all under age 10 at the time. 
Pope said he found himself touched and inspired by the kindness and support that he and his kids received from friends and neighbors, who provided them meals for about three months. 
The community's kindness spoke to him and his children, he said, and he resolved to raise them with an emphasis on kindness, caring and giving. He noted that his wife, a Hawaii native, had lived in a spirit of aloha, meaning love, kindness and compassion.
He said he had thought about developing an Awesome type of app even before his wife's death. Later, he saw it as the engine for his #BeAwesome movement. 
Pope said he saw no social media platforms dedicated to kindness. "We have Facebook focused on every type of person and LinkedIn focused on business people. Why can't we have one focused on kindness?" he said.
The app awards coins and points when users complete challenges or share kind and positive activities. Challenges include becoming a reading volunteer and "thumb wrestling your neighbor." 
To exemplify a task, Pope shared with Tallahassee Magazine a post entitled "Parking meter fairy," in which one of his daughters dressed up as a fairy and added coins to occupied parking meters in downtown Tallahassee.
He launched the app late last year. It reached almost 2,000 users in its first two months, he said. 
Pope said he hopes to expand the app and to include geotags with which users can check into a location. He also looks to market the app to businesses, and he'll do so with a smile.
"It is our right to live, learn, fail, fall on our faces, get up and enjoy the wackiness of the world," he said.