Down-Home, Upscale Tailgating
Down-home, Upscale Tailgating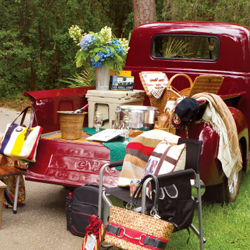 Scott Holstein
Tailgating in style.
Tailgating is enjoyed today more than ever, often becoming more important than the games themselves! For most sports fans, the tailgating experience is centered around the back of a truck or under a tent in the parking lot. It is a pre- and post-game social event, often commencing many hours before the game itself and lasting well after the time clock has wound down — no matter who wins or loses! Typical tailgating fare usually includes some kind of alcoholic beverage (mainly beer), grilled burgers or hotdogs, barbecue and other assorted pick-up foods. Paper plates are fine, but many fans take it up a notch, creating a home-away-from-home with china and glasses. It's also a great opportunity to embrace the preppy look, so pop your collar and break out the plaid blankets. Games such as beer pong, ladder toss and corn hole are frequently played. Some fans go tailgate hopping, meandering through the parking lot from party to party. And there's no need to limit tailgating parties to sporting events; they're also fun at weddings, graduations and concerts. This year bring your tailgating A-game and do it "Tutu Style" using some of the great ideas shown here.
Shop the Story
From Loli & the Bean Burlap koozie with stitched pink monogram ($17), stainless steel flask with garnet monogram and gold ribbon ($20), garnet and gold striped picture frame, antique-finish rose gold candle votives ($7–$12), square porcelain plates featuring a Seminole head and names/drawings of FSU buildings.
From Kevin's Fine Outdoor Gear & Apparel Rebecca Ray decorative pillows ($169), Yeti cooler ($300), wood woven utensil holder ($15), Pagoda hanging lamps (up to $239 each), Calaisio tray with wrapped handles ($89), hammered round scalloped tray ($52) and metal tub ($78), upscale picnic backpack with side compartments and blanket ($94) LED grill light ($44), 12×12 wooden plates ($16 each), salad bowls ($13 each) and serving fork and spoon ($15), Sandbuckle red tote ($65), BBQ Bible with more than 500 recipes by author Steven Raichlen, "Lumatong" — a 19.5-inch locking tong with bright LED lights in the handle ($24), "Redneck wine glasses" with college logos ($21 each), folding portable picnic bench ($134.99), wide-striped wool tote with trapper horse rosette clasp ($425), wicker picnic basket from Picnic At Ascot ($279).