Double-Duty Swim Fashion
Now, You Can Dress Up for the Beach AND Take Your Swimsuit Uptown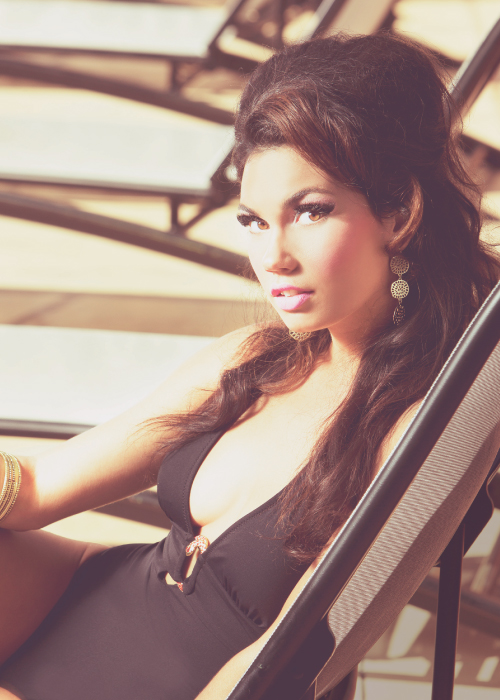 In the upcoming swimsuit season, forget the terrycloth cover-up and top your bikini with a sequined cardigan sweater when you head to the pool, says local trend-spotter Carrie McNeill.
One of the biggest resort and casual wear trends carrying forward into 2012 is the blurring of the line between what can be worn at the beach and everyday wear, according to the owner of Midtown's Cole Couture boutique.
After you slather on the sunscreen, be sure to accessorize your swimsuit with some bold — and waterproof — fashion jewelry. If your bikini top is pretty, pull a sheer tunic over it, pair it with palazzo pants and head out for a night on the town.
Turn the page and be inspired by the resort looks that appeared in Tallahassee Magazine's Sun Fashion Show, held poolside at downtown's Aloft Hotel.
ANIMAL ATTRACTIONA retro-glam Jessica Rivera wears a simple black one-piece with a bejeweled snake added for interest. "We've been seeing a lot of snakes and lizards in jewelry — it's almost like they took a piece of jewelry and incorporated it into this swimsuit," says Carrie of the BCBG MAXAZRIA design. This look gets added flair from hand-cast filigree earrings and stacked bangle bracelets from Texas-based Susan Shaw Jewelry. Her teased pouf — with hair all in an updo or half up and half down — "is THE hairstyle going forward," she says. "Everything old is new again."
Photo by Scott Holstein
MAE Couture
If you were doing a little word association with the phrase "cutting-edge fashion," it's not likely "Tallahassee" would be the first name that comes to most people's minds.
But 26-year-old Caroline Heidenrich, a "born and raised" local girl, is making her mark in the fashion world with her highly acclaimed line of clothing, MAE Couture. What's unique about her couture fashions is that Heidenrich creates everything from casual tops to formal dresses almost exclusively from repurposed materials. While her main inspiration comes from military surplus supplies such as parachutes, mosquito netting and pup tents, she's also designed using trash bags and other recyclables.
A 2003 graduate of Chiles High School, Heidenrich says she discovered the possibilities of surplus materials as a student at the Savannah College of Art and Design, where she graduated in 2009.
"I was uninspired by the materials at fabric stores and didn't have the financial support to go to New York and get expensive fabrics," she explains. "I was completely uninspired by the whole process, so I went to a military surplus … and I made my first mosquito net gown for my senior collection. It just got such a great response from my professor and mentor." That student work would earn her the Jefferey Fashion Cares New Talent Award and help launch her Atlanta-based business.
HANGING TOUGH Stephanie Perry brings a
biker chick sensibility poolside with boy-short bottoms wrapped in a studded wrap belt by Cowboy Leather. Her top, made of recycled parachute material from the MAE Couture line, was designed by Caroline Heidenreich. The finishing touch is a black leather cropped jacket with zipper detailing by BCBG MAXAZRIA. "We're seeing a lot of variety in coverage — with boy-short bottoms and a big push in one pieces," Carrie says, as well as a lot of accessorizing with swimsuits. "In the last swimsuit edition of Sports Illustrated, every model is pictured with layered necklaces and bangles."
Photo by Scott Holstein
"I do love using military materials, especially parachutes. It's a beautiful material. It makes a beautiful gown," she says. She will often dye the parachute material and takes advantage of ripcords to create flowing ruched skirts. "Some are made out of silk and some are made out of nylon — it depends on what year they were made." The "retired" parachutes she uses can be as old as the 1950s through the '90s. U.S. parachutes are her favorites "because of the construction," but she also collects military products from France, Japan, China and England as well. "Every single piece of military equipment that I get is different," she says. "It's a little bit of a different color, it's obviously used so it has different wear and tear marks; their numbers are all different. That's what I really love about it — nothing will ever be the same, even if they look identical in a photograph."
Her silhouettes are classic, so don't expect to find epaulets or brass buttons on her clothing. "The inspiration for the designs is not military, that just happens to be the material," Heidenrich says.
While she's now based in Atlanta, Heidenrich's roots in Tallahassee — and fashion — run deep. For starters, her company carries the name of her great-grandmother, Mae Johnson, who owned a downtown women's clothing store that operated in the early 20th century. "I've heard many stories that a lot of people got their wedding gowns from Mae's Shop, all the way down to their lingerie and everyday ready-to-wear," she says.
Her mother, Louise McNeill Heidenrich, owns the home furnishings accessories store Weezies Cottage Living in Havana. And her designs can be found at Cole Couture, owned by cousin-in-law Carrie McNeill, who is also pressed into service accessorizing outfits during MAE Couture's Tallahassee-based photo shoots. (Cole Couture carries some of MAE's more casual styles while Narcissus has more of the line's gowns.)
MAE's gowns are couture — made and fit specifically to a client — with prices that can range from a $35 swimwear top to a $2,000 bridal gown. Her client list includes Laura Turner Seydel, daughter of Ted Turner. "She's big into environmentalism and sustainability and being eco friendly," and appeared in a recent book wearing one of Heidenrich's gowns.
Heidenrich says she's not interested in mass producing clothing, but "I would love to get to a manufacturing level to make things ready to wear and to make things more available to people." Her goal for 2012 is to collaborate with her assistant, Megan Lawrence, and create an exclusive collection of wedding wear, including bridal gowns, bridesmaids dresses, mother-of-the bride dresses and "things for the groomsmen."
The young designer says she's capitalizing on her reputation as an eco-friendly designer to collaborate with environmental organizations. Her current efforts are focused on a campaign to increase awareness about the abundance of plastic trash pollution in the world's oceans. Swirling ocean currents have created five "gyres" of sea trash.
"They're finding that a lot of fish are eating it and they're finding that there's just so much of it they're creating bathtub rings around islands of this photo-degraded plastic," she says. "It will not biodegrade, so it just turns into smaller pieces. They sent me trash from the Pacific Gyre and I'm making a collection of beaded gowns with all the plastic that they've sent me. My goal is to make gowns from each gyre … five different collections to create awareness about the plastic pollution. It's just that simple — to bring awareness to global issues through fashion. That's basically my goal other than earning enough to just pay my bills.
"I like to try and give back as much as I can."
SHOWING HER FEATHERS Ingrid Bellera is channeling "peacock" with an uber-trendy feather clipped into her hair and a shiny gold W Swim bikini covered up with a Carlie cardigan whose pattern is inspired by the bird's bright coloration. "This is a perfect example of something that was originally intended to be worn with jeans or a pair of pants or shorts but people are going to turn it into a cover-up instead of going straight to a swim store," Carrie says. "They want something a little bit different and out of the box, so they're shopping boutiques for cover-ups to be more fashionable." Her necklace is by Verdier Jewelry.

Photo by Scott Holstein
BANDEAU ON THE RUN
 Pair a French Connection bandeau criss-cross halter with wide-leg pants, and you're ready for a night on the town. "Bandeaus are really popular now — this is where swim becomes everyday and everyday becomes swim," Carrie explains. "Girls are wearing bandeaus under sheer tops. Wearing a bandeau as an undergarment, you want it to peek through — it's not like it's a bra." Model Natalie Clark is also showing another trend with her bangle bracelets. "Stacking bracelets is a huge trend. Stack as many as you can stack on your arm," she says.
Photo by Scott Holstein
AS THE SUN WAS SETTING

… over downtown's Aloft Hotel, the beach-to-street fashion was getting hotter and hotter at Tallahassee Magazine's Sun Fashion Show.
It takes way more than a village — more like an army — to put on a fashion show. The success of the Sun
Fashion Show is thanks to the help of a variety of people. You know who you are. We know who you are. And now we'd like our readers to know who you are, too.
BOLD JEWELRY 
The simplicity of Meryl K. Walker's ruffled peach bikini by My H2O is set off by a chunky multi-strand necklace with a fabric tie and matching bracelet. "This necklace is great with jeans and a T-shirt or is just as pretty with a strapless dress," says Carrie. "She can go from a day at the pool to a cocktail party wearing the same jewelry." Priced at less than $20, "it's fashion-forward without the price tag shock," she says. "You won't mind getting your jewelry wet —
it's safe because the fabric will dry and the 'jewels' are primarily metals and colored plastics."
Photo by Scott Holstein
TALLAHASSEE
 MAGAZINE
McKenzie Burleigh
Marjorie Stone

Cole Couture
Carrie McNeill
Courtney Dunham
Laurel Wolcott

Haute Headz
B. Kaufmann
Brynn Monesterio
Dave Panton
Lizzy Hendricks
Nicole Roberts
Sarah Ann McClure

Photographer
Scott Holstein

Marsha Doll
Models and Promotions
Marsha Doll

DJ
GT Entertainment

Aloft Hotel

Models
Alexia McKay
Angelina Cain
Brittany BouSLIman
Claire Varnedoe
Colby McEldowney
Crystal Carrin
DesIree Stennett
Erika Akerley
Gabrielle Barrett
Gregory S. Beaver, Jr.
Ingrid Bellera
Jenni Wigglesworth
Jessica Littlefield
Jessica Rivera-BUSBY
Lauren Gluesenkamp
Lauren Schwartzman
Meryl K. Walker
Natalie Clark
Shannon Colavecchio
Stephanie Perry
Taylor Jansik
Tracey Grant
Victor Bellera
Wil Varn
Photos by Scott Holstein