Don't Get Nailed by Home Improvement
Knowing Your Limitations, and When to Call in the Experts, Can Save Time, Money and Even Prevent Serious Injury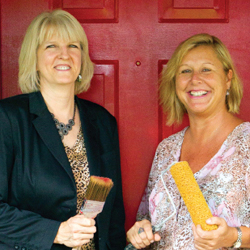 Scott Holstein
Homeowner and DIYer Tina Reason (right) and her friend Joyce Olaves pose with some of the tools they used to paint the door they're standing in front of and other projects throughout
her home.
Reality TV makes "do-it-yourself" look so easy. Hang a door? No sweat. Knock down a wall? That's easy. Install a new kitchen sink complete with new countertops and fixtures? Done and done, all within the allotted hour-long running time.
Inspired by this example, the typical homeowner (someone who's level of actual experience is minimal) may jump up and say, "My gosh, if they can do it, I can too!"
A mad dash out to the neighborhood hardware mega-store results in the purchase of a $600 miter saw, or a Skil Saw, or a chainsaw. At best, our plucky wannabe do-it-yourselfer could end up spending a lot of cash on something that may be used once, then put on Craigslist. At worst, they'll end up in the hospital. According to consumerreports.org, in 2009 home power tools caused 83,202 trips to the emergency room. Falls from ladders sent a staggering 246,733 people to the hospital, while chainsaws injured 26,593. Even paints and chemicals can get you in trouble. Accidents involving paints, solvents, lubricants and cleaning agents caused 53,907 injuries.
Accidents can happen even to seasoned professionals. But if you're not comfortable with your tools, or just don't want to mess with a certain aspect of a project, then you should call in the experts. Knowing when to call for help is the key to staying safe — and to having a satisfactory result that adds something of value to your home.
"You have to get contractors to do certain things," said Paul Peeples, a Chaires homeowner who has experienced his share of do-it-yourself projects, from total remodeling to building homes from scratch. "I know where my talents are and where they aren't. You hire people to do certain things that you can't do or don't want to do."
Sometimes, though, an expert may not do the job to your satisfaction. Arbor Hills resident Tina Reason took over the job of painting her guest bathroom when she wasn't happy with work done by a hired painter. She and friend Joyce Olaves determined to take it on as a do-it-yourself project.
"We started all this because I was embarrassed for anyone to come into the guest bathroom," said Reason, a case manager for Tallahassee Veterans Village.
With a little help from classes taken at Home Depot, they not only texturized and repainted the guest bathroom but added new towel racks and took on more complicated projects such as adding a new faucet and new lighting. Inspired and encouraged, they went and installed a new sink, toilet and faucet in the master bath as well.
With each project their confidence grows, Reason said.
"You get more brave thinking you can tackle bigger projects and it seems to grow," she said. "Of course, we started painting the baseboards in the hallways, kitchen, bathroom, and are going to do the bedroom. We painted the front door, garage door, and the big project we have coming up is we're going to re-do the cabinetry in the kitchen."

Rules to Live By
Everyone is different and will have different capabilities. But there are certain guidelines to follow, according to local experts.
"It'll depend on the individual's knowledge and what type of dexterity they have," said Marvin McPhate of Vanguard North. McPhate is a custom home remodeling expert from Monticello who has worked on projects in and around Tallahassee for more than 20 years. "I'd say do what you think you are capable of doing, provided it has nothing to do with the structural integrity of the house."
Some home improvement projects may call for more information than you can get down at the DIY class. Ed Dion of Dion Builders said you might have to ask the local building department for helpful hints and advice. You might need to apply for some permits as well.
"Once you've decided on what the project is, the building department might be a helpful place to start," Dion said. "They can tell you what permits you'd need, where you can find the codes that need to be adhered to online and what inspections will be required."
Reviewing building codes can be a daunting task, even for the professionals. Dion said that 600 significant changes to the state's building code just went into effect. He himself recently sat through seven hours of continuing education classes to learn what they are.
"It's mind-boggling. I keep a hard copy of the code around, and when I suffer from insomnia I don't get past a page and a half of it," he said.

Don't De-Value Your Home
There's really no such thing as a "simple" DIY project. Dion said the prospective DIY type could start small with a cabinet, but can you do it in a way that makes you happy and adds something to the home?
"Cost and level of expertise will vary with each individual, but in the end, the only time it matters is when you try to sell the home. Is someone going to see it as an asset or a distraction?" he said.
Steve O'Connor, a licensed contractor and owner of Handyman Matters of Tallahassee, cautions that you certainly don't want to do anything that will take away from your home's value.
"If you're making the improvements to sell the house, you need to have enough knowledge to have your finished project look professional," he said. "Buyers are looking for defects and they'll find them and it will drive your value down."
O'Connor said that thanks to a down economy, more and more private individuals who aren't necessarily qualified are starting to venture into the DIY realm to save some cash. In the long run, it may not be a good decision.
"People are doing more DIY stuff as a cost-driven decision," he said. "And most DIY projects don't turn out professional quality work. They're making a compromise that as long as they're living in the house they're fine with it, but when they sell the house it has a good chance of not being a good economic choice."
Safety Foremost
Probably one of the biggest questions you have to ask yourself when confronted by a DIY project is, can I do this safely? O'Connor said that should be the very first consideration.
"There are some tools that are deadly, even to the people who know what they are doing," O'Connor said. "The (tools) that stand out to me being the most dangerous tools that are readily available are Skil saws, chainsaws and tablesaws. Unless you are trained in (the use of power tools), or have somebody to help you, that's a red flag to me."
Sometimes, not using a power tool is the best choice, because that can get you in trouble. When Peeples and a friend went to New Orleans to help build homes for Habitat for Humanity in the wake of Hurricane Katrina, people there were astonished that they could do the work without a nail gun.
"They asked us where our nail guns are, and we said we don't need them," he said. From a safety standpoint, it can be a bad thing if your hand is in the wrong place at the wrong time. Inexperienced users need not apply.
Power tools aside, O'Connor said that ladders, gas leaks and electrical projects are other areas where safety has to be Job One.
"Unless you have the safety devices for it and have good help holding ladders, it is an area of concern," he said. "Gas and gas appliances of any kind, leave that to a professional. Gas leaks and ignition can be fatal. A grey area is electrical, but if you have to ask a question about it, you shouldn't be doing it."
Whatever you do, don't modify a tool. For any reason.
"Example is you buy a side grinder and you need to take the guard off to get to a corner. You just committed a major sin," O'Connor said. "Don't modify tools. If you have to do that, you got the wrong tool for the job."

'You Can't Handle The (Roof)!'
Self-improvement via home improvement may be a worthy goal, and O'Connor said if you want to take on a certain project, by all means go for it. But if your primary reason for DIY is saving money, you have to ask yourself some questions.
"The first is, if I get in over my head, can I afford to have it straightened out? I see a good bit of that," he said. "I get calls from that standpoint, people starting it themselves and getting over their head and then somebody is forced into the situation."
Peeples said he can understand that sinking feeling some might have when faced with a complex project. You just have to make sure you have the resources to fall back on to help you through.
Unanticipated problems can make any project challenging and trying.
"Just about any project can turn into a real challenge when you encounter the unexpected," O'Connor said. "That is what differentiates the pros from the novices. If you are trying to change out faucets and your tools are a pair of Channellocks and a pair of pliers, you can make a mess in a hurry with all that. You have to ask: If I foul it up, can I afford to straighten it out?"
Dion said there's really too much at stake, financially and emotionally, to screw up a DIY project.
"Many think 'It'll cost me less if I do it myself' but if it's done wrong it could end up costing twice as much or more," he said. "There are unfinished projects all over town, but we usually don't see them 'til the bitter end. Home renovation work can be tedious and emotionally draining for homeowners, especially when added on top of a full-time job that is draining as well."
Many people relish being a do-it-yourselfer. There's a great sense of accomplishment at the end of each project.
"To me, it's a gratifying thing," Peeples said. "You learn from what you've done. You build on prior experience and knowledge. I wouldn't feel you're insufficient because you can't do certain things; if people get frustrated that typically makes them stop trying. You find what you're good at and work around the rest. The bottom line is common sense and doing your research."
Hiring A Contractor
Observing due diligence is essential to not getting ripped off, according to the Federal Trade Commission.
For starters, get a grip on the size and scope of your project before picking up the phone book. There are different types of contractors for different jobs, depending on the complexity of your project.
General contractors manage all aspects of the job, and that includes hiring and supervising subcontractors; pulling permits and scheduling inspectors.
Specialty contractors install specific items like cabinets and bathroom fixtures.
Architects design homes, add-ons and major renovations. You may want to hire one of these guys if your home improvement project involves making structural changes.
Design/Build contractors provide one-stop service. They handle the project from start to finish. Sometimes they'll have on-staff architects or use certified designers.
Once you've singled out the type you need, proceed to the interview process.
Ask them how long they've been in business. Look for a well-established company and check into their history. See if there are any unresolved customer complaint issues.
Determine if the company is licensed and registered with your state. The FTC said that while most states license electrical and plumbing contractors, only 36 states have some kind of licensing and registration laws affecting contractors, remodelers and/or specialty contractors.
Understand your payment options. If it's a large project, do you want to get your own home improvement loan or ask the contractor to arrange the financing? Get a written contract, keep good records and have a job completion "punch list" on hand to make sure payment has been made, the job site cleaned up and all work is inspected and approved.
For more information, go to ftc.gov.