Don Yaeger: Lightning Rod
Loved by some, disliked by others, Don Yaeger has experienced success in professional endeavors ranging from sportswriting and lobbying to public speaking.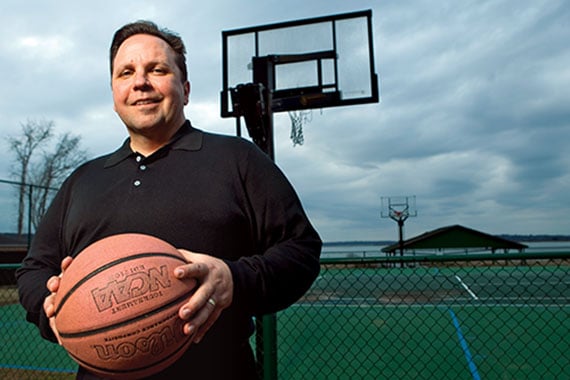 Don Yaeger has chatted with former President George W. Bush about his Little League years, exposed the NFL's secret private investigative team that spies on prospective players, and watched tears roll down former NFL running back Warrick Dunn's face as he confronted his mother's killer. And that's just during his writing career. Today, Yaeger may be just as well known in Tallahassee as a successful lobbyist and businessman.
As much as 47-year-old Yaeger has accomplished (or perhaps because of it), the ambitious millionaire who came from humble beginnings is a love-him-or-hate-him guy who has often been the center of controversy.
And that's what makes the storyteller worthy of his own story.
The Lessons of Adversity
During a recent visit by Yaeger to a sports management class at Florida State University, students warily eye the man standing before them. Yaeger has black pants and a collared shirt, with cherubic cheeks and a slight paunch. The accomplished sportswriter is doing what he enjoys most: telling stories.
He begins by boasting about the time he scored against former NBA superstar Michael Jordan in a one-on-one game of basketball.
"They will be closing my casket, I don't know how many years from now it will be, and I will be forcing it back open, saying, 'Does anyone in this room know that I scored on Michael Jordan?'"
Yaeger swiftly changes topics to one a bit closer to home: football player Warrick Dunn, the former FSU running back who was part of the university's first national championship team in 1993. Yaeger wrote a book with Dunn, observing as the football star confronted the man who murdered his mother during a bank robbery. At 18, Dunn was forced to become the primary caregiver for his five younger siblings. Although he is considered one of FSU's best football players of all time, setting the university's career rushing record and going on to play in the NFL for 12 years, Dunn was haunted by his mother's untimely death.
"Some day," Yaeger tells his audience, "adversity is going to ring your bell," just as it did Dunn's. "One of the most important characteristics of truly great, successful people is the way (they) use adversity. They use these moments that knock other people (on their) tail, and they do great things."
The students are eating up his words like candy. Yaeger engages them with tales of living with Chicago Bears running back Walter Payton as he struggled with a rare liver disease, and of picking the brain of former UCLA basketball coach John Wooden, whose seasoned advice spawned a book Yaeger wrote with him called "A Game Plan for Life."
After the speech, students eagerly approach Yaeger like he's the sports star, buying autographed copies of his books.
From Sportswriter to Lobbyist
Donald W. Yaeger Jr. is much more than a motivational speaker. He is the former owner of several successful Tallahassee businesses, an authority on sports, the author of 16 books and hundreds of Sports Illustrated articles, a lobbyist, a publicist and — in many of these pursuits — a man at the center of controversy.
"I don't pretend to be liked by everybody," Yaeger says. "I'm pretty confident in who I am. And if you don't have a lot of doubts, you can deal with what people say about you."
Yaeger exudes confidence, and he has achieved the type of quiet fame and comfortable lifestyle that most people merely dream of.
He is arguably one of Tallahassee's most accomplished residents, a nationally sought-after public speaker and writer. Yaeger has been a guest on television shows including "Oprah," "Nightline" and "Good Morning America," and has been interviewed on CNN and FOX.
Nevertheless, although he enjoys motivating others, and is described by friends and colleagues as a self-assured risk-taker, Yaeger struggles to define his own legacy.
Surrounded by memorabilia gathered during a busy career in sports writing, Don Yaeger holds a size 23 basketball shoe worn and signed by Shaquille O'Neal. It's quite popular for a school show-and-tell item, he says.
Type image description here.In his books, he has a reputation for taking on thorny subjects — from the way the National Collegiate Athletic Association conducts its investigations to the rape allegation that embroiled the Duke University lacrosse team in scandal in 2006. But Yeager isn't drawn strictly to provocative topics; he is also practiced at co-writing warm and sympathetic biographies with superstar athletes.
Evidence of his sportswriting excursions adorn the walls, from floor to ceiling, of his Tallahassee office, a historic home located a block away from Leon High School.
But that's Yaeger the sportswriter. There also is Yaeger the lobbyist.
For more than 15 years, he has owned his own lobbying firm, 180 Consulting, which specializes in technology and health care clients including computer maker Dell and pharmaceutical giant Novartis. Yaeger's small firm helps clients develop state contracts, monitor legislation and improve their image in the circles of Florida state government.
Courting Controversy
Among many Tallahassee political players and news-media insiders, Yaeger isn't known for his writing achievements or his lobbying prowess. Rather, he is viewed as an ambitious former newspaper reporter who has always seemed to attract controversy.
Yaeger has been accused of theft. He has been the subject of an FBI investigation involving bribery. He was named in a lawsuit over a controversial Sports Illustrated story he wrote about a college football coach's alleged sexual escapades.
"I was more aggressive than some other reporters, and I think that wins you friends and earns you enemies," Yaeger says during a recent interview at his office. "I do think that most people who get to know me feel pretty comfortable."
Several lobbyists and former employees are reluctant to go on the record about their relationship with Yaeger. Jorge Chamizo, a former Yaeger employee and a lobbyist, gives this lukewarm assessment of his experience at 180 Consulting: "That's a chapter of my life I don't want to revisit. I wish him the best."
Others answer phone calls with groans, criticizing Tallahassee Magazine's decision to write a story on Yaeger. "I would think you could do better," grouses one lobbyist. "It's unfortunate you are writing an article about him," says another.
Though Yaeger's name may produce groans within certain circles, he is beloved by many accomplished sports figures, including Dale Brown, a former Louisiana State University basketball coach, who co-wrote a book with Yaeger and was also the best man at his wedding.
"I have the highest respect for him," Brown says.
Son of a Preacher Man
Yaeger was born in Hawaii, the son of a Methodist preacher and a homemaker who juggled odd jobs and dabbled in nursing. His parents had five children and struggled on a lower-middle-class income, living in rental houses and wearing homemade clothes.
"My father was no Rick Warren," Yaeger says, referring to the successful evangelical Christian minister who spoke at President Barack Obama's inauguration. "My parents were among the hardest-working people I met in my life, but they weren't highly rewarded for it."
Yaeger says his parents' struggles "played a big role" in developing his relentless work ethic.
"He didn't grow up with a silver spoon in his mouth, he grew up earning everything he got," says Lee Gordon, a close friend of Yaeger's and a television news anchor at Tallahassee-based WCTV. "Everything he owns right now is from hard work."
When he was 13, Yaeger's family moved to Indiana after a stint in Japan. His father quit preaching to work for the government. After high school, Yaeger attended Ball State University in Muncie, Ind., and majored in journalism.
In a 1993 South Bend Tribune article that cast a skeptical eye on Yaeger's journalism, he was described as a star of his college newspaper. In the article, he was praised for dogged persistence — but also described by a former journalism professor as "blustery" and by a former student editor as "a scandal seeker."
After graduating from Ball State in 1984, Yaeger went to work at the now-defunct San Antonio Light. He quickly became a part of the newspaper's investigative team and even won the "Star Reporter of the Year" award, a statewide competition, in 1985 for a story revealing that a local Job Corps program was billing the government for training non-existent people.
Although he was winning accolades for his work, Yaeger made a minor misstep in another part of his life. In May 1986, he was arrested for leaving a department store without paying for two shirts worth $84, according to the 1993 South Bend Tribune article. Yaeger said he forgot he was holding the shirts when he left the store. The charges were dropped after he performed community service.
Later that year, Yaeger took a job at the Dallas Morning News, but he was dismissed after the San Antonio Light published an article about Yaeger racking up $1,000 in unpaid parking tickets. (The Light didn't have parking spots for reporters.)
"I was being immature, doing stupid stuff," he admits.
Through his contacts at an investigative reporting group, he landed a job at Jacksonville's Florida Times-Union newspaper in late 1986. Yaeger said he was in his element at the Times-Union.
"I love politics," he says.
Yaeger started as a City Hall reporter, then was promoted and moved to Tallahassee to become a reporter in the Times-Union's Capitol bureau. He thrived in a beat where he was tasked with covering the Florida Legislature and state government but given free rein during down time to tackle bigger projects. These included a trip to Afghanistan in 1988 to observe as Jacksonville-based Afghan doctors helped wounded mujahideen soldiers fighting forces from the former Soviet Union, now Russia.
One of his last projects for the Times-Union was an ambitious examination of the NCAA's investigative practices after the organization targeted the University of Florida. The university complained about the lack of due process, and the newspaper wanted to explore the NCAA's policies.
Yaeger and other reporters were sent to interview other college officials. Then came his big break: A national evening news show wanted to explore the topic and invited Yaeger to do an on-camera interview.
It would change his life.
"They quoted me," he says, "and as a result I got my first book offer."
An Illinois-based book publisher asked Yaeger to expand that newspaper story into a book.
"They offered me $5,000 to write a book," he says. "I thought I was so rich."
Yaeger spent his evenings writing while he kept working at the Times-Union. His editors knew about the book, Yaeger says. He asked the newspaper's librarian to help him with some research, and he rang up a $500 bill.
"I didn't realize that you had to pay every time you (submitted a query)," he says. "It was my mistake."
Yaeger was fired from a newspaper job for the second time.
The silver lining in his termination was the fact that Yaeger had gotten a taste of what life could be like as a book author. He knew immediately that he wanted to write another book, but he needed a steady paycheck that would tide him over between projects. As a political reporter, he made contacts with the state's legislators and saw lobbying as a good fit.
Yaeger worked briefly in the early 1990s for Bud Chiles, the son of former Florida Gov. Lawton Chiles. He was fired over "client charges," noted a 2005 St. Petersburg Times article. "A parting of the ways" was how Bud Chiles describes it.
Yaeger next started his own firm.
"I was working (as a lobbyist) while writing books, and I thought that would be the cat's meow," he says.
Yaeger says it was easy to keep the worlds separate.
"I never, ever solicited or took as a lobby client anybody who would have any interest in the sports world," he says. "So when there were stadium debates or there were teams that were trying to get franchise money, those would never be people that I would talk to. Trust me, a couple of them reached out to me … I just drew the line."
Taking a Risk
As Yaeger's lobbying business grew, he kept writing sports books, juggling his heavy workload with a steady supply of caffeine. Yaeger drinks two venti lattes — the largest size — from Starbucks each morning, switching to Monster energy drinks in the afternoon. Heavily caffeinated by evening, he then does most of his writing, typing as late as 3 a.m.
In 1993, Yaeger wrote "Under the Tarnished Dome," based on allegations that Notre Dame football coach Lou Holtz had abused players, sanctioned steroid use and established lax academic standards. The book earned Yaeger angry phone calls, letters and even death threats. But he also wrote "Never Die Easy," in 2000, a touching autobiography of Walter Payton that spanned from his childhood to his legendary career as a Chicago Bears running back, then on to his illness and death. Critics praised Yaeger's ability to weave Payton's authentic voice throughout the narrative.
Yaeger's love of sports oozes from him. He speaks in sports stats, mentioning a player's weight or average running yards like most people remember hair color. He especially loves basketball and has installed a full-size court at his home, located near Tallahassee's Lake Jackson.
"I love the competitive aspect of it," he says. "I'm not a sore loser, but I don't believe I've lost until you've beaten me. You can be ahead 15-1, and I figure I've got a 15-point rally in me because I've got to beat you."
His friend Gordon says he tries not to compete against Yaeger.
"He takes basketball very personally, so to remain friends … I choose not to play with him," Gordon says. "I enjoy being on his team as opposed to against him."
Yaeger chooses book projects based on what he finds "intriguing," he says. "I'm inquisitive." Gordon says Yaeger goes for the bigger, harder-hitting stories that will get more of a reaction.
"He is more concerned with telling a good story and taking a risk," Gordon says.
Yaeger says it has never occurred to him to be intimidated by any subject matter.
"If you're telling the truth and you're asking questions that are reasonable, then I don't really look at it as taking on anybody, I look at it as telling a story," he says.
Brown, the former LSU basketball coach who co-wrote "Tiger In a Lion's Den" with Yaeger, says of Yaeger that "it pains him when he does an investigative story and it comes out bad. I don't think he enjoys nailing people to the cross … he's just searching for the truth. He doesn't get joy out of it."
Opening Doors
In 1996, Yaeger was asked to join the staff of Sports Illustrated as a writer. It was a dream come true for him, he says.
"The fact that I hadn't had a long history as a sports writer was an advantage," he says, although he had written several books.
Yaeger's editors didn't mind his lobbying work, he says, so long as the magazine was his primary employer. Working for Sports Illustrated opened more doors, leading to two appearances on Oprah Winfrey's talk show.
The second appearance was for a story he co-wrote on pedophiles in youth coaching. Yaeger recalls the story as one of his favorites because it exposed a flaw in background-checking laws and regulations that allowed pedophiles to work as youth athletic coaches. A number of states changed their laws to require background checks after the story was published, he says.
"It's not often doing what we do that we get to really make a difference."
Yaeger became more successful as a lobbyist and developed a close relationship with Jim King, a state senator from Jacksonville who died after a brief battle with cancer in 2009.
Lobbyists say Yaeger wasn't shy about promoting his close relationship with King, who served as Senate president, one of the two most powerful positions in the Florida Legislature, from 2002 to 2004. Yaeger says King "was like a second father to me."
Others are more skeptical.
"The oldest tradition in the lobbying corps is to establish a close friendship with somebody in office … and make money off that relationship," says Lucy Morgan, a former St. Petersburg Times reporter who occasionally wrote about Yaeger and other influential lobbyists. "It was hardly an unusual situation for that to exist."
Yaeger's first marriage, to Allison Tant, ended in divorce in 1993. Both of them remarried, Yaeger to his second wife, Denise, who worked in technology Yaeger says gave him an inside track to getting lobbying clients in the emerging computer and software industries.
By the late 1990s, his firm was working with a number of technology clients, many of whom wanted help landing state contracts. Though other local lobbying firms were starting to court technology companies by then, Yaeger's was one of the first to develop an expertise in that area.
He had 10 clients in 2000, up from three in 1998, according to state records.
A Quick Nature
As soon as he had money to play with, Yaeger started buying businesses. He bought a scuba shop, a restaurant called the Tree Steak House, the Comedy Zone entertainment club, a limousine company and several party-tent rental businesses.
"I'm quick-natured," he says. "If I've got an idea, I think I should go do it right now. I love understanding how to make something work."
"He's an entrepreneur," comments his third wife, Jeanette Yaeger. "He likes to build and create things; that's why there are so many businesses and his hand is in different pots. He can juggle it."
Don Yaeger has now sold all of those businesses except for the Comedy Zone property on East Tennessee Street.
"I realized there were only so many hours in a day," he says.
In 2000, the FBI investigated Yaeger over bids on a $24 million state contract, according to the St. Petersburg Times. Yaeger and another lobbyist were suspected of promising a Missouri health care executive that her firm would be guaranteed to receive the contract with Florida's Agency for Health Care Administration in exchange for a $1.2 million payment to him, several newspapers reported.
Yaeger says it was the other lobbyist who spoke to the woman about payment and that the health care executive "felt like the conversation gave a greater sense of guarantee that some work would come her way." In the end, the FBI closed its investigation of Yaeger with no charges filed.
He would be under the spotlight again three years later when he wrote an article for Sports Illustrated about University of Alabama football coach Mike Price. According to the article, Price had visited a topless bar in Pensacola and later had sex with two women he picked up at the bar. The article included sensational details, such as the women screaming "Roll Tide," the University of Alabama slogan, during sex.
Many of those details were attributed to an anonymous source. Price denied the allegations.
A few days before Sports Illustrated published its article, the university fired Price. Versions of that article were also published in the Pensacola News Journal and on sports Web sites.
Price sued Sports Illustrated and Yaeger for libel, seeking $20 million. At the center of the suit was an effort to uncover the identity of Yaeger's confidential source. Price, who now coaches at the University of Texas at El Paso, didn't return a call seeking comment.
"In sourcing that story, the confidential source that was used didn't just speak to me," Yaeger says. "She spoke to five different people at Sports Illustrated before we chose to use her story."
In deposition interviews over the course of the lawsuit, it was revealed that Yaeger paid the source $200 and took notes for the article on former Senate President King's stationery, an indication of his close association with the lawmaker.
Yaeger says allegations that he paid a source "bother" him.
"It's not unusual to send a car service to someone to pick you up and bring you to a photo shoot or interview … She didn't have a working car, so we paid for a cab to drive her 45 miles and drive her back, and I paid that $200 to a cab. We didn't pay her, we paid a cab."
It wasn't just the lawsuit that caused bad publicity for Yaeger, but its collateral damage.
When The Wall Street Journal wrote about the suit in 2005, Time Inc. (which owns Sports Illustrated) executives told the Journal that Yaeger wasn't a lobbyist — they had asked him to stop after the FBI investigation. According to state records, Yaeger didn't register as a lobbyist in 2001 but did each year afterward; Yaeger says he took a break due to his hectic travel schedule. Former St. Petersburg Times reporter Morgan wrote that "lobbyists and lawmakers are laughing at that claim. Yaeger remains one of the most visible lobbyists in town."
Yaeger says his editors knew he owned a lobbying firm.
"I was very open about that when I got hired," he says, adding that it was "uncomfortable" when newspapers starting digging into his background.
"But I was never asked to sell the firm."
Sports Illustrated ultimately settled the lawsuit with Coach Price, but the terms were never made public.
A Change in Perspective
At a weekly pick-up basketball game at Tallahassee's First Baptist Church in 2003, Yaeger suffered a broken nose. While examining his X-ray, the doctor noticed something unusual. Upon further examination, it was determined that Yaeger had thyroid cancer, and that it had already spread to his lymph nodes. Doctors removed his thyroid and ordered radiation treatment.
As the radiation coursed through his body, Yaeger mulled his life's accomplishments.
"What had I not done that I wished I had?" he recalls thinking.
The answer was easy. Children. Though he had stepchildren with his second wife, Yaeger said he wanted children of his own.
"There was something about being a parent that I hadn't experienced yet that I felt was important," he says, his eyes starting to water. "(Cancer) changes your perspective; it changes the value of each day."
Beyond wanting children, Yaeger's hard edge started to soften. Writing books that inspired hate mail didn't get his juices flowing anymore.
"I wanted to seek out more inspirational stories to tell," he says.
The cancer was eventually determined to be in remission, but his second marriage didn't survive. A divorce was filed in 2004.
A Dream Fulfilled
Yaeger was later introduced to Jeanette Wilk, another lobbyist who worked with health care and pharmaceutical companies. Their first meeting didn't go very well — Yaeger worked too hard to impress her by dropping names.
"I thought he was a jerk," she says.
And if writing and business aren't enough to fill the hours in a day, Don Yaeger's young family keeps him busy. He's shown with his wife, Jeanette, and children, Will, 20 months and Madeleine, 7 months.
Type image description here.A year later, they bonded during a long car ride to a Jacksonville fundraising event. Jeanette gave him a second chance, eventually inviting him over for a home-cooked dinner. Yaeger was out of town at the time, but he didn't let on. He flew back from Texas to make it on time to dinner.
They got married in 2007, and true to style, Yaeger acted quickly on his desire for children: Jeanette gave birth to son Will in 2008 and a daughter, Madeleine, in 2009.
Jeanette Yaeger now works with her husband at 180 Consulting.
"We don't work too closely, and that's what makes it work for us," she says. Jeanette Yaeger is the lead legislative lobbyist, and Don Yaeger is at hand for high-level meetings with the governor or Senate president.
One client that Yaeger's firm works with is Metatomix, a Massachusetts-based technology company that developed a software platform that consolidates information from different sources into a single database. For example, it provides local law enforcement officials with better access to arrest-warrant information from other counties. Metatomix hired Yaeger's firm three years ago to help it convince state and local government officials to use its technology.
"(Yaeger's firm) has done a phenomenal job in helping us get through and talk to people," says Metatomix CEO Jeff Dickerson. "They know how a system works, or equally important, doesn't work."
Dickerson also appreciates Yaeger's candor. Other lobbyists, he says, talked optimistically about Metatomix's chances for success; Yaeger, on the other hand, was "very realistic" and pointed out the challenges his company would face in placing its technology.
"He has a sense of the counties and entities in government that are more leading edge," Dickerson says.
Although Yaeger is happy to brag about the time he scored against Michael Jordan, there are certain things he keeps close to the vest. His fight with cancer is one. His involvement in charity work is another. Brown, the former LSU basketball coach, says that after Hurricane Katrina devastated much of New Orleans in 2005, Yaeger and his wife flew in a private plane to Louisiana and delivered supplies including baby formula, medicine, food and cash. After returning to Tallahassee, Yaeger sent an e-mail to friends pleading for more donations. He got enough to fill one-and-a-half 18-wheeler trucks.
"The way it came together was amazing," Jeanette Yaeger says.
The Yaegers are also heavily involved with the local United Way chapter, hosting a kick-off event at their home before the group's annual golf fundraiser. And they support various cancer and health charities, including the Alzheimer's Project and the American Cancer Society's Relay for Life.
"He does a lot," Jeanette Yaeger says.
Brown says Yaeger purposefully keeps a low profile when it comes to talking about his charitable work.
"He said, 'Coach, I don't want to be like most athletes, giving some money and going on Larry King and telling everybody what I gave,'" Brown says. "He's a giant of a man."
After Yaeger left Sports Illustrated in 2007, he transitioned into becoming a public speaker. He hired professional speech coach Patricia Fripp to work with him on delivery and content.
Fripp soon spotted his weakness: "There needs to be more of you in there," she said.
"When she helped me craft the first version, it had a big chunk about me and cancer," Yaeger says. "I couldn't do it. I just couldn't do it. It's six years later, and I still can't."
So he sticks to telling stories about other people. It's what he knows, and what he hopes will be his legacy.
"It sounds so cheesy," Yaeger says, "but (I want people to remember) that I'm a good storyteller."
Sage Advice From the Pros
Don Yaeger has interviewed scores of famous athletes and politicians, taking their best advice and sprinkling them throughout his motivational speeches. And he has sought out words of wisdom from sports superstars such as Michael Jordan, asking them to write letters of advice to his young son — a sort of athletics-inspired guide for life.
Here's a sample of the "lessons learned" that Yaeger has gleaned from sports stars:
With a pivotal game coming up during the NBA Finals in 2006, Miami Heat basketball star Shaquille O'Neal began packing his suitcase. He says it was because his coach, Pat Riley, had told his players to check out of their hotel prior to the game, so confident was he that the Heat would win that night against their opponent, the Dallas Mavericks. The Heat did in fact win. Lesson learned: Adopt a winning attitude. Picture yourself finding success and meeting your goals, and surround yourself with people who will help you achieve this vision.
Warren Moon dreamed of becoming a quarterback in the NFL at a time when black quarterbacks were rare. He turned down multiple college scholarships that would have required him to play football at other positions, instead attending junior college until the University of Washington offered him a scholarship to play quarterback. After graduating, he went undrafted by the NFL, so he played in the lesser Canadian Football League for six seasons until the Houston Oilers selected him in 1984. Lesson learned: Don't take no for an answer, and don't accept that you can't do something just because someone sees you as incapable.
Former UCLA basketball coach John Wooden used to start each season by teaching his players how to put on socks and shoes — specifically, how to smooth out the wrinkles in their socks and make sure the material didn't get trapped between their toes. Wooden taught his players that any wrinkle in the sock causes rubbing that will produce a blister, and blisters keep a player from practicing. The players laughed at this advice, but there was a bigger point to the exercise. Lesson learned: Even the smallest details can help pave the way to a bigger goal.
— Compiled from Don Yaeger's books, words, and "Moments of Greatness" newsletter
Five Words
Ever the entrepreneur, Don Yaeger has a sideline business, 180 Communications, that coaches athletes on how to handle media interviews.
"I work with athletes on the idea of teaching them that they are a brand," Yaeger says as he reaches for a personalized bookmark with media training tips.
He gives most athletes a homework assignment — picking five words that represent them.
So what five words would Yaeger use to describe himself?
He pauses.
"I wrote them down once," he says, peering at papers on his desk. "I would say I'm competitive. I'm driven … Um, I'm trying to think of what my five would be." Silence. "See, I failed, I failed in my own class."
A few weeks later he sends an e-mail with his five words: "competitive," "curious," "passionate," "positive" and "creative." They had been buried by a paper avalanche on his desk.