Dominick Ard'is
Inner substance, outer finesse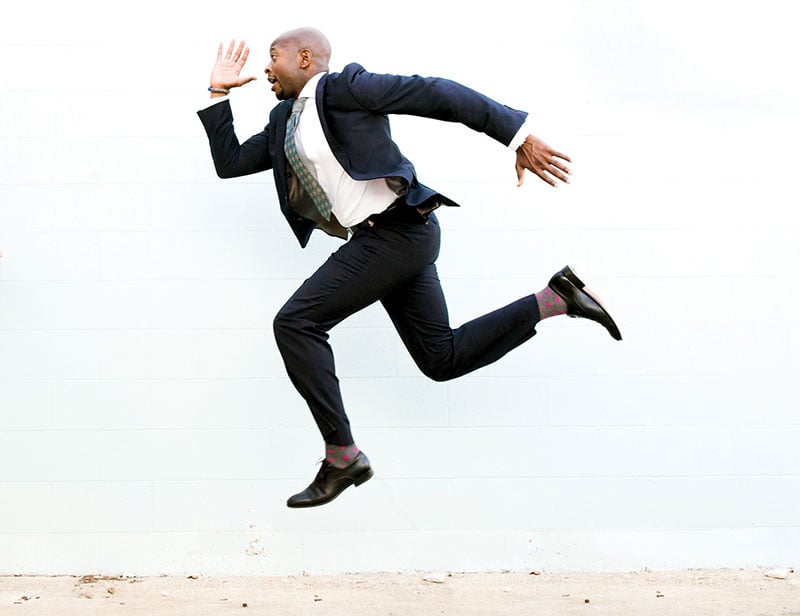 "Snickers bars melted," he says, "but Dubble Bubble — I could sell that. I made good money."
Those were simple times. Then Ard'is became a teen-ager.
"My parents always bought my clothes, but I got to go where I wanted to buy them," he says. So at 14, he took a job as a groundsman at a local apartment complex, where he began to develop an eye for detail. When he had saved enough money, he took himself shopping … and his sense of style was born.
Ecko, Fubu, Sean John — these were Ard'is' go-to brands in the early 2000s. His freshman year at FAMU, when he redshirted on the baseball team, added Nike, Reebok and Adidas to his mix.
In his second year of college, Ard'is interned at Phipps & Howell law firm. Money was tight, so his parents bought him two shirts, suits and ties that he could wear to his internship. When he wasn't at Phipps & Howell, he was at Dollar General, where he worked as manager.
Fashion, which had been an avenue of expression for Ard'is, became less important than sleep. And yet, one afternoon, when he left Phipps & Howell for lunch, his gaze landed on Nic's Toggery, across the street. Maybe the sunlight was refracted by the plate glass into Ard'is' eyes that day; maybe his morning cup of coffee had been stronger than usual. Whatever it was that penetrated his mental fog and made him cross the street, from that point on, he was back in the fashion game.
"The first person I saw was Randy Martin, who had coached me at the batting cages," Ard'is said. "He and Victor Gavalas introduced me to a whole new type of clothing. They taught me about fit and the longevity of fabric. I learned that a pattern changes the way a piece of fabric is woven, and that weave affects weight and feel.
"I also learned that there wasn't anything special about the way I dressed that set me apart. That wasn't OK. So I stopped buying lunch every day and started packing peanut butter and jelly sandwiches, instead."
The change paid off.
"One day, I saw a picture of President Obama wearing a white, spread-collar dress-shirt," Ard'is says. "I had to get an 'Obama White.' I finally found a Mastai Ferretti for $125. The fit was different from other shirts; the look was different. When I wore it, I felt different."
By the time Ard'is entered the world of corporate management consulting, he was confident in his style. Then a colleague told him, "You have plenty of style – but no substance."
That statement stunned Ard'is. He determined to establish for himself a personal style that would be a reflection of his identity.
"Clothing needs to say something about who I am on the inside, what I like and who I serve," he says. "My style is a blend of vintage and modern, because that's who I am. I love 1950s and '60s Bel Airs and Camaros, but I drive a Prius, because gas is expensive."
Ard'is is pragmatic about most things. He says that because he's a black man, people already take notice of him when he enters a room. "I want to use that, and my style, for a purpose," he says. "It's like, 'Great, all eyes on me. Now let's talk about something of substance.'"
Today, Ard'is is the director of programs and operations at Domi Station, a business incubator. It's the perfect fit for a man who is often heard to say that "every visionary needs a missionary; every dream needs execution."
So many dreams begin with a nugget of an idea encapsulated in a symbol; but until the dream is realized, that symbol remains static. "You have to move from symbols to substance," Ard'is says.
And that's the way fashion works for him — as a symbol of his inner substance.