Doctor Blacksmith
Charlton Prather Bookends a Medical Career With Stints at the Forge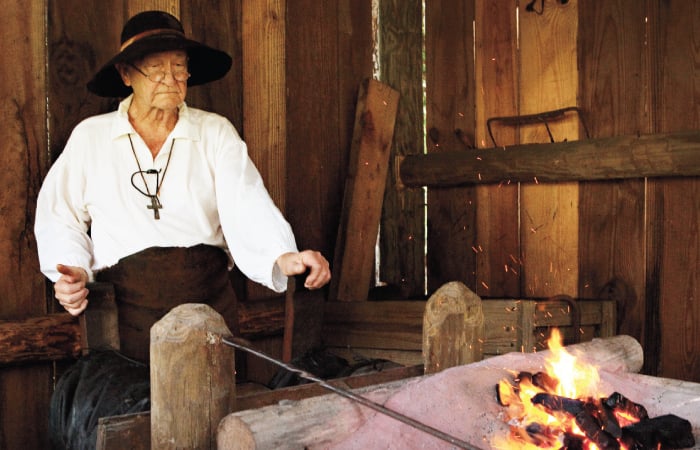 Around Mission San Luis, he's known as "Skeeter," the volunteer blacksmith. The average visitor probably doesn't know that the affable and highly skilled craftsman is also one of the state's most respected physicians — and the man for whom the Florida Department of Health's E. Charlton Prather building is named.
But long before he wore a doctor's coat or served as Florida's State Health Officer, Dr. Charlton Prather, 81, was fascinated by fire and iron.
In the 1930s, the blacksmith shop in his hometown of Jasper, Fla., was one of Prather's favorite childhood haunts. One afternoon, the shop owner asked if young Charlton and his best friend, Jake, wanted a job putting the tools away.
"He promised a nickel a week if we did satisfactory work, and we did," Prather said. "Many of the afternoons I did the work by myself, but Jake still got his nickel."
The shop was the heart of the small community during the Great Depression, and Prather continued to learn at the feet of the owner and the other blacksmiths employed there. By the time he reached high school, he was trusted to take the company pickup truck on house calls. On occasion, a farmer hooked his plow onto a tractor, drove into a hidden stump and, as Prather put it, "bent the situation."
"We'd take a portable forge and the necessary tools, then go to the field, literally, in the truck," he recalled.
When Prather left for the University of Florida to study microbiology in the 1940s, commercially prepared tools had taken a toll on the blacksmithing business. The local shop closed and the physician-to-be didn't raise a hammer again until he was a medical student at Wake Forest University in Winston-Salem, N.C.
Interestingly enough, it was a medical school course that reunited Prather with the forge.
During a physiology lecture, a professor drew a diagram of a surgical retractor, lamenting that the school didn't have the instrument. No machinist in the Winston-Salem area seemed to know how to make one, so Prather volunteered.
"I told him I had some experience in bending iron, and I thought I could make that for him. I said, 'Draw me an exact scale, and let me see what I can do.' "
He located a horse farrier in town and asked if he could use his forge. Prather finished the precisely scaled retractor in two hours and the professor was delighted.
"The upshot of it was that the next day, he gave me a check for 50 bucks," Prather recalled. "That supplied us food for more than a month."
Prather went on to have a long, distinguished career in public health in Florida, and in 1974 he was appointed State Health Officer. The appointment came at a tumultuous time. A 1975 legislative mandate decentralized Florida's division of Health, Rehabilitative and Social Services, and many state public health employees were reassigned or relocated from Jacksonville to Tallahassee. Prather and his wife, Lou, moved from Orange Park to Tallahassee in 1976, and he brought his forge and blacksmithing tools with him.
He held that state position until 1979 and was appointed to a second term in 1986. After "35 years, six months, 27 days and one and a quarter hours" in the Florida public health system, he retired in 1987.
"It was a fun career," he said.
Shortly after retiring, Prather became an active volunteer at Tallahassee's Mission San Luis. He's become one of the historic landmark's biggest supporters and is now on the Friends of Mission San Luis Board of Directors. While the mission employs a staff blacksmith, Prather's period-accurate handiwork is visible throughout the property. He made all the mission's hinges, latches, locks, candle sconces and candelabras, plus many pounds of nails and the 3,200 rivets that hold the doors and shutters together. He installed the rivets himself.
Prather also came up with the idea to relocate the blacksmith shop from its formerly off-the-beaten­-path spot and have it rebuilt with donated materials and labor.
"He said, 'I'll supervise the project and we'll make it first class.' My job was just to get out of his way," said Dave Ramsay, who chairs the Friends of Mission San Luis board.
Even during Tallahassee's sweltering summer months, the good doctor takes fire to metal and practices the craft that became part of his life more than 70 years ago.
"If it's forged iron, I love doing it," Prather said.