DIY Cheese
Learning How to Create Homemade Mozzarella at Sweet Grass Dairy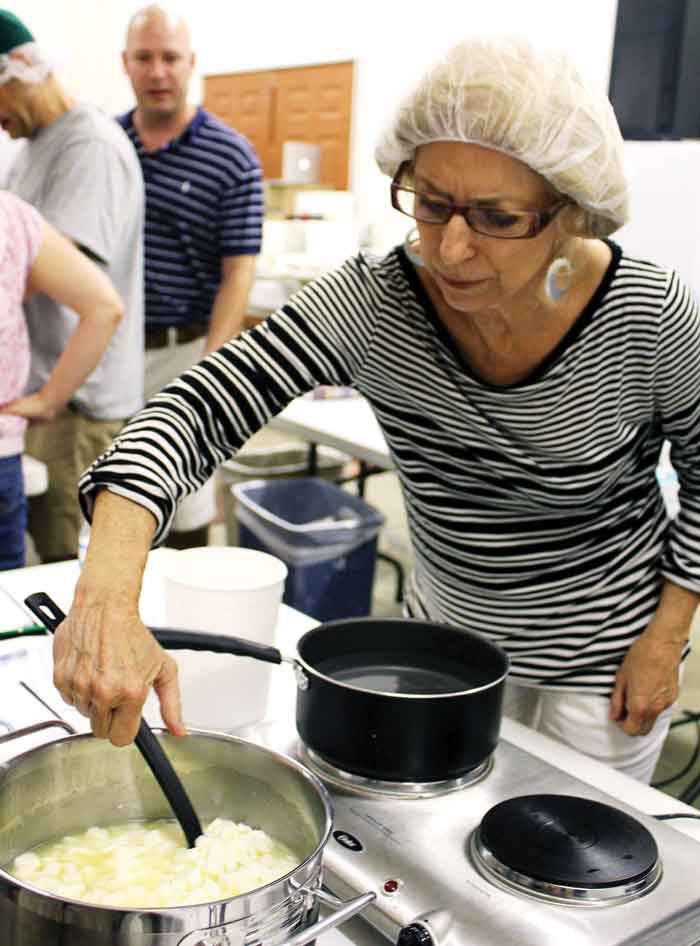 Usually, a person with basic cooking skills can read a recipe, follow the directions and whip up something fairly close to what's shown in the cookbook's pretty picture.
But some foodstuffs and cooking techniques benefit from hands-on guidance of someone who has been there and done that to help us get it right and avoid embarrassing flops. Things like jelly, pickles, puff pastry, French bread or — and this was learned at my mother's side — gnocchi.
High on my list of do-not-try-this-at-home-alone foods is cheese. In my opinion, the process by which milk becomes sharp cheddar is long, mysterious and best left to the professionals. And, that's true when it comes to hard, aged cheeses. But in monthly classes at Thomasville's Sweet Grass Dairy, co-owner Jeremy Little offers himself as a cheese-making sherpa for the uninitiated.
Sweet Grass offers two different cheese classes, one demonstrating the technique for making fresh cheese, and the other for making that Italian mainstay — mozzarella. I was invited to join the mozzarella class and found myself on a sunny Saturday wending my way down a dirt road lined by fields that were home to herds of goats.
Classes are held in the cheese-making facility and Little is a stickler for sanitation. Participants — up to 16 people — are required to wear hairnets, clean clothes and close-toed shoes for the class. Four of us shared a cooktop, which allowed everyone to get a hands-on experience.
The process begins with milk — the highest quality possible and preferably not pasteurized at ultra-high temperatures. The cow's milk we used provided us with a nostalgia trip, with its yellowish coloration and glass bottles. After pouring a gallon into a stockpot, citric acid is dissolved in water and stirred carefully into the milk. It gets very slowly heated to 90 degrees.
This takes awhile, and instead of pot watching, Little gives us a short tutorial on cheesemaking. The ingredients for mozzarella — for all cheese, in fact — are very simple: milk, starter, rennet and salt. Little calls it a beginner "gateway" cheese but, as we would discover during the two-hour class, "it requires focus and diligence to get it done correctly," as he writes in the instruction packet.
Once the milk is hot enough, the rennet — a coagulating agent — is stirred in.
In a matter of minutes, the milk separates into curds and whey (remember Little Miss Muffett?). After about 10 minutes, the curd, which has a Jello-like consistency and sits on top of the watery whey, is cut into squares and stirred for a while. In the meantime, we're heating up a separate pot of water to 150 degrees.
The curds are strained in a colander (save the whey, it's great for making bread and ricotta cheese), and at this point looking kind of gooey and lumpy.
And then, the messy fun begins.
We're each invited to grab a handful of the curd and plunge it into that hot water (a double layer of latex gloves helps here, it's hot). After a minute or so, you pluck the curd ball out of the water and start to stretch it until it becomes smooth and shiny. After some rolling and tucking, the finished cheese ball is plopped into a saltwater brine and ready to eat. Because it's a fresh cheese, Little suggests freezing what you can't eat within a few days.
The dairy's fresh cheese class is a demonstration, because making it is a three-day process. But participants are also taught how to make ricotta cheese, which takes only a few minutes. Brenda McKinstry of Colquitt, Ga., had already attended the fresh cheese class and swears she'll never buy ricotta cheese again. "I'll make my own," she said.
In addition to a little bag of mozzarella balls, we were given detailed instructions and some citric acid and rennet to try cheese-making at home and treated to a tasting of a variety of different mozzarellas as well as Sweet Grass Dairy cheeses, which are sold at retail outlets, including the Sweet Grass store in downtown Thomasville.
---
Cheese, Please
Cost is $60 per person. For a listing of class dates and to register, visit sweetgrassdairy.com. To get there from Tallahassee, travel north on Thomasville Road through Thomasville and turn left on U.S. 19. Travel four miles to the crossroads of County Road 202. The dairy is about half a mile past the intersection on the right. You'll need to make a U-turn to get into the entrance. Sweet Grass Dairy / 19635 U.S. Highway 19 North / Thomasville, GA 31792 / (229) 227-0752