Diversity Abounds in Woodland Drives and Indianhead–Lehigh
The Neighborhoods of Myers Park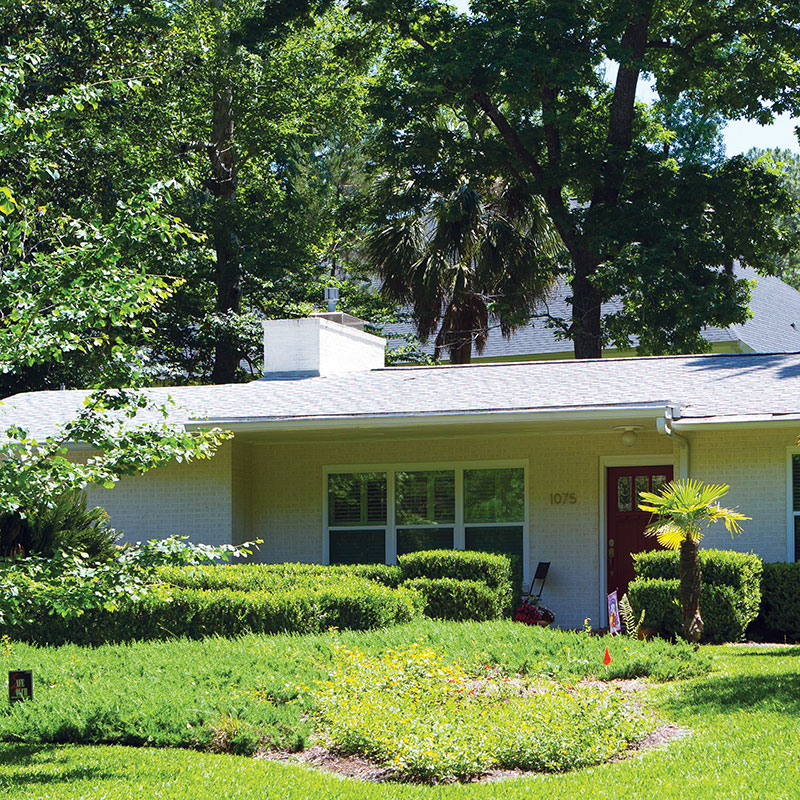 If you're looking to buy a home in an area that's both part of an insular, friendly community and close to downtown entertainment, look no further than the area around the city's Myers Park. Although locals refer to homes as being "in Myers Park," they are usually referring to the neighborhoods of Woodland Drives and Indianhead–Lehigh. There is no subdivision specifically named Myers Park.
Real estate broker Jacques Depart, a longtime resident of Woodland Drives who regularly sells property in the area, has seen a major change in the neighborhood in the past few years.
"At one point it was looked at as being just older people over there," Depart says in reference to the Myers Park locale, "but in the last 10 or 15 years it's really turned around and gotten new blood." He cites the neighborhoods' proximity to Florida State University and Florida A&M University as possible reasons for the injection of young people in recent years.
Because of the neighborhoods' age, "it's really diverse," Depart continues. "You have a very good mix of people … not just one type. Newcomers, first-time home buyers and people downsizing."
Woodland Drives and Indianhead–Lehigh have a number of good qualities: They're both near Myers and Cascades parks, both are within walking distance of at least a dozen local restaurants, and a five-minute drive will get you from either of them to the shops at Governor's Square Mall. However, what keeps many people around after they move into these neighborhoods might surprise you.
Homeowners' associations are great for property values, but talk about them in some communities and you'll get eye rolls, sighs and "friendly reminders" that it's time to mow the lawn. Not so in Indianhead or Woodland Drives. The HOA's in the Myers Park area have started a number of unique programs that build communities where everybody knows everybody's name.
One such program in the Woodland Drives neighborhood is Women In The 'Hood, or WITH. The Woodland Drives Homeowners' Association website describes the event as "something that our modern lives don't nurture very much — interconnectedness as women in community."
Universities and the city's recreational amenities are all contributing to the resurgence and diversity of the neighborhoods around Myers Park.
SCOTT HOLSTEIN
Once every six weeks to two months, a woman in the community opens her home to all the other women in the neighborhood — sometimes as many as 50 guests. (She doesn't plan the shindig by herself, of course. The website recommends a group of three to six women assist the hostess in getting the word out, gathering food and drink for everyone, and setup and cleanup.) This is not a mandatory event. Any woman may choose to host or not, any woman may choose to attend or not, but best of all, every woman in the Woodland Drives area is automatically a part of this "hang-loose and welcoming group."
Indianhead–Lehigh's main event is an annual gathering called Nene Fest, named after the way the streets in the neighborhood are labeled. "Nene" is the Seminole Indian word for street. This year's Nene Fest goes live Saturday, May 9, and, as in previous years, will include a 5K Fun Run, live local music, arts, crafts and kids' activities.
The real estate mogul's mantra is "location, location, location." Place might sell a property, but people make a community, and you won't find people more dedicated to that purpose than the ones in Woodland Drives and Indianhead–Lehigh.
---
For more information, visit wooddrives.com (Woodland Drives) and ihlna.org (Indianhead–Lehigh).