Divers, Paddlers and Anglers Find Scenic Getaway in Jackson County
Merit's Millpond is one of many natural bodies of waters that make for luxurious swimming in the Florida heat.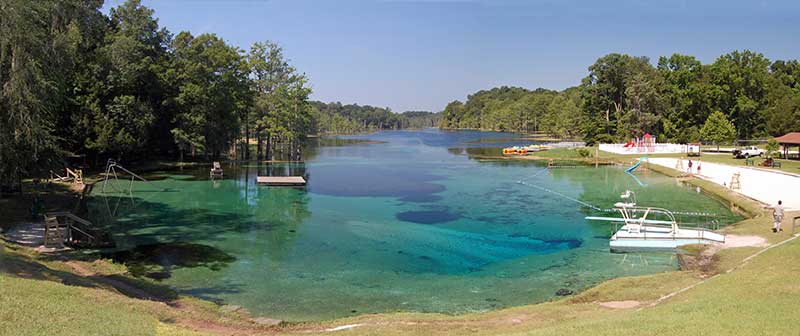 A leap into the water at Jackson Blue Springs, the first-magnitude natural spring that forms the headwaters of Merritt's Mill Pond outside Marianna, is beyond bracing.
"It takes your breath away," said Katie Moore, who has lived and worked on the millpond for all of her 26 years.
That's good in the triple-digit heat of a North Florida summer.
"You'll see little kids, and they'll come out and their lips are purple and they're shaking but they're like, 'I want to go again!'"
The main spring — there are at least six — pumps 77 million gallons of crystal clear water per day into the 202-acre millpond.
Water temperature at the spring head averages about 68 degrees, but the water warms as the pond winds toward the dam more than 4 miles away.
The system is fed by rainwater leaching into the limestone bedrock in a tear-shaped catchment zone that extends beyond the Alabama state line.
People have been repairing to these springs since time beyond counting, local historian Dale Cox has written — Native Americans, the Spanish, the British, the Americans. Andrew Jackson passed through in 1818, during the First Seminole War.
Then, as now, fishing was a major draw. The pond holds the state record for the largest shellcracker, at 4.86 pounds. Bass fishing is good, too. Many people prefer to kayak or canoe along the millpond. You can launch from a boat ramp on Hunter Fish Camp Road.
The dam across Spring Creek that forms the pond went up during the 1860s. An icehouse operated here for many years, and a small hydroelectric generator produced power for most of the 20th century. Cypress trees stand hip-deep along the submerged creek channel, trailing Spanish moss. (A word to the wise: Watch your boat speed, lest you run afoul of the many cypress knees lurking below the surface.)
"It's peaceful, quiet and serene," said Edd Sorensen, who has lived on the millpond for 15 years.
Sorensen owns Cave Adventurers, teaching cave diving and otherwise catering to the sport's devotees from around the world. Under an arrangement with Jackson County, he can issue the necessary diving permits. He also rents pontoon boats, kayaks and canoes.
Sorensen is a founding member of the International Cave Rescue and Recovery team and travels widely to promote diving safety. "I am the only person on the planet that has more than one cave rescue," he said. "I have five. Plus lots of body recoveries."
Signs posted near the caves are explicit about the danger to divers lacking the proper training. They feature a drawing of a Grim Reaper with the skeletal remains of unlucky divers at his feet. "STOP. Prevent your death! Go no farther," they read.
One attraction of the local caves is that they rarely "blow out" — when heavy rains overcome the usual hydrological dynamic and force silt-laden river water into them via reverse flow, muddying the limestone.
Sorensen was so impressed at these wonders that he sold his home and business in Oregon to live here.
"Everybody thought I was crazy," he said. In fact, it was a smart move. Previously, these caves were a pit stop for divers on their way to springs country farther east. Now the area is a destination in itself. Divers have visited from every state and 26 countries.
"I've taught people from Poland, Brazil, Hungary, the Czech Republic, Russia, Mexico," he said.
"These are very beautiful caves. They're very white, compared to a lot of the river caves that get river water backwashed in. Those cave walls are yellowy or black." That almost never happens at the millpond. "Because it's controlled by a dam. I think in the 15 years I've lived here, it's reversed twice."
As for Katie Moore, she helps run the Arrowhead Campsites, down at the dam, which her grandfather opened 48 years ago. "That's where I learned to swim — throw me off the side of boat," she joked.
There's a restaurant, gas station, cabins, space for 200 caravans plus tent sites. And a boat launch. "You're welcome to bring any boat, and they allow any size motor on the pond as long as it's not an airboat," she said.
"We're extremely busy," Moore said while taking a break from her restaurant duties on a recent Sunday. "Memorial Day, Fourth of July weekend and Labor Day are the only times we take reservations. But we have the cabins, too, and we take reservations on those."
Moore has spent summers at Blue Springs since she was a little girl. Blue Springs Recreational Park, operated by Jackson County, is open between Memorial Day and Labor Day.
Admission costs $4, and season passes are available.
"They've got a diving board, and they've got a volleyball court and a sandy beach. They've got the concession stand. They've also got a pavilion with picnic tables underneath it that you can rent for birthday parties and whatnot," Moore said.
"I'll lay out and get hot and sweaty and then I'm like, 'OK, let's go jump in the water.'"
U.S. Highway 90 crosses the top of the dam. On the other side, Spring Creek resumes its natural flow to the Chipola River. A small park features metal walkways from which visitors can launch a canoe, kayak or inner-tube, or just go for a wade (it's not deep).
Bring your own or rent from Bear Paw Adventures, which maintains an office at the old ice plant site during the summer (and on the Chipola, just south of Interstate 10, throughout the year.)
The company offers nine-, five- and four-mile trips and will ferry you back to your car at the end of the day.
"They're going to see fish, probably snakes," manager Ricky McAlpin said. "They might see a gator. Birds, turtles. It gets pretty busy in the summer."
No glass containers or styrofoam on the river, please — they're banned by county ordinance.
If You Go:
Arrowhead Campsites
4820 U.S. 90 Marianna, FL 32446
(850) 526-7578
Bear Paw Adventures
2100 Bear Paw Lane Marianna, FL 32448
(850) 482-4948
Blue Springs Recreational Area
5461 Blue Springs Road Marianna, FL 32446
(850) 482-2114
jacksoncountyfl.net/parks-and-recycling/blue-springs
Cave Adventurers
5211 Limestone Lane Marianna, FL 32446
(850) 482-6016