Digital Textbooks are Coming
New State Law Requires Adoption of More Online Textbooks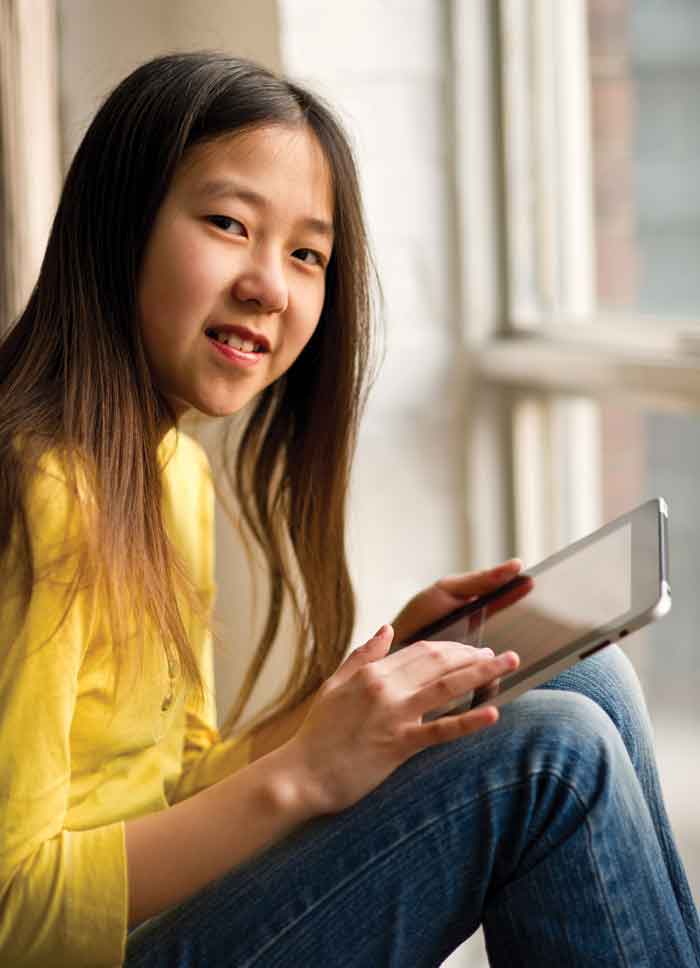 Toting textbooks may be a thing of the pastDigital Textbooks are ComingNew State Law Requires Adoption of More Online TextbooksBy Lilly Rockwell
In 10 years, school textbooks will go the way of typewriters and rotary phones.
It may sound radical to anyone who has graduated high school, but to today's students, who grew up using the Internet, textbooks can be awfully "old-school."
High school students lugging around heavy backpacks filled with hardback textbooks will soon be just a memory as publishers and schools work toward offering more online textbooks. This isn't some faraway idea — a new state law requires that school districts adopt online textbooks by the 2015 school year.
It's one of the most aggressive laws in the country to push schools to offer more online textbooks and is welcomed by Florida's Department of Education.
Advocates for online textbooks say students these days have grown up as "digital natives," and are used to receiving information in an online format.
"These students have immersed (themselves in) and embraced it before they even entered our schools," said Scotty Crowe, the division director of teaching and learning for Leon County Schools. "This is where the next generation of instructional materials are headed over the next four or five years."
Textbook publishers say they are ready for the transition and have already begun offering online versions of traditional textbooks. This year, the state of Florida even included an online science textbook as part of its "approved" adoption list.
Publishers say online textbooks are device neutral and can be used on Kindles, iPads, laptops or any other kind of tablet or e-reader. And they already offer digital content in the form of disks or links to online content.
One huge benefit to offering content online is the ability to update information quicker, rather than waiting for new textbooks.
Schools say there might be a slight cost savings. But one concern for a lot of school districts, including Leon County, is how to invest in the electronic equipment needed to use online textbooks and train teachers on using these new devices.
Textbook publishers and Leon County Schools say it's a matter of "when" not "if" they adopt digital textbooks. Shannon Lynch, the county's assistant superintendent for the Division of Teaching, said they aren't ready to go all-online just yet, but expects it to happen "quickly," and certainly within the next 10 years.
This shift won't just impact textbooks, but a host of time-honored school rituals, such as visiting lockers between classes and lugging heavy backpacks.
For students like 17-year-old Carlin Rasky, a senior at Tallahassee's Chiles High School, making textbooks fully electronic has its drawbacks.
"I'm not too fond of electronic textbooks," Rasky said. "Some of my teachers have given them out in the past, and I have found myself less willing to read them through the computer because the program was prone to glitches."
Rasky said it is also easier to turn to a specific page in a traditional textbook. And like any student, she's aware of some of the "dog ate my homework" excuses online textbooks can yield, such as telling a teacher the software program doesn't work.
Still, Rasky said there are some definite advantages. "It would be convenient for students who already spend a great deal of time on the computer," Rasky said. "Not having to carry heavy books all day would also be a definite advantage."
While digital natives like Rasky may adjust to the idea of going online for just about everything, anyone who graduated high school last century can practice reminding schoolchildren, "Back when I was in school, we had these things called textbooks …"
The New State Law
Florida's public schools must adopt online textbooks by the 2015–16 school year.
Schools must spend at least 50 percent of their textbook adoption budget on digital materials by the 2015–16 school year.
School districts are allowed to set up their own school-specific pilot programs to test electronic textbooks.