Destination Wedding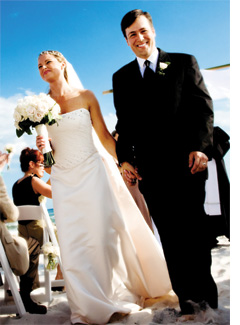 Three couples share love stories that culminate with weddings in dreamy and romantic settings. This year, our special wedding section focuses on nuptials that have been taken on the roadDestination: Dream Wedding
Weddings are a time of happiness and elation in one's lifetime. Family and friends celebrate this joyous union of two souls as the blissful couple begins their walk down the road of eternity together.
It's hard to imagine anything more romantic than the act of pledging your eternal love to your soulmate, but the following three Tallahassee couples managed to up-the-ante for their dream day and planned ultra-romantic destination wedding ceremonies at the locations that meant the most to them.
Silky sands, cascading sunsets and first dances under the stars all make for heavenly ceremonies to remember. So grab your flip-flops and come stroll with us through the sand as we relive these three magical destination unions.
Finding Love on the BeachA Sandy Shoreline is Where Romance Blossoms and Married Life Begins
By Triston V. Sanders
On Christmas Day 2006, I convinced myself I was getting the most spectacular Christmas gift ever. I was certain my boyfriend, Christian Notte, was truly taking me on an aerial tour of Tallahassee. OK, it was hard to ignore the super-stretch limo … tougher still to look past the Dom Pérignon, Godiva chocolates and the dozen red roses. That bouquet of pink roses for my mother was enough to make my heart stop.
I was not going to get my hopes up as he took my hand and helped me onto a private plane. Nope. I was not going to find disappointment in this spectacular moment.
So ask me again: Did I think he was popping the question in that unbelievable and romantic moment? "No" would still be my answer – not even several thousand feet over the Super Suds carwash where we had met more than three years earlier.
He had convinced me we would share our lives together, but it wouldn't be until sometime in 2007 that we would "take the next step." I was going to savor this moment and enjoy it for what it was … a take-your-breath-away Christmas gift.
Much to my surprise, he pulled out the coveted Tiffany Blue box – and inside, I found the ring of my dreams. He asked me to marry him and to be his wife. I said, "Yes!" as we literally and figuratively floated in the clouds circling high above the carwash.
Our families were thrilled he had proposed, and everyone wanted to know if we had set the date and what our plans were.
We didn't know those answers yet, but here's what we did know: We wanted a special, intimate, romantic and memorable wedding. We wanted to gather our family and closest friends together at a place that had significance to us … and that's when we knew that we had to get married on the beach.
One of the greatest things about living in Tallahassee is that we're a quick drive from some of the most beautiful beaches in the world. Over the years together, Christian and I have taken many a day trip to the beach … exploring the coastline and the quaint communities that surround the sea. We've traveled by convertible and other times by Harley to Seaside, WaterColor, Grayton Beach, Carrabelle, Destin, Panama City, Rosemary Beach, Port St. Joe, Mexico Beach, Apalachicola and St. George Island.
Nearly every weekend, we would grab a map and our bathing suits and go. The only rule was that we had to pick a place we had never been before. Every trip was special. Every spot on the sand where we stopped was significant. Sometimes I would spend hours diving for shells, while Christian would read tales about Jimmy Buffett or Lance Armstrong. Other times, I would snooze under the umbrella while he would munch on slices of mango.
We stuck to our motto, "A bad day on the beach is better than a good day at work." Actually, we both love our careers … but we love the beach even more. So, we couldn't dream of a more appropriate place to tie the knot than by the sea.
The only part of the equation we didn't know was the exact seaside place we would choose. So, notebook in hand, we called every wedding planner we could find along the Gulf Coast. It became clear that the bridal business was booming in these beach towns. We would need to lock down a location quickly.
We started with a list of what we knew was important to us:
• We wanted to exchange our vows on the beach … but did they have a backup location in case Mother Nature didn't agree?
• We wanted our reception to be inside – but not in a room without windows or doors. Why bother getting married at the beach if you can't appreciate the location?
• Would we have to hand over our firstborn to pay for the wedding?
• Will someone help us with the plan-ning, or will we have to do everything ourselves? We knew having a destination wedding would be challenging if we didn't have someone on location to assist us.
• Is there a resort close by where our guests can stay?
• Will there be other brides running around at the same time? I'm not one of those "It's all about me" brides, but still … I didn't want our guests getting confused about which wedding was ours.
When all was said and done, we found the perfect place. Just as I knew that Christian and I would grow old together the moment I laid eyes on him, I knew Carillon Beach was the place we would make it official. A quiet community just west of Panama City Beach, we had driven by and never knew it existed. I just happened to find an advertisement for it in a bridal magazine.
Carillon has the most romantic pier for the bride to walk down for her entrance onto the beach. Not far from there, the private community provides a charming chapel called The Meeting House for weddings, ceremonies and the like. Because we wanted only a few dozen guests to join us, we could picture our reception there. It has beautiful French doors that open along both sides and tiny white lights that wind around the branches of the trees. A brick walkway leads you to this magical place, with windows overlooking a lake parallel to the white sand beach. It is a slice of heaven and the perfect celebratory location to toast to our friends and family.
The proverbial icing on the wedding cake is Victoria Volpone, the residential wedding planner. Not only does she live in Carillon, she just so happens to be the most brilliant wedding planner you've ever met. She has exquisite taste and knows every vendor in the area. So if someone asked me about the downside to a destination wedding, I would say there isn't one, as long as you have a quality wedding planner.
Have there been issues? Sure, but very small ones. The sheer cost of everything. Destination weddings can be wonderful, yet pricey if you're not careful.
It all came together beautifully. And I'm happy to tell you that our walk down the sandy aisle was blissfully beachy, and there wasn't a drop of rain. Our guests were treated to a memorable tropical vacation that just happened to include our wedding.
I wore a strapless two-piece dress colored by a hint of blush. Christian looked dashing in his black tuxedo. And, yes, we were barefoot. We provided flip-flops for our guests.
Instead of lighting an eternity candle, we held a sand ceremony in which Christian poured sand from his glass vase and I poured sand from mine into a single vase as our acoustic guitarist strummed "Somewhere Over the Rainbow."
After the wedding, our guests arrived to hear steel drums and were greeted by a host offering our signature cocktail – a Tiffany Blue Mojito. They munched on crab cakes, oysters and bacon-wrapped artichokes.
Later, they were ushered into The Meet-ing House, which twinkled with sterling silver candelabras, shimmering linens and roses everywhere. We made our entrance to a most appropriate song – "Car Wash." The meal included shrimp, lobster, filet mignon and the most delectable Italian crème wedding cake I've ever tasted!
Our first dance brought tears to our mothers' eyes. "What a Wonderful World" echoed across the water as Christian and I waltzed under the stars. The rest of the night we laughed, drank, ate, danced and shared our love in an intimate and special celebration.
Our destination wedding was everything we had dreamed of … and the most perfect way to start our lives together. One day, when we have children and grandchildren, I'll tell them about our beachside ceremony. I'll forever hear the sound of the ocean, the smell of the salt, the wind in my hair and my heart soaring as I said "I do."
The most amazing part of the story will be when I can tell them that the beauty of that seaside moment was magnified by the fact that I had just married my best friend. And then I'll think how appropriate the lyrics were for our first dance:
"I see skies of blue, clouds of white. Bright blessed days, dark sacred nights. And I think to myself … what a wonderful world."
A Place for RomanceAutumn Barnes and Emory Mayfield Return to Georgia's Ritz-Carlton Lodge for a Weekend of Wedding Festivities
By Erin Sobel
Breathtaking scenery, elegant style and old-fashioned Southern charm make The Ritz-Carlton Lodge at Reynolds Plantation in Greensboro, Ga., the perfect backdrop for any great romance.
Tallahassee newlyweds Autumn Barnes and Emory Mayfield have made the plantation their own memorable retreat. Throughout their courtship, the couple returned to celebrate some of the most important milestones in their relationship along Lake Oconee's secluded shores.
"I think timing is everything," Emory says of their meeting in August 2005. He had recently returned to Tallahassee, where he grew up, and was working as a real estate lender at Capital City Bank. When a good friend wanted to set him up with a "great girl," he agreed.
That great girl was Autumn Barnes.
"I was really nervous. It was the first blind date for both of us," Autumn recalls. "We went out. It was fun, it worked out and we continued to date from there."
"Our personalities meshed and we complemented each other," Emory adds. The two continued to grow closer. A short time after their first date, Emory introduced Autumn to his family.
"Then we went to Costa Rica over Christmas," he says. "At that point, Autumn and I knew where we were headed."
On their one-year anniversary of dating, the couple escaped to the tranquil Ritz-Carlton Lodge at Reynolds Plantation.
"That's what started the tradition," Autumn says. "It's not too far, so you can get there by car. The service is impeccable, but it's not stuffy. And it's absolutely gorgeous."
"Everything we enjoy doing, you can do there," Emory says. "For me it's to play golf. For Autumn it's to sit by the pool, go to the spa and read. We both like great food."
Four months later, Emory woke Autumn at 6 a.m. on a Saturday morning. He told her to pack a bag; they were going on a trip.
"She was very excited and jumped right out of bed," Emory says. "We started driving back to the lodge; she had no idea where we were going."
But other people did. "I had the ring a month before," Emory says. "My brother and my sister knew, and Autumn's father knew, too. Then I called my mother and father beforehand."
Upon arrival, Autumn was swept away to spa activities Emory planned for her. Meanwhile, he plotted with the hotel staff to plan the surprise proposal. "I walked around the property to figure out the location I wanted to propose," he says.
Every December, the hotel decorates the grounds with a million white lights.
"On the way to dinner, it was all lit up in the Christmas season," Emory remembers. "We stopped under a tree and I asked her to marry me. She actually answered the question!"
Just in case you're wondering: "I said yes," according to Autumn.
After a champagne toast, the couple retreated to a cottage. When Autumn walked in, she was greeted with pictures of Emory and her throughout their relationship and an abundance of rose petals.
By this time, the romantic retreat in Georgia had become an important place for the couple. With two great visits down, they couldn't think of a better place to make the third and biggest memory of all – their wedding.
"We were dead set on getting married there," Autumn says. They wasted no time in meeting with the director of marketing to make sure their dream came true.
Using the Ritz-Carlton Lodge and Rey-nolds Plantation as the scenery, the Barnes-Mayfield wedding in July 2007 mirrored the comfortable elegance of the setting.
"We wanted to give our guests the experience we enjoy," Emory says.
The event was a weekend-long affair beginning on Thursday evening with a barbecue Butler Dinner at the Lodge's Presidential House. The festivities continued as more guests arrived.
"Most people had arrived by Friday afternoon," Autumn says. "There was a round of golf, and I had a ladies' luncheon for all the women who are important to me. After that, the bridesmaids had spa time for manicures and pedicures." Friday night's rehearsal dinner included almost all of the 250 wedding guests.
The wedding day was filled with love, fun and personal touches.
"Guests were offered Low Country lemonade and our programs were made into fans," Autumn says. "It was so in fitting with the location."
The ceremony, on a site overlooking Lake Oconee, was filled with flowers in creams, whites and greens to complement the nature around them. A string quartet played as the wedding party walked down the aisle, which was strewn with white rose petals. The bridesmaids wore sage Vera Wang dresses while the men were in blue suits from Nic's Toggery, with sage ties to match the ladies.
The bride wore a fitted silk organza gown down the aisle. The deep back had ruffles leading into a train. A piece of her grandmother's wedding gown was made into a monogrammed handkerchief, which Autumn wrapped around her bouquet.
"I used it as my something old and my something blue," she says. "It was a piece of her and a piece of history."
Autumn and Emory exchanged traditional vows in a seven-minute ceremony in front of their family and friends. After their first kiss as husband and wife, the two returned down the aisle as guests showered them with rose petals.
During the cocktail hour, the guests were treated to more history.
"We put pictures of our grandparents on a table for the cocktail hour," Emory says. "It showed the core of our family either on their wedding days or around it."
"We entered the ballroom and went straight to our first dance," Autumn says. The couple danced to Barry White's "My First, My Last, My Everything," which, she says, "got the reception going in a very upbeat way." The rest of the night was filled with dancing, cake and an all-night celebration.
"For us, a destination wedding was the way to go," Autumn says. She advises others considering an out-of-town ceremony to nurture a good relationship with the wedding coordinator, because you will not always be present to make decisions and must trust him or her to carry out what you want. And as long as you plan accordingly, she says, a destination wedding can be just as economical as planning a local wedding.
The couple honeymooned in Cabo San Lucas, Mexico, for one relaxing week before returning to Tallahassee and jumping back into life.
"One week after we returned from our honeymoon, Autumn purchased Fancy Pants, the store in Midtown," says Emory.
And married life and a new job aren't the only new things the Mayfields are getting used to.
"We are expecting a baby in September," Autumn announced.
Dad-to-be smiles to add, "We are very excited."
Wedding Vendors 
Printing: Porridge Papers
Ceremony Location: The Landing at The Ritz-Carlton Lodge, Reynolds Plantation
Reception Location: The Grand Ballroom at The Ritz-Carlton Lodge, Reynolds Plantation
Band: Complete Desire (Atlanta)
Bridal Gown: Anna Maier Ulla-Maija Couture
Planner: Sarah Farley
Photographer: Susan Stripling Photography
Wedding Bands: Harlin Diamonds
A Song for All SeasonsA Summer Serenade Leads to an Autumn Wedding Draped in Beach-Chic Elegance
By Beth Nabi
Most Tallahasseeans have heard Wilson Dean play at some time or another – maybe as the front man of the Redwood Band in the 1990s, or more recently leading his eponymous band at Paradise or Café Cabernet. In 2005, Brittany Hill heard him croon an impromptu version of "Sweet Home Alabama" one hot summer night at A.J.'s Sports Bar and Grill, and the two Tallahassee natives have been strumming their own love song ever since.
Both were at A.J.'s with friends and ended up talking to each other during the night, but sparks were not flying.
"I was kinda getting shot down," admits Wilson. "I'd bring her a drink, and she'd already have one."
Brittany was on her way out the door when Wilson's friend, who was playing that night and saw him struggling, grabbed the mike and said, "Wilson, why don't you come up here and sing a song?"
"He jumped on stage and started playing the guitar and singing," Brittany says. "And I thought, 'Whoa. He's kinda cute.'"
Wilson got Brittany's phone number that night, but he didn't call her.
"I'd read in a magazine that texting was in and was the cool way to ask a girl out," he says. "I'd never really text-messaged – this was three years ago – and I had to read up on how to send one. So I did it, and it went through."
Brittany wasn't as excited about Wilson's cellular courting.
"I was so frustrated because he kept texting and I was thinking, 'Just call me,'" she says.
Wilson finally did, and the couple went on their first date, where both extolled the virtues of single life.
"We were talking about relationships and I was saying, 'I like being single, I like going out with my friends, I don't want anything serious right now,'" Brittany reacalls. "And he was saying, 'That's good, I don't either.' And now we're married."
Wilson planned a holiday proposal in 2006. On Dec. 6 of that year, he suggested to Brittany that they start a tradition of going to Havana to cut down a Christmas tree. Brittany agreed, and within five minutes of their arrival at the Havana Christmas Tree Farm, she spotted the one she wanted.
"I said, 'This one's perfect. This one's great. We can go.' And he was like, 'Wait a second!'" Brittany says.
Wilson had to keep finding flaws with each tree Brittany picked before the owner (who was in on Wilson's plan) intervened and said, "You have to go to the other side of the lake. My best trees are there."
Once there, Wilson pointed to a tree and asked, "What about this one? Check and see if it's sold." Brittany approached it to find a sign that read, "Please pick me." She flipped it over to find the question, "Will you marry me?"
She immediately and excitedly said yes, the couple chopped down the tree, and they now use the sign as their tree topper each year.
The December proposal was followed 11 months later with a November wedding. The couple started to plan the event for Tallahassee, with the reception at Brittany's family's farm in Havana. But with three sets of parents, all in Tallahassee, and an extensive circle of friends, the guest list started to get out of control.
"So then we thought, 'OK, maybe we need to move this a little farther out than Havana,'" Brittany says.
The two were already familiar with the Panhandle community of WaterColor, where Wilson owns a house, and they liked the stretch of quaint, eccentric, upscale beach villages along Florida's Scenic 30-A. They also liked the idea of creating a three- or four-day beach excursion for their guests.
"We've always loved Rosemary (Beach) and they've had beautiful weddings out there," Brittany says of the neo-traditional town located on Florida's northwest Gulf coast between Destin and Panama City.
With the venue decided, Brittany and Wilson turned to It's a Shore Thing wedding consultants to help realize their vision of a contemporary, creative – even "funky" – celebration that had some traditional aspects.
"We wanted something kind of different – not too traditional," says Brittany. "And we knew we were going to have a lot of people, but we still wanted an intimate feeling. We told them that we trusted them, and to be creative and go."
"A lot of people" ended up to be 350 guests, with a 24-member wedding party of eight bridesmaids, eight groomsmen, five ushers, two flower girls and a ring bearer.
Wilson's family hosted a rock 'n' rolling rehearsal dinner celebration Friday night at Café 30-A, complete with Elvis impersonator. While The King may have reigned over the wedding eve, the Deans' big day was as far from Las Vegas' Elvis Wedding Chapel camp and kitsch as you can get.
Elegantly staged in the round on one of Rosemary Beach's Gulf-view greens with the sun just shy of setting, the ceremony commenced at 4 p.m. on Nov. 17, 2007.
As they walked across the manicured, emerald-green lawn, Brittany's bridesmaids were simple and chic in chocolate brown, knee-length, strapless Badgley Mischka dresses. The groomsmen were casual yet sharp in beige suits from Nic's Toggery and brown shoes, belts and ties.
Wilson matched his groomsmen, with the exception of his striped brown, green and ivory tie. And Brittany was stunning in a strapless, ivory Melissa Sweet gown that had a draped neckline and a skirt with a ruched back. She wore a three-tier diamond family heirloom necklace with a pair of diamond studs Wilson gave her as a wedding gift.
Gospel singers from the Village Baptist Church preceded the wedding party's march into the round, and then Brittany walked out to "Trumpet Voluntary," played by Pete Carol – one of Wilson's bandmates, who currently is on tour with Al Green, B.B. King and Etta James.
Britney's father, Lou Hill, escorted her down the aisle, where her stepfather, Jeff West, waited with a flower to add to her bouquet. Wilson's father, Bob Dean – who's been married to wife Marilyn for 38 years – was his best man. Brittany and Wilson exchanged Tiffany & Co. rings before sharing in a unity ceremony where, instead of lighting candles, the couple symbolized their union by pouring sand. Wilson's mother, Brittany's mother, Gini West, and her stepmother, Calynne Hill, each wore one of Brittany's wedding colors – chocolate brown, sage green and coral.
After a 30-minute ceremony officiated by the Rev. Robert Tindale, the gospel vocal ensemble sang "O, Happy Day" during the recessional, and guests headed over to the neighboring green for the reception. Rather than sign a guestbook, they wrote personal greetings on note cards that went into a "wish jar," which now sits atop the mantel in the newlyweds' home.
The couple opted for Asian-themed food stations instead of a sit-down dinner, with rolled sushi, edamame, vegetable tempura, pork gyoza, sesame-seared tuna, and shrimp, salmon and chicken satay highlighting the night's menu. Guests who weren't on the dance floor lounged in seating areas on plush ivory divans, couches and ottomans under tents draped with organza panels.
A six-tier square wedding cake decorated in ivory fondant, brown ribbon trim and live orchids featured a different flavor for each layer – strawberry, lemon, carrot and raspberry, and two layers of pistachio. On a nearby table, the groom's cake – Elvis-themed and in the shape of a piano – perfectly celebrated Wilson, who sings, plays guitar and piano, and writes songs.
The Deans' first dance as husband and wife was to Marc Cohn's "True Companion," then Britney and her father and Wilson and his mother danced to a down-tempo version of "Brown-Eyed Girl."
Wilson even joined in on the entertainment, playing two songs with the band, Meet the Press, out of Mississippi. And then, like he did two and a half years before, Wilson hopped up on stage and sang a song for Brittany. He skipped Lynyrd Skynyrd this time, though, and debuted some original material.
"I wrote a song for her called 'The Other Half of My Heart,'" says Wilson, which he played on the new guitar Brittany gave him as a wedding gift.
After the traditional bouquet and garter tosses, the couple departed through a veil of bubbles and into a robin's-egg-blue late model Checker Marathon from Paradise Cab – a taxi service they always used on trips down to the coast when they were dating. They headed to WaterColor for their wedding night, while friends and family continued the celebration at Bud & Alley's, a favorite local hangout.
"Beyond the backdrop of a gorgeous location was the love and the laughter, and just everyone coming together," Wilson says. "Everything was beautiful, and the food was good, but having everyone there and dancing and having a great time and enjoying themselves … we were lucky."
Brittany, who just earned her degree in fashion merchandising from Florida State University, had to get back to Tallahassee for a class the following Monday. But the next day, the two were on their way to the Turks and Caicos Islands for a week-long Thanksgiving honeymoon.
With a Gulf wedding and Caribbean honeymoon behind them, Brittany and Wilson are back in Tallahassee, letting their feet settle into the sands of marriage. Brittany, 23, works at the clothing boutique Fancy Pants, while Wilson, 30, runs Dean Development – a real estate development company – with his brother, Carlton.
"It's definitely a different feeling, being married," Brittany says. "It's more solid, and stable."
"It's much more secure. We've got a good foundation now, and we just keep building from there," says Wilson, who is proud to share that Brittany's grandparents have been married for 50 years.
"We just have 49 and a half to go," he says with a smile in Brittany's direction.
Wedding Vendors
Photographer: Paul Johnson Photography
Event Planner: It's a Shore Thing
Invitations: William Arthur, from My Favorite Things
Videographer: Krishna Singh, Unique Video Creations
Florist: Nouveau Flowers
Wedding Cake: Debra Spurlin, Confections on the Coast
Groom's Cake: Yascha Becker
Bridal Party's Hair Stylist: Kelly's Cottage and Christy's
Bridal Party's Makeup Artist: Makeup by Meghan
Caterer: Townsend Catering


Tallahassee as the Wedding DestinationSouthern Charm Attracts Brides, But Beware of Football, Legislative Seasons
By Kenya Washington
When you hear "destination wedding," you most likely think of beaches, mountains, Las Vegas, Europe or the Caribbean. But Tallahassee, with its quiet charm, is a perhaps surprising destination of choice for many couples.
For one recent Tallahassee wedding, the bride's parents, family and childhood friends traveled from as far away as Italy. For another couple, no member of their core planning group (bride, groom, bride's parents, groom's parents) even lived in Florida. Then there are couples who live and work in Tallahassee but whose families do not call Tallahassee home. As many as 50 percent of these couples' guests will travel here from afar for the nuptials and related festivities.
Why are couples choosing Tallahassee as their wedding destination? Why are their friends and family excited to travel to and spend the weekend here? The answer is simple. Each of these couples met and fell in love while living or working here – many while they were still in school. Each couple feels a sense of joy, peace and hope for the future here and wants to celebrate their marriage and plan their future right here, where those feelings began.
Another advantage of a Tallahassee-area wedding is the abundance of Southern charm inherent in so many locations. From historic homes (SouthWood House, Tallahassee Garden Club, Brokaw-McDougal House, Shiloh Farms) and plantations (Pebble Hill, Coalson) to beautiful gardens (Maclay Gardens, Dorothy B. Oven Park, Goodwood Museum and Gardens), museums (Mary Brogan Museum, Tallahassee Museum, Antique Car Museum), hotels, country clubs and attractive university facilities, Tallahassee has a lot to offer.
As wonderful as Tallahassee is, there are some planning details that call for extreme care, caution and thought. In Tallahassee, timing is everything. There are a plethora of lovely venues in the area, but they are not in unlimited supply or capacity. Three separate factors – football season, the annual legislative session and the size of your guest list – can create logistical problems that make selecting a date and location as early as possible a must.
The issues raised by home football games are obvious: increased demand for hotel beds, increased room rates, and increased game day/wedding day traffic. The legislative session does not affect weekend hotel rates to the same degree, but events and receptions during the session do compete for the same restaurant, hotel and other banquet space. Lastly, and most importantly, the size or your guest list, whether you want an indoor or outdoor reception, and the formality of your meal (sit-down or cocktail) will be significant factors in determining which of Tallahassee's venues has the capacity to host your reception.
So what should you do first when planning a Tallahassee wedding? Take a deep breath, smile and know that you've chosen one of the region's most charming locations. Then let your imagination run wild and enjoy the journey to planning the day that will begin the rest of your life.