Despite a Life Ravaged by Hepatitis C, Cherry Douglas Reaches Out to Help Others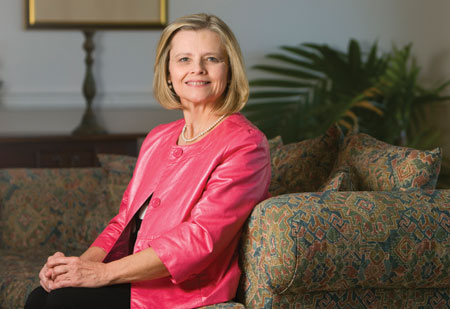 Laughter. Not the twittery, play-pretend, high-pitched laughter used to hide behind or make nice. Deep-throated, full-bellied, teary-eyed laughter. The hard-won, contagious kind. The kind that leaves you wondering how someone – after all their challenges – could find anything to laugh about, much less the ability to laugh about almost everything.
Cherry Douglas has the latter.
Dire Situation
"I was diagnosed with hepatitis C in 1996," said Douglas, head of Tallahassee-based Hepatitis Ready Care, a nonprofit organization she founded to educate the public about hepatitis and support those living with the illness. "I could have contracted it as long ago as 1977 when I received a blood transfusion. Hepatitis can incubate for years before symptoms surface. When I first knew, available treatments were sketchy and unpredictable, with low success rates. I chose to do nothing but try and live with it."
"Several years passed," she continued, "and in October 2001, my son, Rob, 23, a recent FSU graduate, discovered from a Red Cross blood donation that he, too, had hepatitis C. I was stunned. Desperately concerned. The thought of one of my children suffering what I was suffering was staggering."
It's unlikely (but not impossible) Rob got hepatitis C in utero, since Cherry had a blood transfusion right before he was born. It's more likely Rob got it from living with his mother via a shared toothbrush or razor or from a needle prick when he was injecting his mother with interferon, a glycoprotein used to treat hepatitis C by inhibiting viral replication. As well, Rob was drug addicted at one point. He was in recovery at the time he died but could have contracted it via drug paraphernalia when he was using.
A second opinion confirmed the diagnosis: Rob was HCV positive. The doctor prescribed medication that, when mixed with medication Rob was already taking, aggravated myocarditis, inflammation of the heart, a condition no one knew he had. The mix was lethal. Rob was found dead at home the following day.
"There is no logical explanation for the loss of a child, no matter how logical the explanations," said Douglas. "It defies the natural course of events, and I'm not certain parents who lose children ever truly recover 100 percent. There is a profound, indescribable emptiness. And, in my case, the guilt that perhaps I had in some way passed hepatitis C to Rob before he was even born."
Unfortunately, the overwhelming, bottomless grief of losing a child, in addition to other stresses and strains in her domestic and business lives, escalated Douglas' condition exponentially to a do-or-die level.
Fighting for Her Life
"I underwent two rounds of interferon treatment that almost killed me," she continued. "The side effects of that treatment are so debilitating, including, in my case, grand mal seizures, that at one point my doctor told me he didn't expect me to live to the end of the week." Heavy sigh. Slight smile. "I was one sick cookie."
Sick, perhaps, but in all that suffering and uncertainty and wondering why and feeling guilty and laden with regrets, somehow the hepatitis C began to recede. "More testing revealed it was gone," she said. "My first reaction was disbelief. When you've wrestled with something for so long and been so sick, it's natural to hold your hopes at bay in case the diagnosis is wrong or hepatitis C returns."
Douglas, however, was fortunate. Interferon cures only half of hepatitis C patients. Today, at 51, although HCV-free, she lives with the long-term side effects of such treatment. She is chronically fatigued. She has memory lapses. Because of her compromised immune system, she easily picks up infections, viruses and colds. She will have liver disease in the form of hepatitis-induced cirrhosis for the rest of her life.
New Beginnings
"I knew when I didn't die, and I began to recover that I wanted to help others with hepatitis C," Douglas stated, with strong conviction. "It wasn't a choice. It was a mandate. No way I was going to spend what was left of my life wallowing in self-pity, feeling sorry for myself. I wanted something to show for everything I had been through, all that I had lost. I made a conscious choice to make a difference." That's how Hepatitis Ready Care came about.
Hepatitis kills more people every year than breast cancer and HIV combined. It is contracted through blood, sharing needles, tattoos or piercings, sharing a straw to inhale drugs and sharing personal items such as a toothbrush. It is sneaky because it can incubate, disguising itself as any number of ordinary maladies.
"Curing" a hepatitis C patient is spotty. Although there are remedies for both hepatitis A and B, the long-term ramifications of those remain to be seen. Prevention, of course, is the best cure. What's made public and discussed as common knowledge contributes to awareness and proactivity.
Hepatitis Ready Care lists three goals in its mission statement:
We are committed to educating the public-at-large, beginning as early as middle school, to the perils of hepatitis and how to protect against it; we encourage the public, as well as medical professionals, to test regularly for the presence of hepatitis (simple blood test); and we reach out to those already living with hepatitis in emotionally supportive, medically feasible ways to help them cope positively and live productively.
"It's a tall order," Douglas conceded, "but becoming more of a reality every day."
Prevention
Hepatitis Ready Care, as a nonprofit, is totally dependent upon grant funding and contributions.
"We are currently supporting a city-wide schoolbook cover initiative to include all Tallahassee students and their families beginning at the middle school level," said Douglas. "The book covers will have pertinent information regarding the signs of hepatitis, where to go for help if you think you may be infected, and, most importantly, how not to contract it. Our intention is to go from book covers to in-school health awareness through computer education."
"We are creating an interactive Web site," she continued, "complete with chat rooms." One of the worst side effects of any chronic illness is that it isolates people. The Web site will not only provide information but serve as a means for bringing people together for mutual support. "We don't want anyone to feel they are stranded and alone," she said.
Douglas said her organization is also planning a billboard awareness campaign.
"Lastly, this past May, we established and funded The Rob Douglas Scholarship to award college education monies to students pursuing health care careers," she said.
Going Forward
Douglas credits "a host of angels" with helping with her illness, her grief and starting the fledgling organization.
"I could not have survived without the unending support I have received. My daughter, a nurse, has stepped up repeatedly to assist me in ways large and small. My sister who lives out of state has been on hand for surgeries and doctor's appointments and telephone and e-mail support. My Tallahassee friends have been so present that they have oftentimes appeared on my doorstep before I even knew I needed them," she said.
And the laughter?
"Life gives lots of reasons to give up. All lives are full of disappointments and losses. If you lose your ability to laugh, however – especially at yourself – you are truly lost.
"I have never lost mine for long. There are no interferon treatments for getting it back. No pills to pop or medical guarantees for giving someone what only they can create. Self-pity is never a solution, but laughter – finding the smallest thing to find funny – has seen me through many grim moments."
Dianne Hayter lives in Asheville, N. C. She owns Asheville Interiors, is a freelance writer and a volunteer with Hepatitis Ready Care.
---
About Hepatitis C
An estimated 4 million people in the U.S. are afflicted with hepatitis C, although only 50 percent of them know. Generally, the symptoms are fatigue and a flu-like feeling all the time, plus a susceptibility to illness. Because these symptoms could indicate many other illnesses, it's important to get a blood test specifically for hepatitis C.
Hepatitis C is rarely the main cause of death for an infected person. It is, however, typically something related – another liver disease or a plethora of diseases that slip in because the body's immune system is desperately compromised in response to hepatitis C.
Entertainer Naomi Judd and actress Pamela Anderson are celebrities who have hepatitis C. Their wealth and status have allowed them to maintain the appearance of health, but most hepatitis sufferers often look old and worn, bone weary and sometimes jaundiced (yellow).
Aerosmith frontman Steven Tyler has hepatitis C and has worked to stem the tide of the disease. Evel Knievel, who recently died, was also affected by the condition.
Contact Cherry Douglas at Hepatitis Ready Care by calling (850) 329-6473.