Desiree Dunn Is The Fashionista Next Door
A working mom and triathlete, Dunn finds ways to stay chic and fashion-forward on a budget.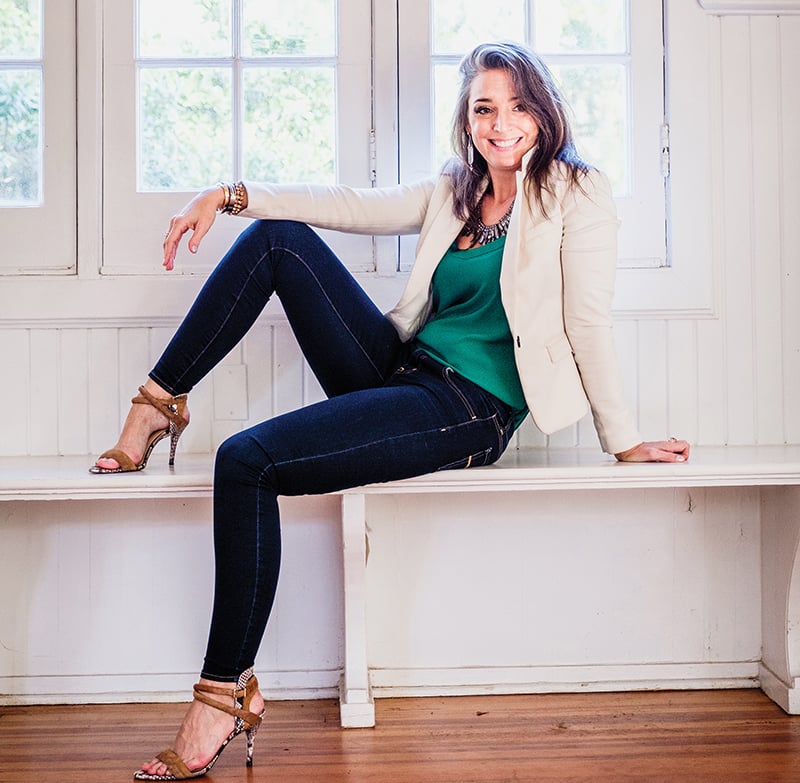 Desiree Dunn is the first face clients see on a visit to the Thomasville Road office of financial services firm Raymond James.
She's bright-eyed, smiling and dressed like a million bucks.
From behind reception, Dunn greets guests attired in an eclectic mix of colors, patterns and fabrics. Her put-together look is always finished with carefully selected accessories.
On a recent Thursday, she topped off a simple white shirt and high-waisted black pencil skirt with a pair of Sam & Libby metallic snake-print slingbacks and Express Indian feather necklace.
0When a colleague called, she breezed across the office to help, heels clicking.
The Tallahassee native loves coats — they may be her favorite accessory, she said, either that or scarves — and she wore a faux fur leopard-print coat to and from work to match lining in her skirt. "I usually wear a mix of bracelets, too," she said, "but I had burned myself a few times while making pecan pies."
On most days, she can be seen with an orange Fossil watch lined with Swarovski crystals.
Dunn said she enjoys mixing up different hues and textures and considers getting dressed in the morning to be an art.
In between answering phones and greeting guests, she mentally pictured potential articles to combine and began to list them off: "I'll start with a neutral cotton T-shirt dress, then add deep purple tights, a margarita-green scarf and a bright blue velvet wedge."
"I wear my personality," she said. "I cut out photos from magazines, or take screenshots of a style I like and try to recreate it in my dressing room. It usually works. But you don't know until you try," she said. "Own it, whatever you choose to do."
Dunn came to Raymond James four years ago after managing Fanny's Garden Cafe at Goodwood Museum & Gardens, where she had some flexibility in her dress and tried out different styles.
Her job now requires a professional wardrobe. "I've had to learn how to put myself together in a different way," she said, noting that she has also learned a new industry working in the Thomasville Road office.
She still works part time at Goodwood, making sure that wedding and other event planners have what they need on the weekends. Although not a docent, Dunn has been known to give an impromptu tour or two.
She remembered showing a couple from Germany around the week before. "They had come such a long way! What could I say?" Dunn said with a big smile. "The woman said she got chills walking through the gardens. She told me, 'I can still feel the life in this place.'"
Dunn called the development of her style "a process," but she has early memories of trying to assert her style when her parents took her shopping at Gayfers, and in middle school, matching a pair of earrings to every outfit.
She'd shop for fun in high school and college, although money was usually tight. "In college I had my babies," Dunn said, referring to her son, who arrived during her sophomore year, and a daughter born shortly after graduation.
"My friends and I would shop for T-shirts and corduroys at thrift stores in St. Augustine. But I didn't have a particular style."
The style that has turned heads at Raymond James and at Goodwood developed about nine years ago, once Dunn started doing triathlons to lose the weight she'd carried since having children.
"I don't get rid of things," Dunn said. At home she keeps an open closet, no doors, so she can see her entire wardrobe when dressing.
She remembered winning an outfit and photo shoot at a local boutique after writing an essay about overcoming fitness obstacles, and in 2011, Art of the Catwalk Studios (now closed) hired her as a fitness instructor.
"I did have to buy new things," she said of getting in shape. "I branched out from what I normally would have bought. I got more fashionable clothing, colorful." She remains a fan of colorful shoes and belts to give an outfit a pop.
As a single head of household with a limited budget — another reason to keep everything, she said — she seeks out deals online and shops sales at local clothing retailers.
Dunn credited a speech teacher in high school with helping her develop her posture and credited missionaries with showing her how to shake a hand — indicators of confidence that people pick up on.
"Confidence is sexy. When you walk in a room, you want people to know," Dunn said, adding that her mother taught her that looks aren't everything. "I think what's attractive is that I smile, that I'm nice, that I like taking care of people."
It turns out that although putting together her look requires a creative mind and a keen eye for clothing deals, the accessories that set Desiree Dunn apart cost nothing at all.