Designating Your Driver for The Weekend is Easier Than You Thought
No Need to Drive When You Can Hop on the Rhythm Route Bus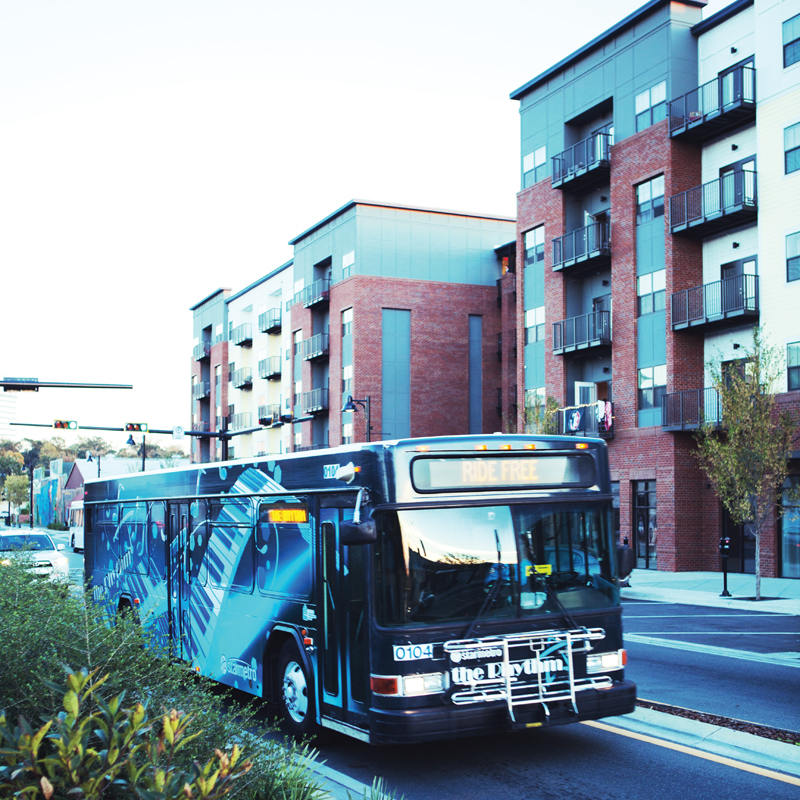 It's Friday — the weekend has finally arrived! After five long days, it's finally time to kick back, relax and enjoy an evening of revelry. There's no better way to spend a hassle-free night out on the town than by eliminating the stress that comes with parking or electing a designated driver than by hopping on one of the completely free Rhythm Route buses powered by Star Metro.
With 21 stops within steps of the many Tallahassee hot spots located throughout the areas of Midtown, CollegeTown and Downtown, there really is no excuse not to climb aboard the bus. Created to serve the budding local nightlife, the Rhythm Route is designed to provide safe and gratis transport for partygoers in the comfort of a government-sanctioned bus. Running from 5 p.m. to 3 a.m. every Friday and Saturday, the Rhythm Route caters to the after-hours crowd looking to unearth the hidden gems within our city.
Whether you're looking to grab dinner and drinks or planning to paint the town at multiple locations, the Rhythm Route has got you covered. Route stops include a variety of destinations ranging from coffee shops, watering holes and clubs to fine dining restaurants, depending on the direction that you would prefer your night to take. A Rhythm bus visits each stop every 20 minutes, at most of the Star Metro-labeled signposts, with round trips spanning 40 minutes. In order to disembark at your chosen destination, simply press the yellow strip between the windows and the driver will allow you to alight. Just start off by designating your desired point of origin and coincide your schedule to that of the bus route.
If you're an adventurous rider seeking spontaneity, letting the route be your tour guide is always an option. You'd be surprised at the fun of traveling without an agenda. As a creature of impulsivity, that is exactly what I did during my ride on the bus. Join me on my impromptu pub crawl, made convenient thanks to Star Metro's Rhythm Route bus.
Your night begins…
6 P.M. A Delicious Departure
Living in the recently developed CollegeTown area made it easy to start off the evening without having to worry about transportation. Only a hop, skip, and a jump away is the über-trendy Madison Social restaurant, where delicious fare meets sociality. I chose to indulge in the mouthwatering MadSo burger, crafted with fried avocado, peppered maple bacon, caramelized onions, house aioli and cheddar cheese. This over-the-top cheeseburger certainly did the trick to kick off the night's event-filled journey.
7 P.M. Post-Dinner Potations
At 7 sharp, the Rhythm Route bus was conveniently waiting at the Woodward Avenue and Madison Street stop just steps away from my originating location. My group and I spotted the artfully decorated Rhythm trolley from a distance and approached the star-marked stopping point. A friendly bus driver welcomed us into the clean and spacious bus, absolutely free of charge. Conversation and meal digestion kept us entertained during the 20-minute ride to our next stop at Fifth Avenue and Thomasville Road in Midtown.
We started at Finnegan's Wake Irish Pub, where loud music and budget-friendly beer specials prompted much dancing and laughter amongst friends and strangers alike. The Irish motif provided an authentic pub experience that made us feel as though we were swigging ales right in the heart of Dublin.
We then crossed the hallway at Manor@Midtown to the 5th Avenue Taproom. The venue's wide-open spaces are perfect for dancing to an eclectic music mix — from Top 40 pop to hip hop to classic rock. The crowd was a pretty diverse bunch, too. Patrons of every age from 20-somethings to Boomers were enjoying the tunes as well as the generous mixed drinks and wide selection of beers on tap. Our mood was definitely heightened at this point, influencing us to continue with the night's sojourn.
10:20 P.M. Savoir Fare is Everywhere
Ready for a more sophisticated environment, we boarded the bus that was headed for the Downtown area. We were greeted by a fellow group of students on the trolley who were also wisely taking advantage of the Rhythm Route service.
"We love this bus!" said Florida State University senior Mary Beth Thompson. "We use it almost every weekend. It's so convenient to ride around town, at no charge, and not have to worry about drinking and driving. Way better than any cab."
We proceeded to exit in front of Kleman Plaza for some giggly conversation and libations at 101 Restaurant, arriving just in time for their second happy hour special (yes, you read that correctly, they have TWO happy hours every day). The chic bar area is designed for easy social interaction, with onlookers able to observe the skilled bartenders as they craft the perfect dirty martini (stirred, not shaken). As our party began to wind down, the vicious call of hunger pains once again approached, prompting us to seek an appetizing treat.
12:20 A.M. Last Call
As our salt cravings continued to rise, we piled onto the Rhythm Bus in search of a delectable late-night meal.
"One of the next stops is by Gaines Street Pies, if you all like pizza," chimed in our bus driver after overhearing our hunger-related commentary. Nothing sounded more ideal than a specialty handmade pizza pie covered in cheese and fresh toppings. Open until 3 a.m. on weekends, Gaines Street Pies' cooks welcomed us with smiles and pizza suggestions. After much debate, we settled on the savory Metal Mike pizza, which features a ranch dressing base, topped with bacon, warm chicken, garlic, onions and a splash of sriracha sauce.
By 2 a.m., my sleepy comrades felt ready to call it a night (morning?) and indulge in some much-needed sleep. For the last time that evening, we thanked our driver and parted ways as the Rhythm Route dropped us off at our respective stops. Everyone arriving home safe, sound and satisfied.