Delivering The Gift of Confidence
Jamee Wright employs the gift of encouraging women to be the best they can be.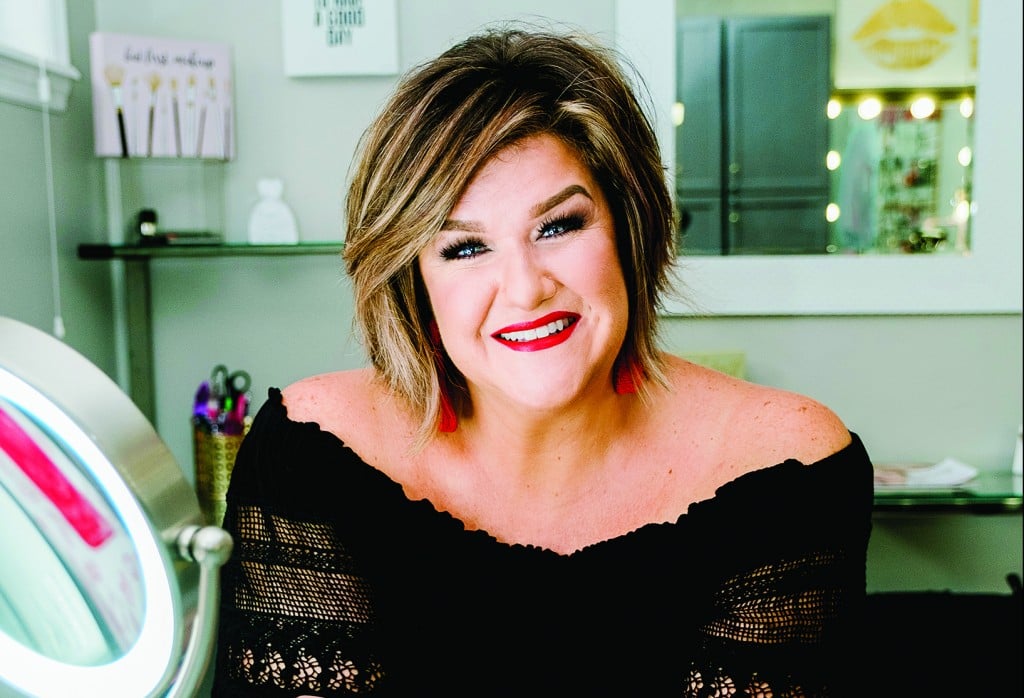 Every woman in Tallahassee should enjoy an opportunity to meet Jamee Wright.
As a professional makeup artist, licensed aesthetician and personal stylist, she provides advice about skin care solutions, makeup application and putting together wardrobes, at the same time lifting spirits with her sincere approach to life.
For 20 years, she has owned and operated Jamee Wright Makeup & Style in Tallahassee (jameewright.com). Her studios are located inside Reflections Hair Studio & Spa.
Leadership, interpersonal skills and strong Christian values shine through during the first few minutes in a conversation with Wright. These traits, coupled with her at-home studies in business management, prepared her for success in the business world.
She finds that all the steps she took on her way to business ownership contributed to making her the woman she is today.
At age 3, she moved with her parents from Florida to Virginia. She is the second oldest among six siblings and was 8 before her first sister was born. As a result, she palled around with her brothers and played sports with them. She never wore makeup, wore a dress only when her parents insisted that she do so, and described herself as a tomboy.
As a preteen, Wright would go with her mother to the beauty salon and was fascinated by the transformations she saw take place. She eventually was offered a summer internship at the salon where she swept up hair, washed towels, rinsed out perms and learned via observation and instruction how to do hair. Before long, relatives and friends began asking her to style and cut their hair.
Through her home education program in high school, Wright was invited to work as a mentor for troubled children for an organization in Indianapolis. After four years of helping students, she decided to move on to the corporate world. She began as an intern in Oklahoma City for a sports marketing company and quickly rose to a position as the executive assistant to the president.
While on a Christmas break in Tallahassee, she asked her mom to find a local beauty consultant from whom she could obtain cleansing products. Ironically, her parents suggested that she could make some extra money by becoming a beauty consultant, herself. While something of an introvert, she agreed to sign up but wasn't intending to sell anything.
She did love the products but kept her fondness for them to herself and had no intention of holding any of those parties. Well, "the best laid plans of mice and men oft go awry." One night in Oklahoma City, her roommates decided to dress up and go out to dinner. Looking at Wright in her T-shirt and shorts and no makeup, they insisted that she too, dress up.
Wright reached way under her bed for her Mary Kay beauty kit and then reluctantly showed her roommates the treasure that she has possessed for some time. They excitedly went about sampling the products. They wanted to buy some then and there and later spread the word about Wright and what she had to offer.
After a workweek of 60-plus hours at the sports marketing company, she considered less stressful career options likely to be more fun and fulfilling. At 22, she decided to dabble in the field of beauty. She spent the next eight months working part time with her Mary Kay Cosmetics business and full time with her corporate job.
It was "during those four months that I realized that sitting with women, encouraging them, showing them how to wash their faces, explaining how to apply makeup, and seeing them look in the mirror and feel so good about themselves — that was addicting to me."
Wright realized she could have a ministry of sorts and a business at the same time. When she told her sports marketing boss she planned to work for a cosmetic company, he commented, "Jamee, you're a tomboy, and you are going to sell lipstick?"
For the next 18 years, she was a full-time independent sales director (top 2 percent of the company) with Mary Kay. She earned and drove free career cars for 20 years, including the iconic Pink Cadillac.
Early in her sales career, she would sit in her car, having to talk herself into entering the home of her next party hostess because of her shyness and self-doubt. But after the party, she would feel great because she realized how much she had helped women improve their outlooks on themselves.
"All along the way, people were constantly asking me for personal styling advice, image consulting advice and to come do makeup for their weddings, photo shoots and special occasions," Wright said. So, after dealing with divorce and health issues, she knew it was time to make the difficult decision to resign as a top sales director with Mary Kay.
"It was then that I found the perfect transition to answer the call of my clients in developing a company that encompasses all the beauty needs of women, but in a way that would allow me more time to take better care of myself," Wright said.
In her spa/facial room, her makeup studio room or when visiting the homes of women she helps with wardrobe edits, Wright employs the gift of encouraging women to be the best they can be.
Inside and out.