Deep Roots and a Homegrown Staff Keep Camp Indian Springs Flourishing
Native Leaders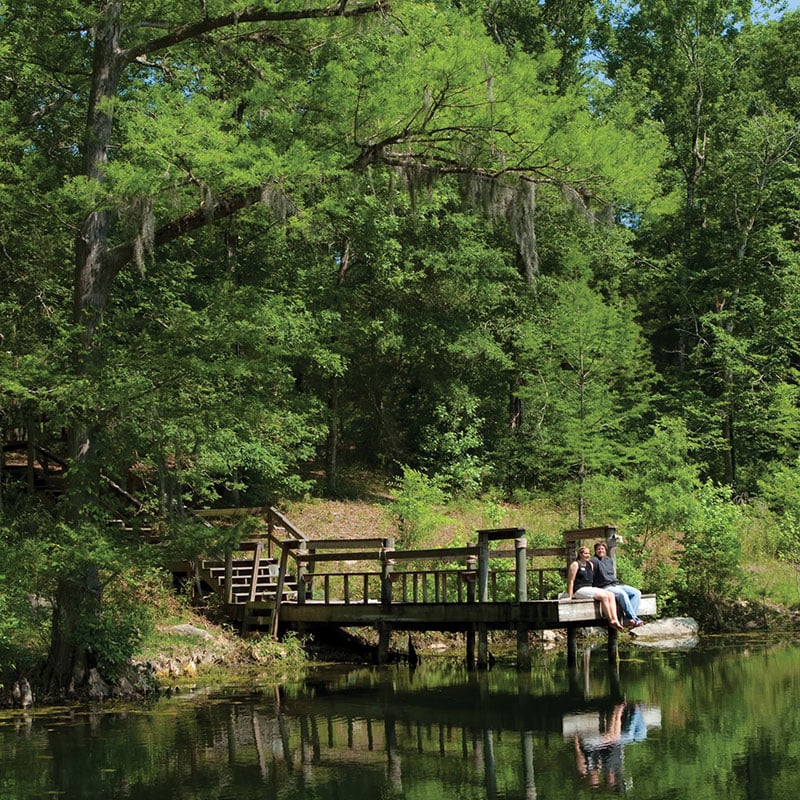 The former camp director at Camp Indian Springs in Crawfordville, Al Ferreira, has a story he likes to tell about the oak beams in the great dining hall at the University of Oxford's New College. About a century
 ago, when the huge beams that crossed the roof of the hall began to rot, the College Council looked to see if there were any massive oak trees that could be used to replace the beams. When the college forester was approached, he said, "We've been waiting for you to ask." Surprised at this response, the council discovered that when the college was founded and the great hall built in the late 14th century, a grove of oaks had been planted, for just this occasion.
"It's about forward thinking and stewardship," Ferreira said. "It's always been my philosophy that you leave things better than the way you found them."
A look at the recent history of Camp Indian Springs illustrates how this reasoning has guided nearly all the camp's directors over the years, as each one sought to improve the facility and leave things better than when he or she arrived.
From Private to 'Extreme'
In 1975, the Capital Region YMCA bought Camp Indian Springs, a camp privately owned by Betty Palmer and Odette Marshall, who were involved with the FSU athletics department and used the camp for team retreats and circus training as well as operating it as a small, private summer camp.
Beside the rustic, open-air cabins, the 77.5-acre camp had a barn, a dining hall and, of course, the large fresh-water spring for which it is named. Evidence of Native American settlement has been found throughout the area in the form of arrowheads and other artifacts. Fossils have also been recovered, many from within the spring and the adjoining cave system. Perhaps the most impressive of all the discoveries is a massive whale rib bone, which rests atop the fireplace in the new dining facility.
When the Y purchased the camp, the first director hired was Charles Greene. "It was a lot quieter then," Greene remembered, saying there were fewer houses around the camp and the area was much less developed, except for the church on one side and Wakulla Springs, which is right down the road.
The camp itself was far less built up. In 1975, there were fewer cabins and bathhouses and the dining hall was non-existent, with all meals served family style in an open-air multi-purpose building now referred to as Totem. The largest addition, completed in 2001, is an indoor skate park with two adjoining horse barns and the camp director's residence. The old horse stables are now an ATV shed and the maintenance area. What is now the office is where the camp director once lived.
"When camp started, I moved into the back bedroom of what is now the office," Greene said. "When I got married, the entire building became my house and we stopped using it as the office and the infirmary."
Now residing in Columbus, Ga., Greene stays in touch with the camp through visits — he loans the popular equestrian program additional horses every summer — and through his son, Josh "Mustang" Greene, the camp operations director who resides at the camp year-round.
"Mustang" is the younger Greene's camp name. The tradition of staffers taking on nicknames began under David Heard, who was director in 1981. Today, new staff members receive their camp name during training. After a naming ceremony, they are called by that name all summer. Campers never learn the real name of any staff member.
For many staffers, camp names are a way to redefine themselves and reflect the be-yourself atmosphere of Indian Springs. "Camp was a place that seemed to eliminate prejudices and what some would consider social boundaries in our school lives," said Gwen Hooper, who was known was "Little Acorn." When she became assistant director it was changed to "Mama Acorn."
Scott and Deanna Edwards, CIS staff alums, firmly believe the camp experience can benefit any child and that a job as a camp counselor provides valuable life lessons and skills for all young adults. "You don't think about it at the time, but you have a cabin full of kids and you were put in charge and had responsibilities," Scott Edwards said. "It is the closest thing to being a parent."
Camp provides much more than the traditional experience of arts and crafts, horseback riding and songs around the fire. Along with a huge indoor skate park and paintball program that are open year-round, Indian Springs offers ATV classes during the summer and hosts a session open to hearing-impaired children. But it is still the simple things that make people fall in love with Indian Springs. Deanna Edwards remembers waking up early in the morning with her whole cabin and sneaking over to another cabin and singing very softly, "way up high in the sky the little birds fly" and then shouting at the top of her lungs and banging on trash can lids, "DON'T WAKE THE BIRDIES UP!"
"It was always bad when you'd be asleep in the morning and you'd hear these little whispers outside and you knew it was coming," she said with a smile.
The Next Generation
After serving as camp director for five years, Ferreira moved on to become the director of Camp Weona outside Buffalo, N.Y. The torch was passed from Ferreira to Lesa "Super Nova" Culpepper, the program director. (For a complete history of those men and women who have shaped Indian Springs see page 39.)
Like so many of the camp's staff, Culpepper was homegrown. She came to Indian Springs in May 2005, worked as a leader and then became program director. Many leaders were originally campers, who became LITs (Leaders in Training) when they were old enough, and then junior leaders. In this way, Camp Indian Springs directors can easily find leaders each summer who possess the needed skills and character traits to fill the job. The grow-your-own-leaders philosophy really came to fruition in 2000 when the camp staff was made up almost entirely of former campers and LITs and had a 90 percent staff retention rate from summer to summer.
Culpepper says she wants to "put the Christian back in YMCA" and build an alumni committee to keep people in touch and flesh out a history of the camp and keep people connected. Though many former campers and staff members eventually lose touch with each other and with camp, the Internet has proved to be a useful tool in developing unofficial alumni groups, which have cropped up on Facebook and MySpace.
Deanna Edwards started an official alumni group through Yahoo! Groups and has a growing membership that volunteers and helps help raise money for the camp. She met her husband, Scott "Swift Antelope" Edwards, through the group in 2007. Seven years her senior, Scott was a counselor when she was a camper and was gone by the time she became a staff member at the camp. They married in October 2008. Now Scott is a member of the advisory board and working to bring more educational programs about Native Americans into the camp culture.
Lesa Culpepper also met her husband, Brian Culpepper, through camp. He used to be the aquatics director.
"Camp isn't about the toys," she said. "Camp is about the people at camp. Campers come back because of the impact leaders have on them."
The program now has high camper return rates and the number of campers has grown in recent years. That has facilitated the grow-your-own-leaders philosophy, with the LIT program growing to approximately 160 participants per summer. More and more leaders come from the ranks of former campers.
So when Ferreira announced he was leaving, he could do so confident that Culpepper was ready to step in to take his place, just one of the camp's many Oxford oaks.
"Everyone keeps bringing good stuff into it," said Scott Edwards. "Leaving it better than they found it. It can only get better and that's what's great about it."
The alumni group can be found at groups.yahoo.com/group/CIS_Staff_Alumni and the camp can be found online at campindiansprings.org.