Decorating Your Kid's Room Can Be Great Fun and a Great Success
Youthful (re)Fashion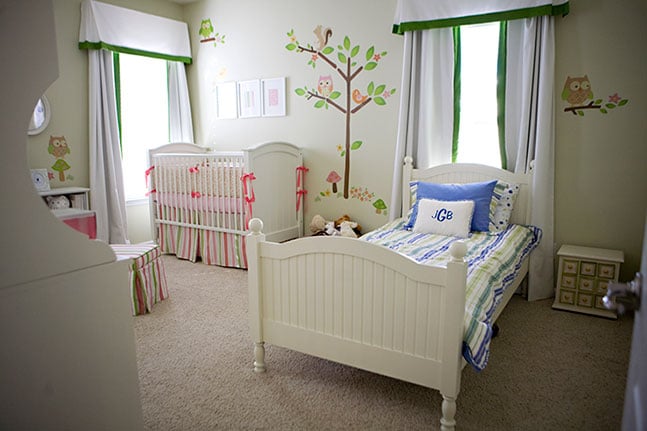 Few things excite a mom more than the chance to decorate her child's room. Whether that child is 8 months, 8 years, or even 18, the thrill of designing the space is one part retail therapy, two parts nesting and a healthy dose of nostalgia.
Some parents approach this with a clear idea of what fits their taste, while others like to veer into uncharted territory in the kid's room. One thing is unanimous, though. When it comes to decorating for kids, anything goes!
Ask some basic questions before you put paint to brush. How many children will use the room? What does your child do with her time in the room? Is it for playing or just sleeping? Are there separate television and study areas? How much stuff do you need to store? What level of (relative) independence can you give your child by putting clothes and other bedroom accoutrement within little arms' reach?
With pen in hand, answer these thoughtfully — and with your child's input, if possible. Whatever your plan, it's a good idea to think about how the room will transition as your child grows and his needs change along the way.
Ready, Set, Decorate!
If your goal is to have the latest in bedroom fashion trends, you may need an expense account. Mary Solomon Moor, an interior designer in Tallahassee, points out that staying on top of ever-changing design trends is next to impossible.
"Trends change faster than the weather," she advises. "First, consider the age of the child. Kids grow out of their stages very quickly — especially once they get to middle school. They are influenced by fast-changing trends."
Experts agree that choosing one starting place is the key to a unified look. Many parents choose a favorite bedding to anchor the room. Others focus on the paint color — the most visual statement of all. Some like to begin with an accessory that infuses an attractive color palette and simplifies the choices.
As with any decorating project, strategy will be key.
Look at your budget and be strict about it. Some moms really invest in their child's room, while others believe such transient tastes deserve frugality. There are a few basic ways to get started.
Copy a room: Find your perfect bedroom in a catalog or magazine and then set off in a quest to recreate it. Look at how the designers coordinated colors and accessories. Notice how much (or how little) they have included storage and knick-knacks.
Start from scratch: Let imagination be your guide. Pull together fabrics, paint chips, rugs and art that you love and put them together puzzle-style.
Repurpose and reuse: Move furniture from elsewhere in your home (or a tag sale) to update the flow of the bedroom and update the look. Think outside the box here: an armoire can become a makeshift dresser or plastic trash cans also double as storage containers.
New Baby Means New Roomie
When Shannon Grooters realized she was pregnant with little Paige, she immediately knew her kids would be sharing a room. The SouthWood mom had a third bedroom — a second master, in fact — but she was loath to give up the playroom.
"We talked about moving our room downstairs, and then decided that, obviously with a newborn, it's hard to run up and down the stairs when you're waking up every two to three hours."
Since she was going to need the crib her son, Jack, was using, she decided to transition him to a toddler bed and make room for his sister in one swift move. She started by poring over Pottery Barn Kids and Gap Kids catalogs. While she liked the unifying themes for boys and girls that were offered, most were meant for twin siblings. Finding a crib and toddler bed setup proved to be difficult.
Since she already had a Pottery Barn crib, she went back to the company for matching furniture in the new sibling room, and chose their Catalina collection diaper changing station and twin bed. With the clean lines of the white furniture, she set to choosing a color scheme.
"I knew that green would be a unifying color because it's gender neutral. So, pink and blue are sort of the gender identifiers in the room and then the green kind of ties it all together."
Grooters enlisted her mom's help for the curtains and bedding. On a trip to Gastonia, N.C., her mom found a handful of samples, from which they chose coordinating pastel pink/green and blue/green stripe for the bed skirts and linens. In addition, she reupholstered an antique rocking chair and sewed pillows and the crib bumper in coordinating polka dots and stripes. For the window dressings, they hung French Cleat curtains her mom had done in blackout material.
On a lucky trip to Target, Grooters found adhesive wall art in a "woodland theme" and one very lucky buy — an ottoman done in the same stripe as the custom bed skirt.
The resulting room is bright, airy and the perfect blend of feminine sweetness and toddler boy playfulness. And, Grooters accomplished the shared room for about $800.
Two Peas in a Pod
Like Grooters, fellow SouthWood resident Stacy Hartmann believed her two girls would enjoy being roommates.
"I always wanted to have a sibling in the same room as me. We have girls that are close in age and are the same sex so we wanted them to have that kind of bond and experience growing up."
So, when her two girls, Abbie, 4, and Kate, 2, were old enough, Hartmann set to designing an ultra-feminine space for her daughters.
"I'm not really a theme person. I just knew I wanted it to look really girly. Because I have two, I can do that. I have the advantage of being able to go crazy girly."
Crazy girly, she did. The room is a hot, Disney pink that glows like neon. Hartmann, however, tempered that bolt of color with low-key feminine accessories and timeless simplicity.
"Paint color was my starting place. I knew if the walls were something fun, whatever I did would just enhance that," she explains. "I always do white linens on all my beds. Some people pooh-pooh that because of stains, but when it's white you can bleach it. And so we've had all the kid messes but those look as new as the day we got them."
The room includes two identical twin beds framed by teal headboards (scored inexpensively from Wood You) and finished with simple matelassé coverlets. Above each headboard is its occupant's monogram, scored from etsy.com. And, in place of a ceiling fan, Hartmann hung a small chandelier that puts the girly factor right over the top.
Hartmann's most compelling skill is restraint. Her rooms are not cluttered or overdone; she instinctively knows when a room is just so. The girls' clothes are stored in the closet and in a white armoire — a holdover from the nursery days — and an ultra-comfy glider with ottoman waits for bedtime stories.
Much like Grooters, Hartmann believes the bedroom is for sleep, not play. All of the girls' toys are stored in the playroom closet and in neat baskets in the living room.
The cost of Hartmann's girl-crazy room? About $1,000 for headboards, linens, paint, bed skirts and window dressings.
Tween and Beyond
Tiffiny Hewitt-Brown's kids have moved past nurseries and toddler rooms. So, when her son, Quinlan, 11, and daughter Aleigha, 13, wanted to update their rooms, she was excited to see their personal styles.
As with most things teen, decorating a room can be a struggle of wills. As a compromise (Quinlan wanted black walls), Hewitt-Brown tried to direct the kids' choices by looking through catalogs and talking about light and space.
"We compromised with what Mom wanted and what the kids wanted," her husband, Mike, explained.
"We only let them paint the walls — easiest to change. It's kind of a give and take," Hewitt-Brown added. "It's not whatever they want, but we try to let them have a lot of choice. We are about choice within reason."
On a trip to Lowes, the kids found storage containers they loved. What resulted is a masculine space with a pop of boyish personality for him — chocolate walls with teal circle appliqués —and a garden of bright flowers for Aleigha.
Having a cabinet-maker dad was a big plus. Both rooms include custom floor-to-ceiling cabinets for storage, eliminating the need for dressers.
"One of the best things about those rooms is there is so much storage," Hewitt-Brown said. "They don't have to edit as much because there is enough room for everything."
Quinlan's room is outfitted with a "trap door" that includes a secluded reading space and a secret passage to the attic. This literal hole in the wall is hidden behind a large mirror. As for Aleigha, she asked her dad to copy a swinging bed found in a catalog. A couple of roof truss-cross ties later, her bed is suspended from the ceiling by four chains. This "porch swing" bed frees up the space around, above, and below it, making the room seem even larger than it is.
The Browns are avid furniture recyclers. Most everything in their beautiful home is repurposed or reclaimed.
"We get things at yard sales and things that people pass on to us," Hewitt-Brown said. "We also go on Craigslist and find things on the side of the road, too."
And the family scored great deals to put the finishing touches on the rooms. Rugs from yard sales and Goodwill. Curtains from Target. Mirrors from yard sales. For Aleigha's birthday, she got many of the accessories in her room.
To add personality to the spaces, Aleigha hung her own photographs on simple black matte board and a corkboard for her ever-changing keepsakes. Quinlan got help from his dad to create a shelf out of skateboards.
The family's devotion to repurposing paid off. They did both rooms for under $500. Which just goes to show, whether you have a large budget or small, adding style and personality to your kids' rooms is easier — and more fun — than you think.
Room Sharing: A Guide
Putting two kids together has its benefits and challenges. Here are some tips from those in the know about making the buddy system work for you:
» Depending on their ages, your kids may need a degree of privacy within the room. This can be as simple as a reading nook in a corner.
» Don't underestimate personal space. Consider bunk beds to create a space where your child can create a place of his own. Or think about "zones" in the room where each child can be in command. Room dividers also help with this issue. A curtain or a bookcase can make delineating personal space easy.
» Organization can be a challenge in a shared space. Use color-coding to keep things straight.
Design a SMART SPACE for Your Kids
Follow these tips to get the most mileage out of your redesign:
» Use no more than three or four colors in the room for a unified look.
» Think about the layout of the room and its flow — how will your kids move around the room and what will they be doing in there?
» Integrate storage into your design by thinking about your child's unique organizational skills.
» Decide whether you want the space to incorporate toys.
» Think about how the room will grow with your child. Experts say it's not unusual to redecorate any room every five to seven years, but it's worth making decisions now that will smooth transitions later.