Decorating, Naturally
Add classic touches with pine boughs and pinecones, holly, vines and acorns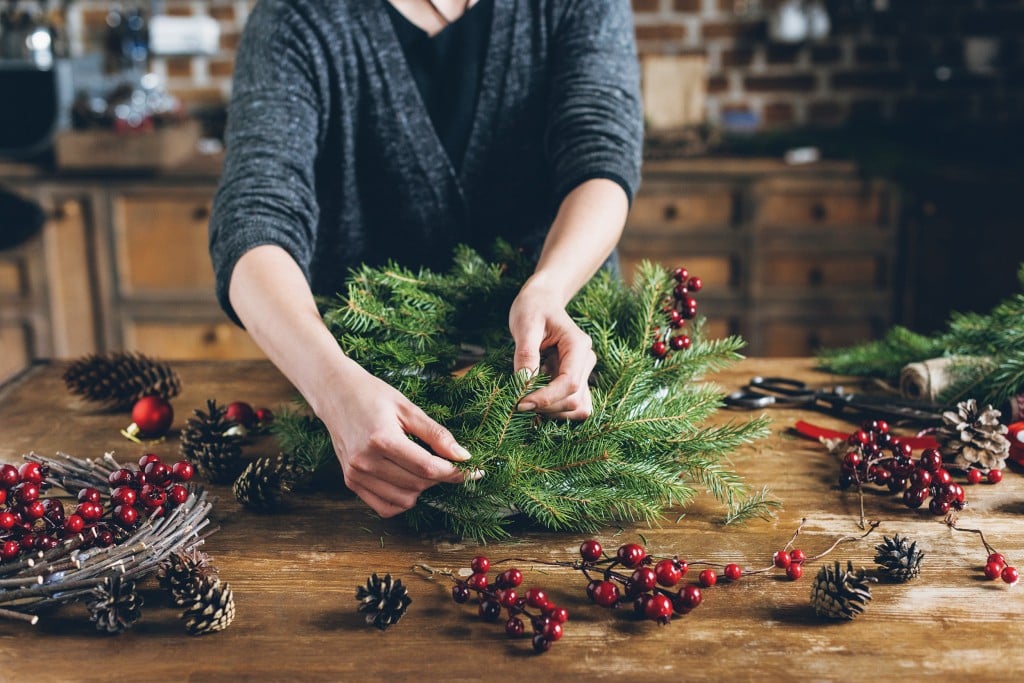 Bringing the outdoors inside for the holidays can add a special touch to your seasonal décor. Whether you want timeless elegance, a rustic funky feel or just a bit of greenery to add a festive flair, using what you have in your yard can deliver.
Classic natural decorations include evergreen boughs wired to the top of a staircase banister or draped across the mantel over the fireplace. Be aware that if you do light a fire, it will dry out the boughs, so have a mister handy to spritz them periodically. It's also a good idea to have a supply of evergreen boughs tucked away in a bucket of water to replace as needed.
You can dress up your evergreens with red velvet bows, small Christmas ornaments of various colors or small antique children's toys scattered throughout. If you're going for a more rustic design, wire together a trio of pinecones and nestle them among the greenery. You could spray-paint the tips of the pinecones with gold flecks for a pop.
A living tree you can plant in your yard after Christmas is the ultimate natural Christmas decoration, but make sure you get a tree that will thrive in our area. Those Douglas firs and blue spruces look great in their burlap bags, but neither will survive a North Florida summer. The Florida Department of Agriculture and Consumer Services lists red cedar, Virginia pine, sand pine, spruce pine and Leyland cypress as trees grown in Florida for Christmas trees.
Lana Arnold, a Florida Master Gardener, a past president of the Tallahassee Garden Club and a board member of the Florida Federation of Garden Clubs, has taught classes on using nature to decorate. She particularly likes acorns from the Shumard Oak, which have a ruffle near the base.
"Cut cedar boughs, holly bushes with berries on them, juniper — any of your evergreens make great wreath additions," Arnold said.
She also recommends cutting your wild grape vines, normally found annoying, and winding them in a circle in the bottom of a plastic bucket. They will dry into a wreath form, but it's important to cut them while they still have some green. You can glue on greenery, hickory nuts or acorns, small pinecones or leaves once the vines have dried.
Wreath forms are also available at many garden centers and hobby stores, and you can bring them to life with many things in your yard. Loquat leaves make a lovely wreath; attach ripe kumquats with picks. Or, slice blood oranges and dry them in a dehydrator, then pin them to your wreath for a touch of seasonal color. If you want to add fresh blossoms, make sure you put them in floral picks, which have a water reservoir to keep the bloom fresh. Camellias are lovely in a wreath or floating in a holiday-theme bowl on a side table.
Boxwood is an old standby. Prune your boxwoods in late November or early December and keep the trimmings in water. They can be used for any decorative element, but they are especially useful for creating topiaries. A round foam ball atop a PVC pipe anchored in a flowerpot is transformed with a bit of paint on the pipe and boxwood covering the foam ball. Add a few camellias in picks or colored ball ornaments as mulch in the pot as a finishing touch.
Blooming plants such as amaryllis and Christmas cactus can provide colorful blossoms for the holiday season and then be preserved for future years. Plant your amaryllis outdoors in the spring. Move your Christmas cactus to a guest room after blooming and water it sparingly, then move it to a covered porch in spring. Bring it indoors before a frost.