Dean Gioia's Stunning Works of Art You Won't Believe Aren't Photographs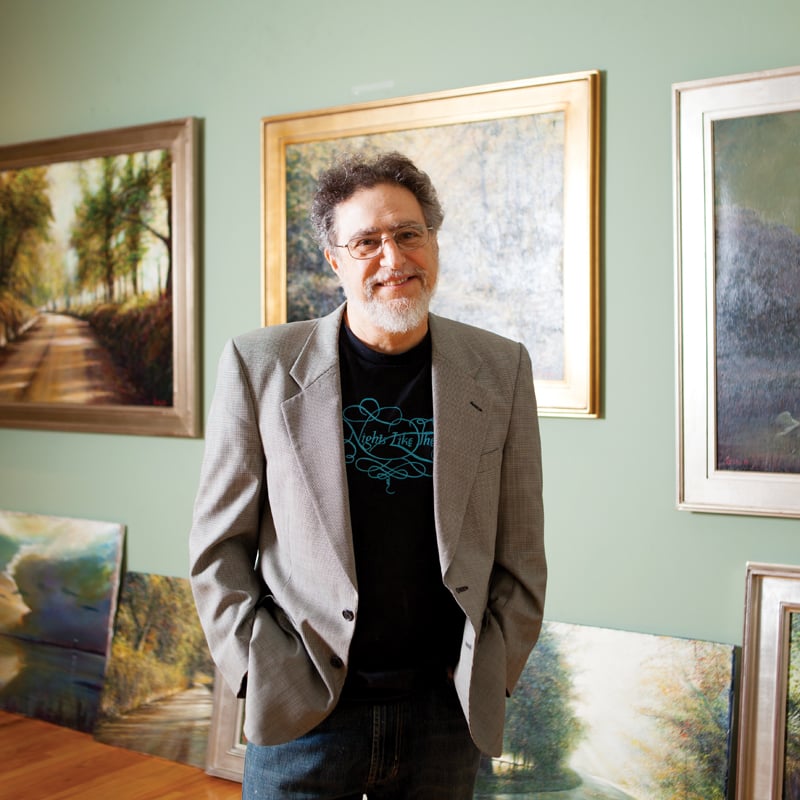 Dean Gioia (pronounced joy-ya) is one of Tallahassee's most authentic and treasured artists. His work, gracing walls from the SouthWood Plantation house to private homes, ranges from intricate landscapes to haunted renderings of the mind. His latest hardcover collection, 12 years after the beautiful "Turn of Light" was published, is aptly titled "Illuminated."
Gioia's muse is landscape, but his haunted childhood perhaps made its debut in this gorgeous collection-worthy volume.
The collection includes paintings that revolve around the artist's own spirituality/mysticism. Themes such as life after death and duality of personality are depicted in signature detail and form.
Gioia says the paintings are reminiscent of his own childhood.
"Around the age of 4, I was plagued with illnesses that left me hospitalized for long periods, yet without clear diagnoses," he explains. "During this period, I spent a lot of time in what I can only describe as a 'spirit' world. It was not a warm and fuzzy place, but a place with malevolent beings that seemed to want something. That evolved into a psychic awareness, an ability to see and know on other levels. When I later became enamored with painting the landscapes around me, I couldn't help but imbue the work with a sense of the mystic —what was beyond and beneath the physical — because I felt as though I had seen it; I had known it."
In much the same way, the new collection is infused with egrets, meaningful in a very personal way to the artist.
"The egrets," Gioia says. "Yes. Perhaps they are symbols of freedom, flight, transcendence. I love painting anything white that is illuminated by sunlight. Inserting beautiful, sunlit egrets into a landscape changes it into a place that is aware of itself. They symbolize the land as a living thing."
Gioia began his art as a desire to, "express what often feels inexpressible." He describes the beauty and the visual thrill of "light falling on stuff," which evolved into a sort of business.
Admittedly, he knows he's fortunate.
"People have always appreciated and wanted the paintings I do," Gioia says. "I am grateful for that."
While his work is available in the conventional form of gallery shows, his favorite way of selling his art are open houses. He and his wife, Dr. Amy Wetherby, have a spacious home that lends itself to showing a lot of art and accommodating a lot of people. To Gioia, these events are very satisfying because he is able to interact directly with collectors.
"It's very personal and very rewarding," he explains. "And I can offer some great deals out of my studio. It's a fun thing."
This second collection isn't the closing bookmark on Gioia's work. He says there is another world of images to tackle; things that have been brewing in him for decades that haven't yet been fully explored — perhaps a deeper look into a depiction of spirit.
"Doing this book got me thinking about another book," he says. "One where we use the pages in a more provocative way to explore other aspects of what I see in life: a place less solid, a place without defined edges — the darker corners needing illumination."
---
The paintings of Dean Gioia and his books are available locally and directly from the artist, but that will expand quickly to other towns and cities. Learn more at deangioia.com. The new hardcover, priced at $25, is offered at:
LeMoyne Center gift shop
Gadsden Arts Center gift shop
Baden-Baden
Strauss Gallery
St. Marks Refuge gift shop
Black Dog Café
Thornebrook Gallery in Gainesville