Dale Earnhardt Jr. Shifts Gears Into Selling Cars
Racing to the Top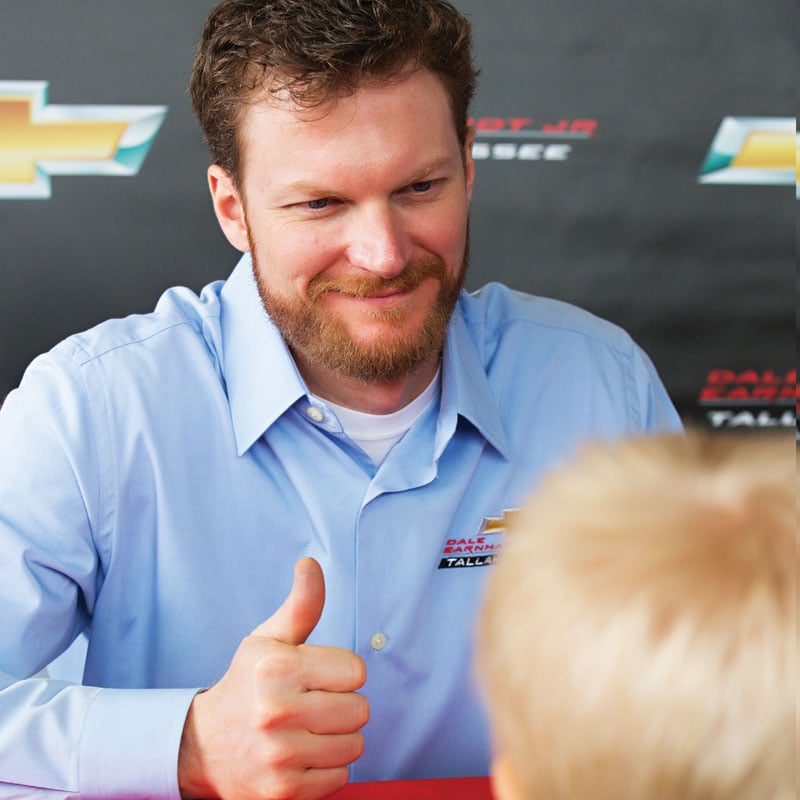 Scion of one of the most famous families in NASCAR racing, Dale Earnhardt Jr.'s name is front-and-center in Tallahassee since the 38-year-old driver of the No. 88 National Guard/Diet Mountain Dew Chevrolet SS purchased two of the region's largest car dealerships and rebranded them as Dale Earnhardt Jr. Chevrolet and Dale Earnhardt Jr. Buick GMC Cadillac.
While it's his first foray into owning a dealership, Earnhardt has partnered up with Rick Hendrick who, in addition to owning the team Earnhardt drives for, is also owner of the second-largest privately held automotive dealership in the U.S. Hendrick Automotive Group owns 87 dealerships representing 29 nameplates in 13 states. In 2012, the company reported revenue of $5.9 billion and retail sales of more than 150,000 vehicles, with more than 1.5 million serviced by technicians.
About 400 fans — who had either bought a car or won a contest — lined up to meet their racing idol in the spring on Dale Jr. Day, held at the two dealerships. In between appearances, he spoke to Tallahassee Magazine editor Rosanne Dunkelberger.
Why Tallahassee? Rick owns quite a few dealerships in the country and had a ton of success in that field. We had talked on several occasions about partnering up and getting involved in dealerships together; we were just waiting on the right opportunity. Obviously we wanted to be partnered up in the Chevy brands, (and) Rick thought this was a good opportunity for both of us, so we jumped in with both feet and made a lot of progress. The last several months have been really, really good and we've got a lot of great ideas (and) renovations to make in the future. We're excited. It's a good fit for me. The store was already a success before we got here.
You and Rick Hendrick seem to make a good team. It's just great to be able to partner with Rick. He's had some success in the field (and) knows all the buttons to push. I'm trying to learn everything I can while I can because I want to be around here for a very long time
How much longer do you think you'll be racing? I really don't know how much further I'm going to drive. As long as I'm having fun, I'll keep doing it.
Is owning a dealership something you'd like to continue when your racing career is over? Absolutely! Once I move away from the driving aspect of my career I can see myself getting more and more heavily involved in the dealerships. I worked at dealerships when I was younger. I was in the back changing oil and pulling transmissions and motors — doing all the fun work — and I enjoyed it. I really thought that was what I was going to do for a living; that was my plan. Driving a racecar wasn't guaranteed. I think now, being on the owner side of it, having that experience helps me appreciate what the guys back there in the service department are trying accomplish. I feel like there's a connection and a bond there, and appreciation of what they're doing every day and the work they're putting in.
Are you planning to build a dealership empire? I'm not particularly looking. I'm really enjoying the opportunity we have here in Tallahassee. The ownership side of it is something that's very new to me so I think I'm going to enjoy it, but I've got a lot to learn. I'm excited about this opportunity and couldn't be paired with a better guy.