Cypress Restaurant Remains A Tallahassee Staple
As husband and wife start new ventures, their first love thrives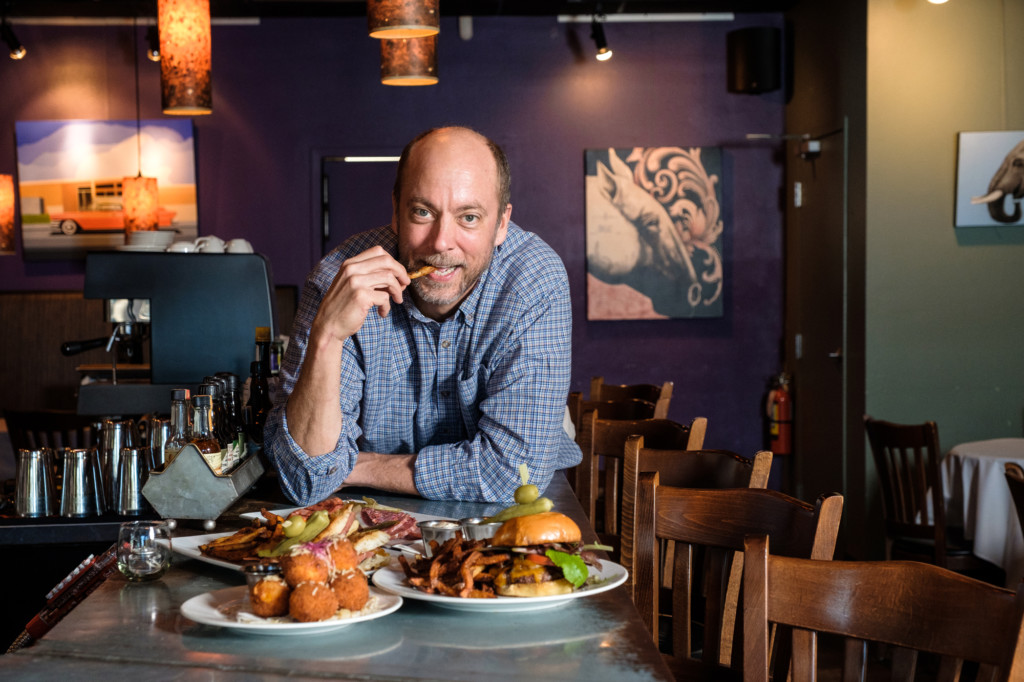 The story of Cypress Restaurant, celebrating its 19th anniversary in business this year, is about as Tallahassee as it gets.
Proprietor, chef, and spouses David and Elizabeth Gwynn are fifth-generation Leon Countians. Old-timers remember Cypress' location on the corner of Tennessee Street and Gadsden Street as home to the landmark Garcia's Restaurant for 37 years.
Not-so-old-timers may recall its short history as Buffalo's Wings and Rings.
David Gwynn's mother, Noanne Gwynn, was a partner in the Upper Crust in the '70s, the first restaurant in the newly built Carriage Gate center.
Over the years, the location that now houses Grub Burger Bar would be occupied by other restaurants including chef Jack Shoop's Jacques' Upper Crust and the ever-popular Georgio's.
David Gwynn would be introduced to the food business when the self-styled "good son" would help his mom cater local soirees for years afterward (Noanne Gwynn's long-time friend and sorority sister was another local catering/restauranteur legend, Nella Schomburger).
But he says the Tallahassee tale of Cypress was literally an inch away from never happening.
After marriage, graduating college and working in the beer and wine business for a few years (in that order), Gwynn decided to attend the Culinary Institute of America in New York for formal training.
After graduating there, the couple made their way to Dallas, and David worked in the kitchen at the Mansion on Turtle Creek.
After nearly three years in that job, David and Elizabeth wanted to strike out on their own with a build-your-own pasta restaurant concept.
"I'm about an inch away from the paper to sign a lease," he recalled, "and I was like, 'Do I really want to live in Dallas for the rest of my life?'" With two young boys, then 6 and almost 3, the pair shifted gears and moved back to their hometown, hoping to introduce Tallahassee to a true Southern-style fine dining experience.
The novice restauranteurs had just enough time after Cypress' opening in April 2000 to "get our feet under us" when the presidential recount started that November. With a guestbook filled with political heavy hitters — Karl Rove, Warren Christopher and James Baker, to name a few — and reporters from a pantheon of news outlets, the little 84-seat restaurant's word-of-mouth reputation went around the world.
But an ever-changing menu of creative twists on traditional foods have kept Cypress as a perennial Best of Tallahassee honoree as a fine-dining special-occasion restaurant, as well as landing it a spot in Florida Trend's Golden Spoon Hall of Fame.
While grateful for the honors, Gwynn sometimes feels Cypress is a victim of its own reputation. Too many local people consider it a place to celebrate only the grand occasions — birthdays, anniversaries, graduations and such — but don't necessarily think to visit more than once or twice a year.
While there is the option to dress up and enjoy a multi-course, leisurely meal with entrees ranging from $24 to $38, the restaurant's bar area is more quick-and-casual with its own menu of reasonably priced tapas, a $12 Cypress Burger and grilled fish tacos.
"Sometimes we'll get parents whose kids may have a nighttime practice at Leon High, so they'll come up here and grab a drink while they're waiting on the kids, or some people may stop before they go to an FSU basketball game," Gywnn said.
That high-priced entrée is Sugar Cane Mopped Rib Eye, which has been a staple on the Cypress menu, along with the starters Cypress Oysters & Biscuits and Fried Grouper Cheeks.
Online reviewers have also raved about the Grilled Hangar Steak, Grilled Lamb Rack and Shrimp & Grits. Not a selfish chef, Gwynn has recipes posted on the restaurant website (cypressrestaurant.com/recipes) for those who might want to recreate a few favorites at home.
That bar burger was the impetus for another of the Gwynns' ventures, Vertigo Burgers and Fries, which opened in the old Looper's location off Apalachee Parkway in 2012.
For those who would like a little Cypress comfort food for breakfast and lunch, they opened Grove Market Café on Market Street.
Cypress Restaurant
Dinner Monday–Saturday Opens at 5 p.m.  320 E. Tennessee St. (850) 513-1100  cypressrestaurant.com