Cyborg Jillian Weise Speaks for All
Poet and FSU English professor alters perspectives on what it means to be disabled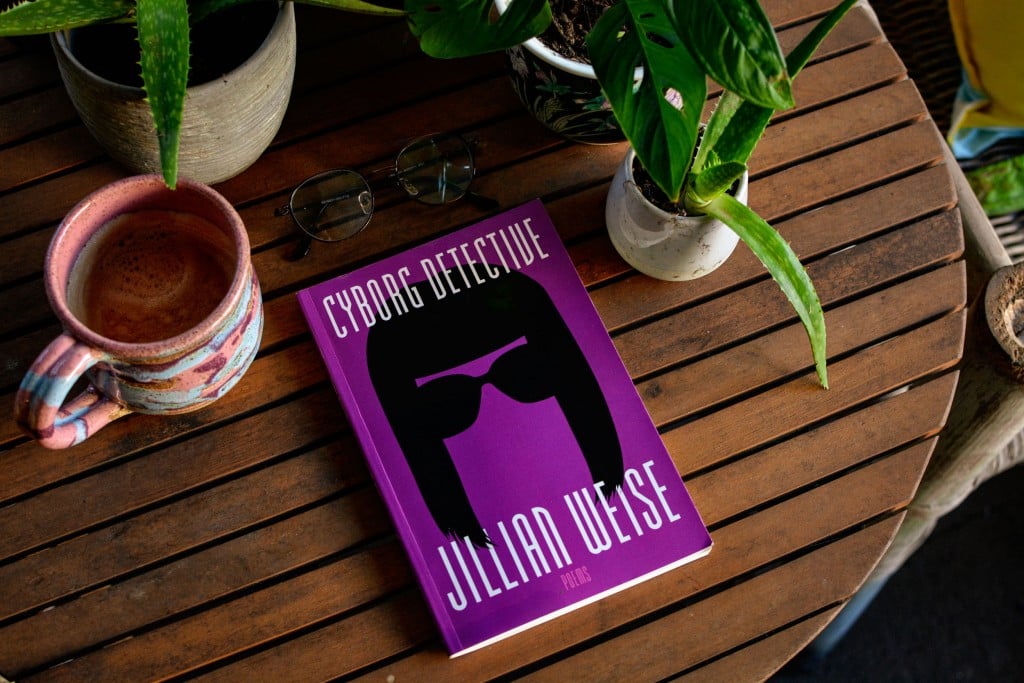 Could it be her?
I immediately recognized the name upon running across it in a New York Times Magazine in January 2010.
Jillian Weise.
I had not thought about Jillian since 1999 when she, along with my son, graduated from Rutherford High School in Panama City. Both were students in the International Baccalaureate program. She, seeking an opportunity to exercise a desire to write, had completed an internship in the newspaper newsroom I managed at the time.
Turns out that she had never stopped writing. The byline in the magazine atop a column headlined Going Cyborg belonged, without a doubt, to the Jillian Weise I knew.
Weise, an amputee owing to a congenital disorder, had written about the process of getting used to the 12th artificial leg she had worn in her lifetime. This one was different. Not the typical hinged prosthesis, it was instead a computerized, software-driven, data-collecting, ground-sensing leg that made annoying noises.
Once the new appendage was vacuum-sealed to Weise, she learned that she would have to relearn walking. She fought the new leg at first.
"For five years, I had walked on my old hinged leg," Weise wrote in the Times. "I had been in my longest relationship with that leg and lived in three different states. I don't want to wax sentimental here and say it felt like dying, but it kind of did feel like dying. Goodbye hinge, goodbye foot. You're done. You're through."
The dying was short-lived. Weise went to a mall, accompanied by a friend who helped support her, to work on getting the hang of the new leg. Before long, she would try on, too, a new identity: cyborg.
Jillian over time has chosen to pronounce "Weise" in various ways — so that it rhymed with twice; as the letters "y" and "z"; and as Germans pronounce their word meaning way, vize-uh. Never, to my knowledge, has she opted for an alternative rhyming with geese.
People would say, I suppose, that Weise was free to go with the pronunciation of her choice. But the cyborg thing, that would prove a tough sell.
Weise wonders why.
In Cyborg's collection of poems, Cyborg Detective (BOA Editions, 2019), she goes in search of an answer. In the poem Nondisabled Demands, she adopts the voice of a preachy sort inclined to lecture Weise the writer for hiding behind a word that belongs in the future …
It isn't fair to us. You owe it to the reader.
We're trying to help. We have an uncle
with a disability and he always says
exactly what it is. Take it from him.
Take it from us. Take it from them.
You can't expect people to read you
if you don't come out and say it.
Everyone knows the default mode
of a poem is ten fingers, ten toes,
in love with women and this nation.
When this is not true, it is incumbent
on you to come out and say it.
Here's what we'll do. We'll rope you
to the podium and ask
What do you have? What is it?
If you refuse to answer then we call
your doctor. Then we get to say
You're an inspiration.
About Weise's chosen identity, people are dismissive and expect her to be submissive, to operate within established nomenclature and conventions. Another poem …
Anticipatory Action
If cyborg enunciations are the future
Avant-garde, then what are the real cyborgs?
Do we have to be avant or can we
be ourselves? Sometimes you all
come in and need us to assert
our powerlessness.
Of course, we trust you.
We won't ask for inclusion.
Do with us as you wish.
Or the nurse comes in and says,
"Oh, no. You should have had
that shot hours ago," as if
we are responsible for time.
Call the shots. Cheap shot,
Big shot, give it a shot, parting shot.
Do we count yet? Not by a long —
Cyborg Detective is angry, defiant, proud and given to calling others out. But the more one reads, the more he comes to appreciate the indignation as righteous.
I know well two gay men of about my age who pine for the days when life was rather dichotomous. Homosexual and heterosexual. For them, there are too many labels about these days: queer, questioning, bisexual, pansexual, megasexual, polyamorous, metasexual. (One of those words I may have made up. Maybe.)
The writer David Sedaris remarked in a recent interview, "I'd rather say I'm homosexual than queer. It's completely strictly generational. That's what people my age were called, you know? But that's not the part of it that bothers me. It's just the rebranding. That's why now I'm a straight man. And you know what?
"I'm going to be a really good spokesperson for straight men, too. We've been maligned for too long, and we've had it. We're mad as hell, and we're not going to take it anymore."
And the pronouns. Lord, the pronouns. Still, we can do this if we try, even if there come to be as many identities as there are Eskimo words for snow.
Something led me to land on Weise a few months ago when I was thinking about women deserving of Rowland Publishing Pinnacle Awards. I knew that she was about to join the English Department faculty at FSU after earning her doctorate and teaching at Clemson for a time. I was due for some re-education, and Weise was good for that.
Will there come a time when we all get to be ourselves? The Cyborg Jillian Weise is doing her part, "plugging in her leg and hopping to it," campaigning for such a world.
And, in that, Jillian just might find a weise.