Customization is Key to Event Maker's Success
Saramonies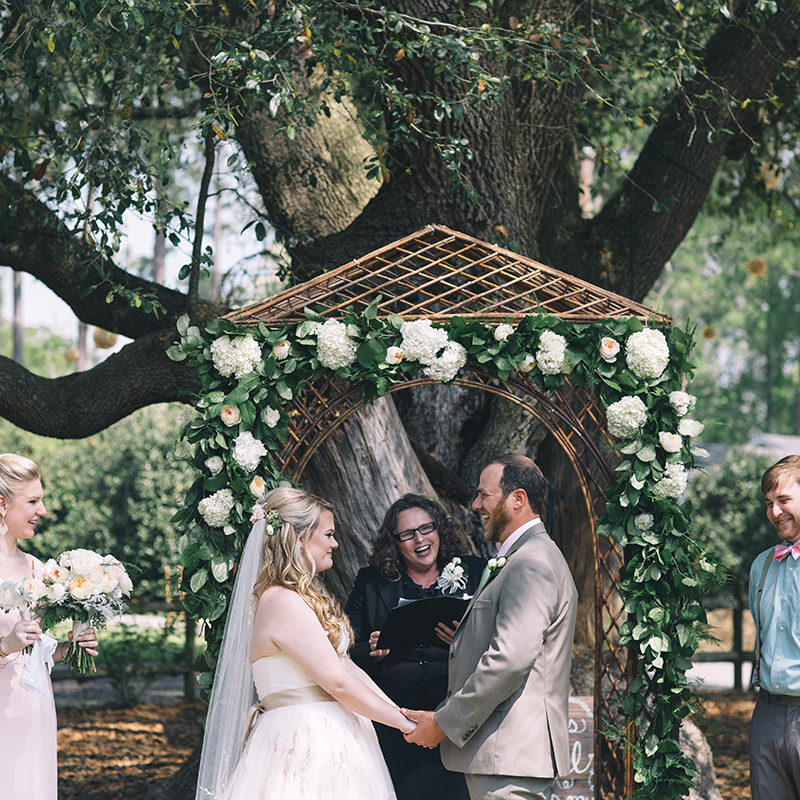 One's wedding day should be among the happiest of his or her life. Weddings, after all, are milestones witnessed by people who may travel across the country or even internationally to attend a ceremony.
The importance we assign to weddings may, however, lead to exaggerated expectations and an overly strict adherence to traditions viewed as inviolable. Some may assume that those traditions characterize each of the 23,000 weddings that occur every Saturday on average in the United States.
Sara Michaels, owner of the event planning service, Saramonies, dismisses that narrow view of weddings as silly. She believes that no two weddings should look the same.
She takes a unique approach to each couple she works with and aims to make wedding days as memorable as possible for both participants and guests.
For Michaels, doing so is much more than a business.
"I get to be surrounded by love and special people every weekend," says Michaels. "I wouldn't even charge the couples if I didn't have to — I know I was meant to do this."
Michaels' entry to the officiant-for-hire business resulted in part from tragic circumstances. In 2009, Michaels, a popular radio personality at the time, lost her daughter, Eliza, to heart disease. Eliza's thirst for life had been an incredible inspiration to everyone who knew her, especially her mom.
The loss of a child led Michaels to reflect on her life and also stimulated an interest in others' life stories. Plus, Michaels' sister encouraged her to take the ceremonies she already was creating for family members and turn her knack for making special occasions very special into a business. Six years later, she has the business down to a science.
Michaels brims with enthusiasm about the way she gets to use her gifts in her career. Any bride will admire her passion for personal, customized ceremonies versus the insert-name-here nuptials that are all too familiar.
She is a curious individual with a love of travel and culture and a fascination with people. Those qualities helped her develop the perfect system to get to know couples well, the first step in the process of crafting a wedding.
To do this, she sends out two questionnaires after meeting with the couple in person. The couple fills out one questionnaire together; it seeks answers to general questions. The second questionnaire, completed separately, contains intimate questions: Where are you happiest? When did you know your intended would be your partner forever? Couples are told to refrain from sharing their individual answers with one another.
(One time, both the bride and groom gave the same answer to the "When did you know" question: "On the couch with my significant other!" So, Michaels decided to incorporate a couch in their wedding. Bride and groom sat on it as their vows were administered.)
In all cases, questionnaire answers form the basis for the ceremony that Michaels writes. She employs humor when that seems appropriate and may draw upon weighty experiences in the life of a couple.
One couple had come through the loss of several close relatives in their time together: grandparents, aunts and a mom. Michaels crafted a ceremony that in part honored those lost loved ones.
Michaels makes sure that the ceremonies she creates are consistent with the faith and culture of couples.
"It is their faith, not mine, that matters for their wedding," says Michaels. "A wedding should reflect the couple and no one else."
The final step in the process is the ceremony, itself, officiated by Michaels who has a talent for speaking.
"In addition to her unique process of learning who you are, Sara 'brings it' on your wedding day," one couple wrote in an online review. "What we mean by that is she's got that special vibe that can really captivate an audience. How she's able to make a ceremony so beautiful with the perfect blend of reverence and comedic relief is simply astounding."
Michaels loves the people she works with more than any other aspect of the business.
"God gives me new children every Saturday night, and as a bonus, there's cake!" she exclaims. "I get to help start a family."
While weddings are a Saramonies specialty, Michaels is also available for many kinds of public speaking, including galas and charitable events.
She also handles funerals.
"I get to know the deceased through their family, a very tough thing to do in a short time span and at such a difficult time, but as someone who knows grief all too well, I try to do it as tenderly as possible," Michaels says.
Recently, Michaels spoke at the funeral for Jane Grosslight, an interior design professor at FSU. In one of Grosslight's textbooks, Michaels saw the quote: "Where is light seen? It is seen in two places. It is seen reflecting from a surface, or at the source." This quote was used throughout the funeral service. Grosslight the teacher was recalled as a provider of light. And she was remembered as a woman who reflected the light and love she received from her family.
Just like Michaels, a woman who brightens ceremonies and reflects the inspiration she received from a daughter who died too young.