Forgotten Coast food is natural, fresh and scrumptious
Forgotten Coast food is natural, fresh and scrumptious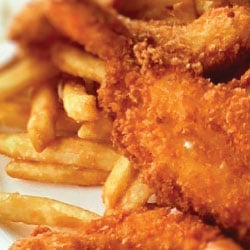 Jason Dehart
At the relatively upscale Owl Cafe in Franklin County, window seats overlook the nearby Apalachicola River.
There's a special something about the Forgotten Coast most folks can't get enough of. It may be the fishing or the boating, or the majestic lighthouses rising above the blackjack oaks and dunes, the pristine white beaches of Carrabelle or a combination of all of the above. Also, it's the laid-back attitude and the sense that time operates on a different schedule here. And what better way to enjoy this slower pace than to sit back with friends and family enjoying coastal seafood dishes that come straight from the source: the vast richness of the Gulf of Mexico.
Apalachee Bay, Apalachicola Bay and St. Joseph Bay remain some of the best sources of fresh, nutritious seafood, and Wakulla, Franklin and Gulf counties are well known for their seafood hangouts, restaurants and eateries. Forgotten Coast writers picked, at random, a restaurant from each of these coastal counties and sampled their atmosphere and cuisine. Here are their impressions for your consideration.
The Owl Café Apalachicola in Franklin County
A day spent in Apalachicola feels like a mini-vacation. Time seems to have no meaning here. The historic downtown commercial district makes for a relaxing stroll, and when you're hungry there are establishments in several strategic places and corners. The Owl Café is one of the more upscale restaurants in this classic old fishing port and is located on the corner of Avenue D and Commerce Street.
Walk through the door and the first thing you'll see is a gift shop, the Stuffed Owl. This is a kitchen store you won't want to pass up; be sure to visit before going upstairs to eat or on the way down after you've gorged yourself on fried shrimp or penne pasta. If you are of single-minded focus, though, head right upstairs and grab a table before the noontime lunch crowds start to gather (The café opens at 11 a.m. and closes at 10 p.m. Monday through Friday; on weekends it opens at 8 a.m. and serves brunch).
The dining rooms of the café aren't fancy, but clean, classy and elegant. Tablecloths (and paper drop cloths) are white, as are the plates, coffee mugs and creamer pitchers. Tables seat up to four; window seats accommodate two diners and overlook the nearby Apalachicola River.
The café has a long wine list to compliment your meal, including French whites, Spanish reds, Merlot, Champagne and a host of others. There's also a respectable list of beer, including, appropriately, Cotleigh Tawny Owl and Cotleigh Barn Owl.
Appetizers at The Owl range in price from $5 for the soup of the day to $11.50 for lump American blue crab cakes, while salads go for $8 for a classic Caesar Salad to $14 for the same salad but with crab cakes added. Sandwiches are $7.75 to $13, and lunch entrees range from $10.50 to $16.50. A decent little meal of seven large, Gulf shrimp (fried up in a crunchy and flavorful peanut/canola oil blend) with house salad, sauces and fries, plus coffee, came out to $19 and some change.
The Owl is a great place to host social or business gatherings. Check out The Wine Room, which features its own elegant restaurant seating and a full-service, old-time bar with hundreds of beverage selections to choose from.
Spring Creek RestaurantSoutheast of Crawfordville in Wakulla County
If you're looking for a local dining establishment with lots of Old Florida feel and sits off the beaten path, set your sights on Spring Creek Restaurant. Located some 25 miles south of Tallahassee in the small, out-of-the-way fishing village of Spring Creek, this family-owned eatery has been serving up locally caught and home-cooked seafood since 1977.
This fine family restaurant makes you feel right at home. At the same time, it's a restaurant on a mission to preserve a way of life. Step inside, and you get the feeling you've stepped into a museum. Framed black-and-white photographs of fishermen past, along with other artwork, grace the wood-lined walls, and your gaze is drawn toward a large mural and limestone fireplace in the front dining room. Outside, a mullet boat — of the kind drydocked by infamous 1995 net ban — contains a marker describing its capabilities and laments the loss of a way of life crucial to many families. This lifestyle is chronicled in a two-volume set of books called the "Spring Creek Chronicles" by Leo Lovel, who recounts growing up fishing, hunting and making a living in Old Florida.
Despite legislative setbacks and other tightening restrictions, the Lovel family keeps doing what it does best: serving up great seafood dishes produced locally, either from their own boats or other local fishermen. We're talking mullet, softshell crab and shrimp, but there's a landlubber component of the menu here, which also features ribeye steak and handmade hamburgers.
They say that there's something for everyone here at Spring Creek Restaurant, so take your pick: Spring Creek crab cakes, bacon-wrapped shrimp, shrimp and crab chowder, catfish, hushpuppies and cheese grits. Or, they'll cook your own cleaned catch for $12 a person.
As you take a seat near one of the decorated bay windows you may notice something different on the table. Ball canning jars hold bacon bits and croutons, and a stately, unmarked opaque wine bottle contains the special house buttermilk ranch salad dressing. Warm rolls and garlic butter are placed before you, and the house salad is a do-it-yourself "kit" consisting of a wedge of lettuce, cucumber slices, scallions and cherry tomatoes. Both salads and dinners are served on heavy pewter-like metal plates, which is something you don't see at just any restaurant these days.
Spring Creek serves up a good variety of homemade meals. A shrimp dinner complete with cheese grits (at just the right consistency), tasty hushpuppies, salad and sweet tea costs $21 while a catfish dinner with the same sides comes in at $15. A slice of yummy homemade coconut cream pie is enough for two people and costs about $5. But you can also get a slice of chocolate peanut butter pie or key lime for the same price.
Indian Pass Raw BarJunction of Indian Pass Road and Hwy. C-30 in Gulf County
Nestled like an oyster in its bed, the Indian Pass Raw Bar is another monument to the past and this region's traditional way of life.
Locals call it the "Raw Bar," and there's nothing fancy or splashy about this place. It's casual dining at its most casual, like hanging out at your buddy's house next door. Here, you won't find the tables covered with fancy tablecloths, but they are stocked with the proper condiments, paper towels and plenty of saltine crackers. Expect to be greeted by a friendly face and a cheerful "sit where you want," which means grab a table or park it at the bar. If you're thirsty, choose a beverage from the large, stocked cooler covering the back wall, or draw a beer from one of the taps on the wall. Once your cool beverage of choice is selected, sit back, relax and enjoy a local history lesson from one of the Raw Bar's employees. This warm, inviting, family-friendly atmosphere is comfortable and reminiscent of a simpler time.
There is no extensive menu and, of course, the house specialty is fresh local oysters. Eat them on the half-shell: raw, steamed or baked. The recipe consists of lemon juice, garlic, butter and special seasonings, but the "full" recipe is a closely guarded state secret. However, you won't find fresher oysters; they literally slept in the water last night.  For those who aren't in the mood (or have liver conditions that preclude the consumption of raw, succulent bivalves), try the steamed shrimp, stuffed shrimp or a bowl of gumbo. It's all good! If seafood isn't an option, a limited selection of non-seafood items is served.
The origins of this family-run business date back to the early 1900s when owner Jim McNeill's grandparents ran the store as a commissary and company store for the local turpentine industry. The building still stands in the same location as it has since 1929 when the highway was built.
For many folks, the Raw Bar has become a must-do stop on trips to the Forgotten Coast. Visitors have come from all over the map, literally (look for the map with the pushpins and notes). They've all taken a little bit of the local culture away in the form of a memory. So, the next time you're traveling along the Forgotten Coast in Gulf County and on your way to somewhere, or nowhere — do yourself a favor; slow down and take a load off at the Raw Bar.