Crew Champs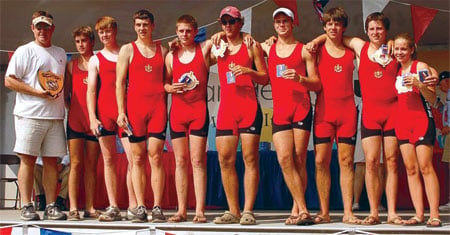 Leon Crew brings national buzz and captures local attention
Crew ChampsAfter Years of Development, Leon's Team has Proven Itself
a Serious National Contender
By Erica Bailey
Because Tallahassee isn't exactly Sculling Central, we offer you Lesson One relating to the sport of crew:
To row is a verb. Crew is a noun. Saying "to row crew" is redundant.
So says Dan Newman, men's varsity coach of the Leon High School crew team. And he should know – he has been coaching crew teams regularly since he graduated from college in 1999.
Of all the sports available in Tallahassee, rowing is perhaps the most incongruous. One imagines prep school students in the Northeast rowing in misty water, somewhere near an ivy-covered university. In the South, we know our football, baseball and soccer. Rowing? It just doesn't fit.
Newman is the first to admit that rowing doesn't belong in Tallahassee – but not because of those stereotypes. The reason is water.
"Rowing really shouldn't be in Tallahassee proper – there's just not enough water for it," he said. "The lake that we've been rowing on, Lake Hall, is only 1,000 meters … Our race is actually 1,500 meters. Not only are we not able to do a full race piece, we can't even come close to doing over-distance training, 5,000-meter and 4,000-meter pieces. We're incredibly hampered by access to water."
In addition, Leon has to share training time at Lake Hall with the area's three other rowing clubs, Tallahassee Area Crew, Maclay Crew and the Tallahassee Rowing Club.
But we digress. On to Lesson Two: What is crew, anyhow?
Rowing has been around for centuries, and the first known "modern" races were held in London on the River Thames between professional watermen in the 15th century. The earliest known races in the United States began as far back as 1756, and rowing is one of the original sports in the modern Olympic Games.
There are two types of rowing: sweep rowing and sculling. In sweep rowing, the athletes hold one oar in both hands; with sculling, they hold an oar in each hand. The shells, or boats, hold teams of two, four or eight in sweep rowing. In sculling, there are singles or teams of two or four. Teams are categorized by gender, age and weight, and competitions are held at state, regional and national levels. The junior events are for rowers under 18 years of age and are further broken down by weight: lightweight and open weight.
Leon's crew team was founded in 1990. In the 17 years Leon Crew has been around, it has worked its way up to being a serious contender on the national level of high school sports.
"The way we've been able to have success is by having really good athletes, really supportive parents and really good coaches, and having those three elements over a long period of time provides the consistency," Newman said.
Prep schools are noted for their dominance in rowing. Such private schools have a larger athlete base, more money, access to water and huge support from fans. Not so for Leon High – as a public high school, it has to struggle to raise money and recruit athletes. With limited access to water, Leon relies heavily on ergometers – rowing machines – for training. The limitations are substantial, but it makes team members even more determined to overcome the odds.
And overcome they did – members of the Leon crew team weren't intimidated by the fact that they were competing against some of the top-ranked schools in the Northeast.
"A big element of our training is that we want to be the best in the country, and that means you can't be worried about what other people are doing," Newman said.
With more than 50 rowers on the team roster, Leon Crew trains throughout the school year. The rowing season starts in September, and there are three fall races, including the Head of the Charles race in Boston that attracts more than 3,000 spectators. A winter training season begins around Thanksgiving and lasts until mid-February. Then the pressure heats up for the spring season, when the team races every other week until the Nationals in late May.
It's a busy year, and each member of the team has to stay physically fit. Rowers often are considered to be top athletes because the sport provides a full-body workout. Strength and endurance are important characteristics for a crew team. For the Leon team, the quality of the athletes has led to many successes.
Newman's payoff came in May, when the Men's Junior 8 won the Scholastic Rowing Association of America's National Regatta – the Super Bowl of high school crew.
Newman started rowing when he joined Leon Crew during his junior year in high school in 1993 and quickly mastered the sport. After graduation, he was recruited by Princeton University to row there for four years and train under the tutelage of Olympic coaches. He returned to Tallahassee to coach the Leon crew team in 1999 because his younger brother was a senior on the team. Once his brother graduated, Newman went on to coach at Princeton and Rutgers University. While pursuing a master's degree at Florida State University in 2002, he started coaching again at Leon part time – and he's been coaching ever since.
"It is difficult to overstate Dan Newman's impact on Leon Crew's success since joining the coaching staff in 1999," said Mary Maida, the 2006-2007 president of the Leon Crew Boosters.
"His contributions could be discussed in terms of races won, medals brought home, championships captured; but more important are the life lessons learned by Leon Crew's young men and women under Coach Newman's leadership – lessons learned about excellence, commitment, teamwork and discipline."
It was under Newman's tutelage that the Men's Junior 8 team won the National Regatta. The team of James Crowley, John Sweat, Josh McLawhorn, Kenny Nickens, Seamus Bruner, Matt Smith, Kirkland O'Steen, Nathan Rillstone and coxswain Carolyn Crabtree bested their Northern counterparts in a sport they hold sway over. Even better, said Newman, the entire team – which was composed of sophomores and juniors – is expected to return to compete again next year.
"To say the competition is tough doesn't really do justice to the athletes," Maida said. "When the Men's Junior 8 was coming down the course, we were all saying our prayers. And as one mom pointed out after looking at the boats competing, we were praying to God to favor Leon Crew over three saints (Ignatius, Augustine and Joseph), one bishop (Eustace) and the Holy Spirit. Leon Crew's boat won its event by a full three seconds – an impressive win, no less."
But the glory of that win should be spread over a lot a years – and a lot of people, according to the coach.
"I think it's about all of us," Newman said. "I think it's not just about nine guys in a boat – it's about all the teammates, the parents, the alumni that I rowed with back in 1993 who took all the strokes, lost all those races in order to build something bigger."
Part of the future for rowing in Tallahassee means finding more water. And for that, eyes are turning westward to Lake Talquin. Planning is under way to build a large, permanent rowing facility on the lake, which serves as the boundary between Leon and Gadsden counties. Newman and several others are involved in raising money, working with the county, the universities and schools to develop the complex.
"That can really bring rowing in Tallahassee from what it has become – which is a pretty successful endeavor – to really be a permanent part of the community," Newman said.
Not only would such a facility give the area's rowing clubs a chance to practice often on a roomier body of water, but it also could serve as a venue for regional regattas.
"The attention brought to the program due to its recent successes will no doubt be a positive force for Leon Crew and other local rowing organizations," Maida said. "It is a sport that most people know little about. Most parents of rowers will tell you that it can be vexing to learn and remember all the eye-crossing details of the sport. But we do know it is magical to watch the boats glide across the water, and when we begin to comprehend the hard work and dedication of our children in those boats, we are full of pride and appreciation."