Created From One Man's Visions, Pasaquan Still Inspires Adventure
A trip just a few hours north can turn into a venture into a whole new world.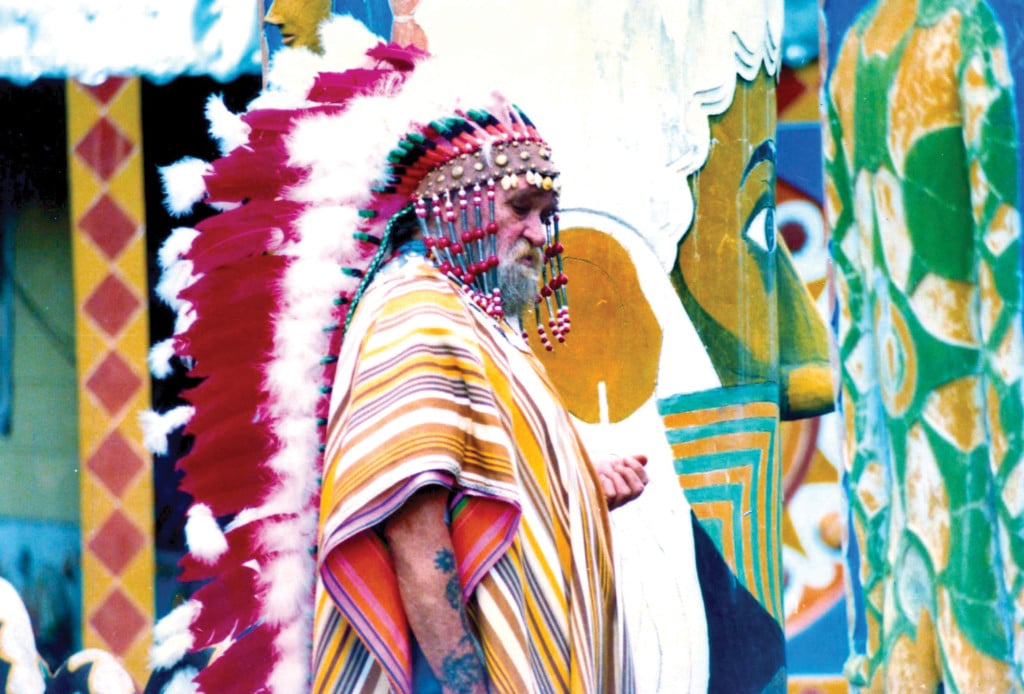 How do you get to Paradise?
Just ask your favorite Google machine for directions.
"Siri, take me to Pasaquan," you say, and Siri sets the course for Buena Vista, Georgia, about three hours north of Tallahassee and a little southeast of Columbus.
Pasaquan is a seven-acre art park that was added to the National Register of Historic Places in 2008.
After a two-year restoration project, it reopened to the public in late 2016, 30 years after the death of its creator, Eddie Owens Martin, known to a wider world as St. EOM (pronounced like the mantra "ohm").
The Pasaquan Preservation Society and Columbus State University, with a grant from the Kohler Foundation, restored the spectacular, cosmitechnicolor creations of a misfit, eccentric, homosexual son of sharecroppers who had said he was told in visions that he would build a religion for the future for all people, Pasaquoyan.
During Pasaquan's grand reopening festivities two years ago, a stream of shuttles ferried visitors from Buena Vista's town square to Pasaquan, where a fleet of food trucks sat ready to serve. Col. Bruce Hampton — the late musician who was a longtime friend and champion of St. EOM — performed.
Professionally chipper tour guides, twenty-something and well-scrubbed, chattered about how proud everyone was of St. EOM. He was, the script assured us, a gentle, well-loved local oddball.
But it was not always this way.
Back before cell phones and internet and GPS, my new bride, Stanwyck, got the wild idea — from Col. Hampton, decades before his death in May 2017 — to track down a rumor: Somewhere near a one-light town in Southwest Georgia, there existed one man's vision of Paradise.
If you could find it.
We finally found Buena Vista — itself something of a triumph in those ancient days of primitive navigation, the mid '80s — and stopped at a gas station and asked how to find St. EOM.
We got a blank stare from the young lady at the register who turned to a woman frying chicken.
"These people are looking for somebody called Saint Something."
The woman leaning over the fryer never looked up as she explained we were looking for "Crazy Eddie, that old fortune-teller man."
Mystery solved, we received directions, along with another reference to St. EOM as "crazy." Forty-five minutes and several wrong turns, dirt roads and dead ends later, we came upon a hand-lettered sign:
BEWARE OF BAD DOGS.
BLOW HORN AND
WAIT IN CAR UNTIL I COME OUT.
Stanwyck, a woman not accustomed to waiting, got out of the car and headed for a front door that promptly was flung open.
Two enormous German shepherds flew from the doorway, followed by a howling old man with wild hair yelling, "You git back in that car 'fore them dogs eat you!"
Stanwyck slammed the car door just as the dogs began leaping and scratching and snarling at her window.
The Grand Pasaquoyan knocked on Stanwyck's window.
"What you want here?"
We explained.
"I hadn't been feeling so good."
Stanwyck: "We brought some pot."
"Well why didn't ya say so? Come on. Those dogs won't bother you as long as you don't carry any evil thoughts."
We handed over our botanical tribute and settled in for a chat. For the next 90 minutes, St. EOM told us his story, often in language that would make a sailor blush.
Born into grinding poverty, Eddie realized that a gay man in the Deep South circa 1922 faced some serious challenges.
He ran away from his hometown of Buena Vista to the streets of New York, making ends meet the best he could: prostitution, running gambling games, dealing marijuana, waiting tables, and notably, as a 42nd Street fortune teller.
He had the knack, he said, of understanding what people needed to hear based on their "viberations."
Then one day, he said, "A voice in my head said 'GO HOME,' and I said 'What?' and the voice said, 'GO HOME!' So I came home and started building Pasaquan."
In Tom Patterson's fine biography, St. EOM in the Land of Pasaquan, St. EOM explained that the voice told him, "You're gonna be the start of somethin' new, and you're gonna be called a Pasaquoyan, and your name will be Saint EOM."
He told Patterson, "Later I found out that pasa means 'pass' in Spanish. And I found out that quoyan is an Oriental word that means bringin' the past and future together, so you can derive the benefits of the past by bringin' it into the future.
And so I call myself a Pasaquoyan, and this place is Pasaquan, a place where the past and the present and the future and everything else come together."
St. EOM told us about his visions, about beings who came to him regularly, beginning in his 20s and right up to when we visited, told us how the voices and visions led him to build his seven-acre dreamscape of pagodas, temples, shrines and dance floors.
Handmade of cement and sand, layered with bright colors and bas-relief sculptures and decorated with vividly painted mandalas and representations of his spirit guides, Pasaquan is a fever-dream of influences ranging from pre-Columbian and African art blended with Native American symbolism and a polyglot of Eastern religions.
From his return to Buena Vista in 1957, St. EOM embellished and embroidered his vision for almost 30 years.
He sent us to stroll the grounds alone. He was not feeling well, wanted to lie down.
We wandered in a place that was out of time, gorgeous, hallucinogenic, heartfelt and obsessive.
St. EOM walked out and thanked us for visiting and cautioned Stanwyck that the spirits did not like her short hair, which he grabbed roughly.
"Hair is power, and they want you to have lots of it!"
A gentle old oddball? Not so gentle, at least not with Stanwyck's locks. But essentially kind and generous to a couple of kids out on an adventure? Darn right.
We drove off. I looked in my rearview and saw St. EOM waving goodbye, dogs scampering around his feet.
Less than six months later, sick and tired, St. EOM took himself off the earthly plane with, according to one account, a gunshot to the head.
For years, the property languished, but thanks to the diligence of writer Tom Patterson, the Pasaquan Preservation Society, the Kohler Foundation and Columbus State University, this little slice of Paradise has been restored to vivid glory.
You can find it much easier than we did. Now, no wild-haired man yells at you, no dogs snarl and jump on your car.
But you will still find a Paradise that dazzles and takes you clean out of daily expectation — a place that will blow your daggum mind.
Take a Visit
Pasaquan is open Friday through Sunday, except for "federal and bank holidays and the months of December and July," Columbus State says on its Pasaquan site.
For more information, visit pasaquan.columbusstate.edu.