Course of History
Storied Game of Golf Unites a Broadcaster and a Barrister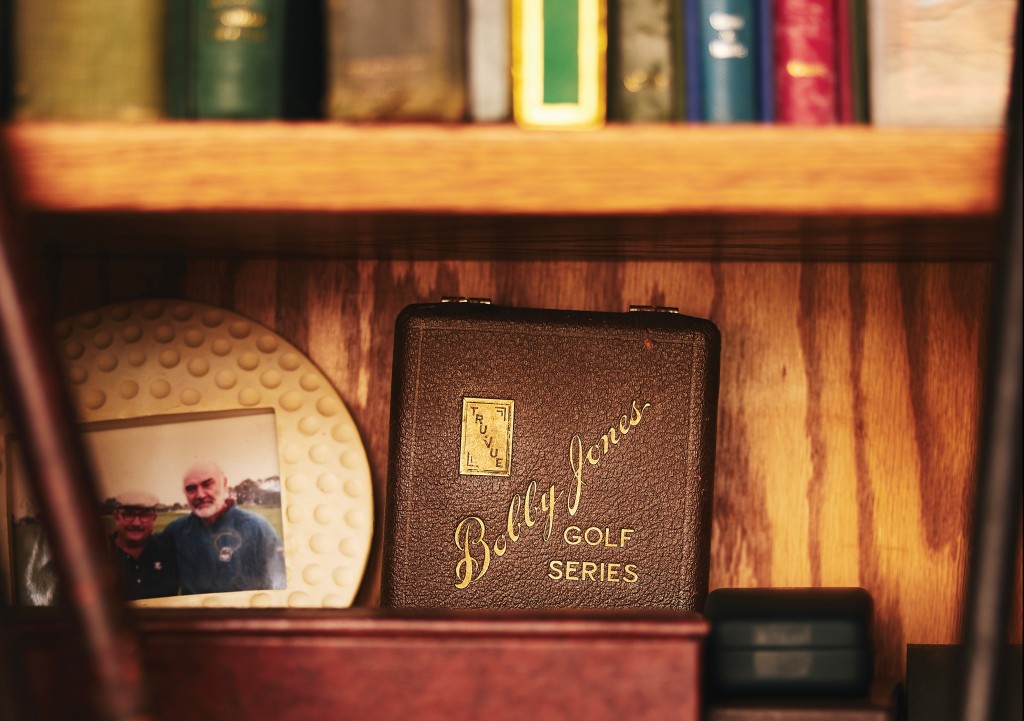 Among potential golf pairings, perhaps none could be more passionate about the game than that of Hall of Fame sports broadcaster Jim Nantz and Tallahassee attorney Sid Matthew.
While the two men have never met, a visit by Nantz to The Country Club in the Cleveland suburb of Pepper Pike in the summer of 2018 would unite the kindred brethren in an inquiry of compelling interest to both.
Following a round at The Country Club, Nantz recalled in an article written for Golf Digest, "I spent some time perusing the numerous artifacts on the walls of the cavernous locker room. Not far from the original match-play bracket of the 1935 U.S. Amateur played at 'Country' was a reproduction of what appeared to be an 18-hole scorecard.
"But looking more closely, I saw it wasn't a scorecard at all, but a list titled, 'Bobby Jones's Ideal Course.'"
The list included The Country Club's 15th hole, a 417-yard par 4, accounting for the display of the list at Pepper Pike. But was it legitimate? Assuming so, where did it originate? And who in the world might validate its authenticity?
"I didn't know Sid, but I totally knew of him before I endeavored to look into this ideal Bobby Jones golf course," Nantz said in an interview with Tallahassee Magazine. "But I was just an admirer from afar."
"Sid is an amazing guy, sure is, and I feel like the best thing that came out of this rediscovery of the list was that I was able to develop a friendship with Sid and one that I trust I am going to have for the rest of my life."
In retrospect, Nantz recognizes that in looking for an authenticator, he should have by himself thought of Sid. Instead, he networked via email among members of The County Club until someone suggested that he get in touch with Matthew.
"I said to myself, 'Why didn't I think of that? Of course, Sid will help,'" Nantz relived a moment. "Then it was a matter of me timidly reaching out to a guy who was a bigger-than-life figure to me. I had seen a number of interviews with him through the years, and I was in awe of him. I made contact with him, and it was the best thing I could have done to give golfers some real insight into a subject that he knows better than anyone on the planet."
Indeed.
The New York Times has deemed Matthew "the curator of the Bobby Jones legend." British Golf World has declared him to be "the man who knows more about Bobby Jones that anyone else in the world."
In 1985, Matthew published a book, First Pictorial History of Bobby Jones's Clubs, comprising finely detailed descriptions of the sticks that Jones used in winning the then-Grand Slam in 1930: the Open Championship, the U.S. Open, the U.S. Amateur and the British Amateur.
For five years beginning in 1990, Matthew worked to compile biographies of Jones for film and print. A resulting two-hour documentary, well suited to people with an insatiable appetite for granular golf history, debuted at the Atlanta History Center in December 1994. A shorter, made-for-TV version, Life & Times of Bobby Jones, has been aired by CBS, NBC and the Golf Channel a total of 14 times.
The town of St. Andrews, Scotland, is pivotal to the film, which, narrated by Sir Sean Connery, starts and ends there. And, it is at its ending that the film is especially stirring.
Jones, crippled by his battle with syringomyelia, an affliction affecting the spinal cord and leading to paralysis, is accorded the Freedom of St. Andrews at a ceremony in Scotland, becoming the first American to receive the honor since Benjamin Franklin.
Celebrated as a hero, Jones heroically rose to his feet unaided by the canes he had relied upon for years, and further endeared himself to adoring Scots by saying as part of brief remarks, "I could take out of my life everything except my experiences at St. Andrews, and I would still have a rich, full life."
His Ideal 18 includes four of the holes at the Old Course at St. Andrews.
Matthew added footage of the ceremony to his documentaries after conducting a trans-Atlantic search in hopes that it might exist. He contacted a one-time BBC cameraman, who referred him to a prominent newspaper reporter in Glasgow, who suggested that he check with the Glasgow Killermont Golf Club. Matthew called the club, spoke to a female employee there and described what he was looking for.
"That sounds familiar," the woman told Matthew. "I believe it's in the cupboard."
Matthew held the line while she went to see. There it was.
Hickory Shafts, Stamped Cleeks
Matthew said his first visit, in 1986, to Augusta National Golf Club, triggered his interest in Jones, who had co-founded and co-designed the course.
In particular, Matthew wanted to inspect the set of irons Jones had used in 1930 — "hickory shafts, very cool" — that were on display in a trophy case at Augusta.
"Club makers had a mark such as a rose or a pipe or a flower or a fern that they stamped on the cleek (club head) as their signature," Matthew explained. "But the clubs were in the trophy case with the faces out, not the backs where the cleek mark is."
Matthew spoke to Augusta manager Jim Armstrong, whose father, as it happens, lived in Tallahassee and was a member at Killearn Country Club.
After some conversation, Armstrong said he would notify Matthew the next time the maintenance staff at Augusta was about to replace the light bulb inside the trophy case.
"One day, I got a phone call and it was Jim, and he said, 'Sidney, be here tomorrow at 8 o'clock.'"
Matthew caught a flight to Atlanta at 6 in the evening and was at Augusta the next day at the appointed hour.
"They took the crown molding off and the glass and I turned the clubs over and I photographed them and put them back exactly as I had found them," Matthew said. "And then I published the history of Bobby Jones's clubs. A real yawner. Maybe a hundred people gave a rat's patootie about it."
But the book did have the effect of greatly adding to the value of clubs like those in the trophy case.
"The Golf Collectors Society was a group of anoraks — weird people who collect everything golf," Matthew explained. "They would get together at swap meets and trade a golf ball for a club or a trophy. I put out a BOLO to let them know I was looking for certain clubs, but I didn't tell them why. I had hundreds of golf clubs sent to me and finally found 16 made by the same maker who made Bob Jones's Grand Slam clubs."
Matthew got them for 10 bucks a club. Today, they go for $1,000.
Matthew's legal career brought him closer to Bobby Jones, the man. His law firm handled about 100 cases in which plaintiffs sought damages from the A.H. Robins Co., makers of the Dalkon Shield, an intrauterine birth control device that wicked bacteria into the uterus and caused pelvic infections, hysterectomies and deaths.
The defendant A.H. Robins Co. retained the Atlanta law firm of Jones, Bird and Howell, in which Bobby Jones had been a partner. Matthew, during visits to the defense counsel's offices, was engrossed with the Bobby Jones memorabilia on the walls and gained introductions to men with whom Jones had practiced law and played golf prior to his death in 1971. He was alarmed that no one had collected their oral histories.
Matthew hired a TV crew and began traveling the country several times a year, employing skills he would usually use at depositions in interviewing people with a connection to Bobby Jones. In such a way, the documentaries came together.
But despite his encyclopedic know-ledge of Jones, Matthew had never heard of the Ideal 18 until Nantz brought it to his attention. He was aware that Jones had written articles about his ideal course, but he hadn't seen a list of specific holes. Jones was an associate editor and columnist at the American Golfer magazine and also contributed columns to a newspaper chain.
"Jones was well-versed in golf course architecture and debated the subject in periodicals in his day," Matthew said. "They discussed, for example, what makes St. Andrews timeless. One of the interesting theories was that it followed religious lines. At one time, when you played the Old Course at St. Andrews, you experienced penal golf. As is said, 'Many are the roads to destruction; narrow is the road to salvation.' If you sin, you should be punished and repent and be forgiven. So, they created pot bunkers that cost you a shot — there was no way you could redeem yourself. But after the Reformation, they started to level out the bunkers so that you could, with a heroic shot from the sand, still make par.
"The penal school of thought," Matthew said, "began to evolve into the strategic school of thought with the belief that golf is a game that should be played in the 6-inch course between the ears."
Jones, said Matthew, was of the redemption school, a philosophy evident in the Ideal 18.
"In 1930, in achieving his Grand Slam, Jones came to the fourth hole at St. Andrews and hit it in the Cottage Bunker," Matthew offered a bit of history. "He then holed out his bunker shot."
Sweet redemption.
As to the Ideal 18, Matthew, it seemed, was confronted with a buried lie. He scoured primary sources, principally old magazines, and found only references to the list. He then turned to an old friend and fellow golf researcher, Phil Young, as he might consult a trusted caddy.
Young possessed a copy of Jones's article about his Ideal 18 from the 1936 National Golf Review, an annual golf publication no longer in print.
"The credit goes to Phil," said Matthew, who considers Young to be one of about a dozen first-class researchers in the world. "He told me he had had that article for 20 years."
A Gift to Jones's Legacy
Nantz, meanwhile, sings Matthew's praises.
"I trust that Bob Jones is looking down on us right now and seeing the efforts that Sid has made on his behalf to champion his legacy and to see to it that he still has an important voice in the game," Nantz said. "What a gift to the game Sid has been, what a gift he has been to Bob Jones and his legacy. He has become Bob Jones's enduring friend."
Nantz and Matthew share a love for golf history.
"One of the top three things that I treasure most about the sport is that it honors its history and cares about it deeply," Nantz said. "You start getting into the history as it pertains to the Augusta National Golf Club and the vision and the dream of Bob Jones, and you soon realize that the foremost expert in the world on the genius behind that vision is Sid Matthew."
Like Matthew, Nantz made his first trip to Augusta in 1986.
"I was summoned there by Frank Chirkinian, the long-time legendary producer, director and originator of golf television for CBS," Nantz said. "He wanted me to shoot some promos that would lead into the Masters coverage that year. It would give the golf audience a chance to get familiar with exactly who this young kid was who was going to be a part of the tapestry of the broadcast."
Nantz had started his CBS Sports career in the fall of 1985 when he worked the network's college football studio show. As to golf telecasts, he had placed his toe in the water just once — at Doral in early March — but in April would be calling the action from the 16th tower at Augusta.
"Frank had this idea that instead of me just dropping out of the sky to broadcast the Masters, I could be on the air during the NCAA basketball tournament in March doing promos," Nantz said. "Then people could say, 'OK, I get it, he's part of the golf team this year.'"
Those spots made Nantz synonymous with the slogan, "A Tradition Unlike Any Other, the Masters on CBS."
For Nantz, sports have breathed life into the American Dream and brought about lasting friendships with broadcast partners and now with Sid Matthew. And, they strengthened his relationship with his father.
"One of the cool things about Phil Mickelson is that his grandfather, Alfred Santos, and his great uncle John were two of the original 10 caddies at Pebble Beach Golf Links in 1919," said Nantz, whose home is at Pebble Beach.
"I mentioned Phil's grandfather on the air as Phil was riding up the 18th fairway on his way to winning a tournament here. What a great example of the American Dream. You hope that you are laying the foundation for the next generation of your family and the next generation after that to live a bigger and better life, and here is Phil about to make a million dollars at a course where his grandfather used to work as a caddy for 25 cents a day."
About a month after that tournament, a viewer from Iowa sent Nantz a photo that included Alfred Santos from his days as a caddy.
"Phil had no idea that the image existed," Nantz said. "Now, it is on a wall at the Heritage Shop where you sign up to play at Pebble, it's in the pro shop over at the Del Monte course and a copy sits behind Phil's desk in his home office."
In Nantz's office is a picture of him and his father sharing a golf cart at the Masters.
"He's got a huge smile on his face, and really a day doesn't go by when I don't have the occasion to talk about him," Nantz said of his father. "He is in my thoughts and prayers every day. I am so proud to be his son and to try to live a life that he would be proud of. He was an amazing, kind-hearted, loving person and parent, treated everybody with great respect and he exuded nothing but kindness — there was not a mean-spirited bone in his body."
Jim Nantz Jr., Nantz's father, died in 2008 after living with Alzheimer's disease for 13 years.
In 2002, Nantz spoke to his father in the days leading up to the PGA Championship at Hazeltine National Golf Club in Minnesota.
"Dad was deep in the throes of Alzheimer's, and I figured one of the last things I could say on the air to connect me to my dad would be 'Hello, Friends' in opening a broadcast," Nantz said. "I had been down to Houston where my dad was convalescing, and I told him that I was going to be on the air at the PGA Championship and I was going to look into the camera and say, 'Hello, Friends, Jim Nantz.' Around the house, Jim is his name, and I am Jimmy."
As CBS's coverage of the PGA's third round was about to begin, Nantz did as he told his father he would.
"At the end of the day," Nantz said, "a great friend of mine called me up and said, 'Hey, I heard you open the broadcast with "Hello, Friends." What was that all about? That really sounded like you, and you ought to do it again tomorrow.' So I did it the next day and the week after that and the week after that, and it's always been there ever since."
For Nantz, that repeated practice eases pre-broadcast nerves that he likened to first-tee jitters.
Nantz is a master of decorum, restraint and respect, and is clearly grateful for his, in many ways, charmed life.
"I think of the good fortune of my career crossing certain eras in sport. In the NFL, a large part of my career has been spent covering Peyton Manning and Tom Brady," Nantz said. "In golf, my career spans from Jack Nicklaus's historic sixth green jacket through the whole Tiger Woods era to where we are now with today's young stars. In basketball, my first Final Four was in 1986 as the host, and that was Coach K's (Duke coach Mike Krzyzewski) first Final Four team. My first Final Four call was Coach K's first national championship. And I have called all five of them."
Historian Warren Wind, in Matthew's documentaries, comments about Jones, "As a young man, he was able to stand up to just about the best life can offer, which is not easy, and later, he stood up with equal grace to just about the worst life can offer."
Nantz has demonstrated similar capacities, from his embrace of his career to the handling of his father's death and the ways in which he has honored his dad's life.
Together with his wife Courtney and Houston Methodist Hospital, Nantz created the Nantz National Alzheimer Center (NNAC), which provides comprehensive care of Alzheimer's patients and their families. The center, according to its website, conducts cutting-edge research and provides state-of-the-art training for physicians and health professionals related to Alzheimer's disease and other types of dementia.
"Wonderful things are happening at the Nantz Center, which is named for my dad," Nantz said. "What a team we have in place, and I am so excited about the great work that they are doing there. We are coming up on 10 years in January since we opened the center at Houston Methodist, and there has been an amazing amount of progress. You know, it's a march, but it's a march to victory."
Along the way, all involved will play it as it lies and strategically advance on the target.
Through philanthropic support, Houston Methodist Hospital is applying breakthroughs in neuroimaging to strategies to better diagnose and potentially prevent or halt the progress of Alzheimer's disease at its earliest stages. People may join in that effort by becoming members of Nantz Friends — nantzfriends.org — and making a contribution.