Countdown to 2013
Here's How Tallahassee Plans to Ring in the New Year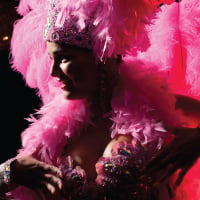 Photo by Larry Davidson
Fireworks will light up downtown Tallahassee during the inaugural New Year's Eve party.
Tallahassee isn't Times Square, but New Year's Eve celebrations in our town might just get a boost this holiday season, thanks to the efforts of downtown business leaders.
The Downtown Business Association and the Downtown Improvement Authority are working with local businesses to host a special New Year's Eve gala in the streets of Tallahassee behind City Hall.
Curt Reilly, president of the Governor's Inn and president of the Downtown Business Association, said about 90 percent of downtown's businesses were on board with the idea when the event was being planned.
"It will be the major event of this area," Reilly said. "The concept is bringing an upscale New Year's Eve celebration to Tallahassee."
The free (there will be charges for food and drink vendors) festivities will begin at 7 p.m. and entertainment will include the local band Tom & The Cats and headliner Sister Hazel.
Local restaurants, a focal point for revelers, will offer New Year's Eve specials and a VIP pavilion will be set up for special sponsors and their guests.
"It is not geared for the 18-year-old rocker out to drink a bunch of beer," Reilly said. "It's for people who enjoy a fashionable and classy New Year's Eve with family and friends."
When the magic hour happens, everyone on the scene will be able to watch the Times Square ball drop on big television screens located throughout the venue, and fireworks will be shot off from the top of the League of Cities building.
The event will take place "within the footprint" of the Brogan Museum, the Challenger Learning Center and Kleman Plaza.
"There have been attempts to do something like this before, but this is the first kind of this magnitude," he said.
Reilly said events like this can remind people that Tallahassee has a beautiful downtown worth living and working in, and that the streets don't just have to roll up at closing time.
"We are the downtown for everybody," he said. "There is a desire to be a full-time downtown and to do that, you need those things that you need for any community, like shopping and entertainment. Tallahassee has all the potential. Downtown was a vibrant area years ago and maybe, I think, people have forgotten the core of the city. The people who live and work here realize what kind of gem we have. We're dusting off that gem to remind people of the beautiful area we have."
Tallahassee residents are no strangers to all the various venues for ringing in the New Year. In a town full of college kids, young professionals and politicians, the holiday can be celebrated in any number of ways depending on age level, proclivities and thirst. If you're a young college kid out on the prowl, there are many opportunities to whoop it up. If you're more of the seasoned and sophisticated sort, there are upscale lounges tailored for your kind of temperament. If you're a parent and like wholesome family activities, consider turning the celebration into an elaborate and intricately planned block party.
Lisa Carey, host of WCOT's "Tallahassee Matters" and a local realtor, likes that last idea best.
"We dress up and house-hop on our street," located in Lafayette Park, she said. "We progressively party at five houses with different dinner courses, ending with a dance party, fireworks and toasting the New Year at the final destination house.
"Plus two houses host kids; one house for little ones with babysitter, and one for tweens/teens who supervise themselves with occasional parental check in. Each with pizza and age-appropriate movies. At midnight the kids join us for fireworks in the street. No driving, lots of fun, everyone chips in. (It is a) super progressive party. Love it."
Meanwhile, down at the Fermentation Lounge on All Saints Street, the New Year's party involves a bottle of beer so big that it takes two to pour. The beverage of choice is a 9-liter bottle of the Belgian-brewed St. Feuillien Triple. Bartender Forrest Lee said the low-key lounge known for its mid-1950s atmosphere and futuristic Googie-inspired decor brings in college-age patrons to folks "up in their 80s." The bar is located on the first floor of a three-story condo in the art district, which allows it to do something special.
"We drop a ball from the third story, and everybody comes outside to do a countdown," he said. "We've had something every year since we opened four years ago. The program is changed every year — except for the ball drop and the Belgian triple."
Of course, when it comes to hanging out with friends on a special night in Tallahassee, there are plenty of other options to choose from. For example, Midtown's popular Irish pub Finnegan's Wake offers up a live band, free champagne at midnight and no cover charge. No reservations are required, and there's plenty of room to party the night away. The crew at Krewe de Gras on North Monroe Street usually blocks off their parking lot and has a block party with a live band and a free champagne toast.
But for the serious, upscale consumer there's always Hotel Duval and Aloft hotel. These two establishments have put their signature on downtown Tallahassee in recent years and are quickly becoming the scene where you want to be seen.
Aloft doesn't have quite the facilities for an extravagant festival atmosphere as its neighbor across the street, so guests here will celebrate with low-key style. However, there will still be party hats, party favors and champagne at midnight. The hotel's snazzy bar, the W xyz Lounge, will be open, and guests will be able to see the ball drop in Times Square from the hotel's big screen television.
At Hotel Duval, Shula's 347 Grill features special menus just for holidays like Thanksgiving, Christmas — and especially New Year's Eve. The hotel takes on a Parisian atmosphere on New Year's Eve, and LeRoc Bistro offers champagne and live entertainment. At the top of the hotel, Level 8 and the Horizon Ballroom continue the "Night in Paris" motif. Tickets to the gala event come at a premium price but include complimentary champagne, French cuisine, wine tasting, party favors and a ball drop.