Cool-Weather Camping
Winter is a Great Time to Not-So-Rough it in Northwest Florida's State Parks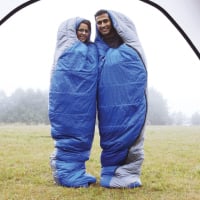 While there might be a chill in the air, winter is a perfect time to camp at state parks in Northwest Florida, including several near the Gulf of Mexico.
The holiday season has passed, you're feeling a little sluggish and cabin fever is taking its toll. Watching the outside world from behind a windowpane is growing painfully boring, and you fear you might be suffering from "Seasonal Affective Disorder."
Sound familiar? I'm sure plenty of people living in North Florida feel this way every winter. Don't worry, there is a surefire cure for this type of emotional torment — get outside.
The months of January and February are the perfect time of year to take advantage of the outdoors and numerous campgrounds the Florida Park Service maintains, especially here in our region. Why not get out and spend some quality time in the outdoors with family and friends? Shed those wintertime blues! Take it back to a time when things ran at a slower pace. Camping is a relatively inexpensive, simple way to overnight in great locations while enjoying fun activities. Imagine sitting around the campfire with family, children or friends, with no outside interruptions (turn the smart phones off), grilling hotdogs, roasting marshmallows and telling stories. Then going to sleep to the sounds of the night birds — real relaxation. You don't even have to rough it.
Here in North Florida, winter's seasonally cooler but relatively mild temperatures are a welcome departure from the oppressive subtropical climate we experience during summer and early fall. Average temperatures range from lows in the upper 30s to highs in the upper 60s, and there are fewer biting insects. In short, we have great winter weather. Combine that with the large number of state parks that offer camping, and you have phenomenal opportunity to affordably enjoy Florida's outdoors.
The Florida Park Service is broken into five districts statewide, and Tallahassee lies within the Northwest District. There are approximately 35 state parks in this district and more than half are within an hour-and-a-half drive of the Capital City. Six nearby parks offer overnight camping. Most offer full facility camping: electricity, water, restrooms and accommodations for tents and campers. Most are handicap accessible. A few parks have cabins for rent in addition to the campsites. If you don't mind venturing a little further from home, the Park Service maintains a large number of campsites statewide. The Florida Park Service has a very easy-to-navigate, comprehensive website with in-depth information on each state park, making it very easy to enjoy your tax dollars at work.
Florida State Parks located in the Northwest District provide activities for all ages. Some parks are inland, and others are located along the Gulf Coast. The variety of locations present a perfect playground and educational atmosphere for outdoor enthusiasts — such as camping, fishing, biking, hiking, equestrian activities and the opportunity to learn a little about the Sunshine State's history and unique natural features.
Camping at state parks can be as complicated or as simple as you want to make the outing. Different state parks offer a variety of outdoor activities and, with a little research and preparation, a low-stress adventure can be had only a short distance from home.
Plan before you embark upon your quest. Decide what activities you want to undertake. Check to see what amenities are offered at the park you are visiting. Find a park that looks interesting to you. See if you will need to make reservations. Some parks regularly fill up, even in the winter.
Make sure you have the right gear. Decide what meals you will be eating beforehand. Carry plenty of food and water. Try to prepare meals that won't leave many scraps afterwards. This will cut down on the likelihood of animals paying you an unwanted visit.
Keep an eye on the weather forecast so you have the proper clothing. At times, winter months can be very cold in Florida, but that just adds to the fun of having a blazing campfire. If possible, you may want to carry a supply of firewood with you.
Remember, when in the outdoors you want to be comfortable, but less is always easier. Most campgrounds are easily accessible and only a short distance from where your automobile will be parked, so it isn't like you will be camping primitively out on the trail.
When arriving at your campsite, take a few minutes to look around before you begin setting up camp. Look at the terrain. You don't want to pitch a tent on top of roots or at the bottom of a wash where water may travel during a rainstorm. Check around to see if there are any obstacles that may need to be cleared, which could affect your comfort or safety. See what setup works best for eating, fires, sleeping, etc. Set up camp in a manner that makes it easy to move about, especially in the dark of night.
Now that you've found your campsite, pitched camp, have the fire going and the hotdogs out, it's time to get down to the business of relaxation, shedding the stress and enjoying one of Florida's greatest treasures — the outdoors.
Several local stores carry everything a novice camper needs to have a comfortable camping trip. If new to camping, do your research. You don't have to break the bank to acquire the right equipment. I'm a fan of specialty stores because of the knowledge that comes with the experience of the staff. Generally, the staff is able to offer a few tips and pointers, which can save you time, money and will allow you to obtain what you actually need. But if you're a gear-head, none of the above matters.
Regardless of what you decide to purchase, there are three things you never want to cut corners on: your tent, your sleeping bag and bedding. A tent is your first line of defense from the elements. Without a sturdy, weatherproof tent you will discover the meaning of the word "miserable" sooner than later. Your sleeping bag is what keeps you warm on a cold night, and I never camp without some type of physical barrier between myself and the ground: air mattress, foam mattress or a cot, it just depends on where I am and what the situation is. I learned early in life that the ground is never very soft, and it can get very cold.
Other handy items to have along on an outing are lanterns, a cooking stove and various tools such as an axe, machete, knife, plenty of sturdy rope (parachute cord works well and is compact), spare tent stakes, insect repellent, a first aid kit and plenty of matches. To store, transport and keep these items organized, I'm a fan of plastic boxes like Rubbermaid manufactures. These containers come in all different sizes, are mostly weatherproof, can protect your food and supplies from the elements, not to mention a variety of unwanted pests.
"Capt. Chuck" Simpson is host of the radio talk show "Deep South Outdoor Review," which can be heard Saturday mornings at 7 a.m. on ESPN Radio 97.9.
Ready, Set, Camp!
No less than six state parks are within easy driving distance of Tallahassee. Here's a short overview of the parks and a description of the natural wonders you can expect to find at each one. For more information regarding these parks or others statewide, visit floridastateparks.org.
Florida Caverns State Park
Located in Jackson County, it's one of the few state parks with dry air caves and the only one to offer cave tours. A freshwater spring and the Chipola River are accessible from the park. Multiuse trails accommodate hikers, people riding bicycles and those who enjoy horseback riding. A tour of the caverns is a great place to take the kids.
St. Joseph Peninsula State Park
Sugar sand beaches and Gulf waters teeming with sea life are the theme for this park in Gulf County. There is a boat ramp at Eagle Harbor, located in the state park, which provides access to St. Joe Bay and ultimately the Gulf. There are a generous number of campsites and several cabins are available. The Gulf Coast is a beautiful place in late winter as the temperatures gradually begin to rise. Saltwater fishing can be phenomenal in February.
Three Rivers State Park
Also in Jackson County, just along the Georgia state line, Three Rivers is a peaceful setting along the banks of Lake Seminole. It's the perfect location for outdoor sports people. A boat ramp provides access to some of the best fishing and waterfowl hunting in the state, and there is a fishing pier. Full access camping is available, and cabins can be rented.
Dr. Julian G. Bruce St. George Island State Park
Boasting several miles of pristine beach and natural sand dunes, this state park is known for its phenomenal saltwater fishing opportunities and easy access to Gulf waters. St. George is a favorite among locals and people coming from afar. The campground is a full-service facility.
Ochlocknee River State Park
Here you'll find a unique opportunity to camp along the banks of the Ochlocknee River just upstream from the Gulf. Both fresh and saltwater fish species inhabit the area and are abundant in the river and its tributaries this time of year. The park has an improved boat ramp and is a favorite among fisherman. The diversity of plants and wildlife found within the park makes this the perfect location to view wildlife, hike or go bicycling. It has a full facility campground, and its close proximity to Tallahassee makes it one of my favorite locations for a short getaway.
Torreya State Park
Situated in the bluffs along the Apalachicola River in Liberty County, it's only a short drive from Tallahassee. This park has great hiking trails and phenomenal natural features found nowhere else in the state. If you are up for a little history lesson, take a tour of the Gregory House, a fully furnished plantation home built in 1849.