Cool Food for Hot Days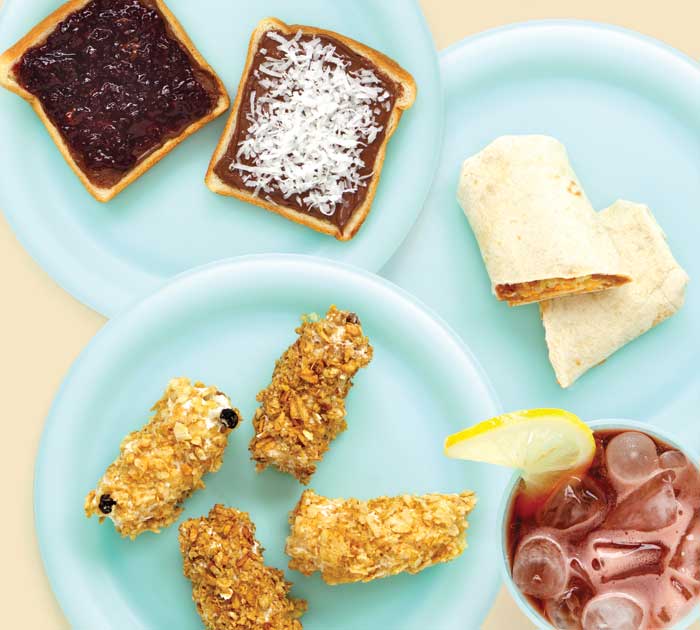 Tips and recipes for families on the go this summer seasonCool Food for Hot DaysStrategies for Creating Tasty, Nutritious Summer Meals to Enjoy at the Beach or PoolBy Lilly RockwellClick to enlarge
It's a Saturday morning, and suddenly you're faced with an empty blue cooler and a bag of ice. What to pack?
All beachgoers, road-trippers and pool loungers face the dreaded food challenge on summer weekends. For families, outings often are daylong affairs, and parents have the daunting task of packing enough nutritious food and snacks to keep the kids fed, happy and out of the fast-food restaurants lining our highways. Not to mention finding foods that won't wilt or spoil as the ice inevitably begins to melt.
Let's face it — this isn't just a headache for families. Young couples and groups of friends often fall back on the chips-and-beer strategy, neglecting more creative and healthier solutions. So whether you're loading up for a family or friends, we've compiled a handy guide to summertime cooler packing that will have you yearning to hit the road.
Pick a Cooler
Your first step should be making sure you have the right type of cooler for your journey. Is it a short trip across town to a pool or to a nearby beach? Consider a lightweight, disposable cooler. These come in varying sizes, shapes and materials. Contrary to the name, you can actually reuse these coolers, and they're recyclable. Most disposable coolers are actually cooler "bags" made with vinyl on the outside, which makes them easy to clean off, and lined with styrene foams measuring ½ inch to 1 inch thick. There also are disposable coolers made of Styrofoam that are sturdier but cannot be recycled.
If it's a lengthier trip or a day spent entirely at the beach, consider using a hard-shell plastic cooler, which also comes in different sizes and colors. It's better to err on the side of a cooler that is too big, because ice can take up more space than you realize. Plastic coolers generally are more durable than the disposable ones, but not as lightweight. They're best if you have to spend a lot of time outdoors, because they do a good job of keeping things cool — and the food inside can't be easily smashed.
Another option is thermoelectric coolers, which can be used to heat or cool items. They require a power source, such as a connection to a car's cigarette lighter. The good news is that they don't require ice, which can cut down on the messiness factor; the bad news is that they cannot be used outdoors without a nearby power outlet.
Shop Smart
So you've picked the right cooler. The next step is to shop for items to take with you. Make a shopping list specifically for your road trip or beach visit, and buy your food the night before you leave so there's no morning scramble to the grocery store.
Make sure your shopping list includes drinks, condiments, disposable forks and knives, plates, napkins, cups and anything else you might need, such as a cutting knife or bottle opener.
Decide before your grocery store visit whether you're shopping just for snacks or for more complete meals as well. It's easier to pile a cooler full of snacks and call it a day; however, preparing satisfying meals isn't difficult and, if done right, won't take up much space in a cooler. Just be sure that what you're packing won't wilt or melt easily.
Also, in your rush to get out the door, save yourself from a car full of cranky "Are we there yet?" kids by making sure everyone has breakfast before hitting the road.
Healthy Snacks
When shopping for snacks, it's tempting to reach for the Doritos. But before loading up on chips, know that there are plenty of healthy, nutritious choices available.
Let's start with fruit. Shop for fruits that will hold up well in a car or at the beach and don't require much preparation. Cherries and grapes are good options, as are apples, but go for the pre-sliced or pre-packaged options that come with dips. (The downside is the trash these plastic packages create. Have a bag handy to contain it all.)
With vegetables, go for carrot or celery sticks, with peanut butter or ranch dressing to use for a dip. Use small Tupperware-style containers to hold the dip.
String cheese is another good option for kids or adults. They come in a wide range of flavors, including several non-fat and low-fat varieties. Avoid crackers, which can leave microscopic crumbs that will stay in your car for years.
There are also granola bars, which range from the healthy and protein-packed bars with nuts and peanut butter (Kashi bars are a good option) to the coated-in-chocolate, might-as-well-be-a-dessert bars. Buy whatever fits your personal preferences, but be aware that granola bars with chocolate will quickly melt under a strong sun.
And for a treat, there are plenty of sugar-free and fat-free pudding cups that come in a variety of flavors, from the traditional chocolate to strawberry and tapioca.
You can prepare other fun snacks at home, such as an enticing mix of bananas, yogurt and crushed cereal that can be made the night before. (Recipe for Banana Crunch on opposite page.)
Meals on the Go
Avoid hot dogs and hamburgers. They can be messy, especially when condiments are involved. The exception is if you're going to a nearby pool and there is a grill available.
Sandwiches are tricky. Sometimes they hold up great, and other times they are a mushy mess. If you bring sandwiches, take great care in how you pack them. Wrap sandwiches in paper towels and then put them in plastic, resealable bags. Make sure they are placed toward the top of the cooler to prevent heavier items from crushing them.
Go for sandwiches that are uncomplicated — now is not the time to try a seven-layer deli delight with all the works. There is nothing wrong with the classic peanut butter and jelly, but use thin layers of the jelly to avoid bleeding through the bread. You can also mix it up by using almond butter, different types of jams, and bagels instead of bread. Check out the Peanut Butter and Co. website (ilovepeanutbutter.com)
for more inspiration, such as the "Dark Chocolate Dreams" sandwich.
For deli-style sandwiches, use lean luncheon meats and low-fat cheese with a thin layer of mustard or mayonnaise. Skip the lettuce and tomatoes. Another great choice is hummus and pita bread, which can be used for a snack or meal.
Still another delicious option is mini-burritos. Make a traditional burrito but cut it in half and wrap it in foil. It stays together nicely and makes for an easy beach meal that kids and adults can enjoy.
Beyond Beer
It's important to bring lots of water if you're going to the beach or a pool. It can quickly heat up by mid-morning, and you should have plenty of hydrating drinks such as water and sports drinks on hand. Skip the diet sodas and juices, which won't replenish your body's fluids as efficiently.
With that in mind, if you have a designated driver and want to partake in a little adult fun, there are plenty of fun summer cocktails that are easy to make outdoors. Be aware, of course, of the alcohol and drinks policy at the beach or pool you are headed to. Some allow only certain kinds of bottles (plastic, no glass), while others ban all alcoholic beverages.
You can certainly get a variety of exotic cocktails at many beachside haunts. But one delicious drink that's easy to pack into a cooler is a calimocho, which is a blend of wine and Coca-Cola. It sounds gross, but you won't regret giving it a try.
If all else fails, there always are pre-mixed cocktails, which come in flavors from the simple lemonade to Long Island Iced Teas and pomegranate martinis. Just remember: These drinks have alcohol and a high sugar content, which can quickly dehydrate you.
Relax, It's Vacation
Going on a road trip or the beach should be fun! This isn't the time to prepare gourmet meals or worry about whether you're getting enough servings of fruits and vegetables.
If you have kids, understand that some flexibility and bending of the nutritional rules will help you make it through the trip with fewer headaches. (Isn't ice cream for dinner part of the fun?) Enjoy this time away from work, rules and diets.
The Recipes
Click to enlarge
Banana Crunch
Two bananas
Five tablespoons yogurt (can use low-fat or different flavors)
1 cup crushed cereal (such as Honey Bunches of Oats)
Peel the bananas, then dip them into a bowl of yogurt until completely covered. Roll them in a second bowl of crushed cereal and then stick them in the freezer overnight. The next day, place them inside a plastic container and let them thaw inside the cooler. Enjoy!
Click to enlarge
Mini-Burritos
One medium-size flour tortilla
One can of refried beansChicken breast strips (optional)Shredded cheeseShredded lettucePlace the flour tortilla on a plate. Apply a thin layer of cooked refried beans on the tortilla. Lay a thin layer of precooked chicken breast strips on top of the beans. Add shredded lettuce and cheese. Make sure these layers are all thin, or else the burrito won't close properly. Roll the burrito, then cut it in half. Put each half in foil.
Click to enlarge
Dark Chocolate Dreams Sandwich
Two slices of wheat or white bread
One jar of chocolate peanut butter by Peanut Butter and Co.Cherry jamShredded coconutSmear one side of each slice of bread with chocolate peanut butter. Add a layer of cherry jam on one slice. Layer shredded coconut on the slice without the jam. Place the sides together and you have a delicious sandwich. Recipe from Peanut Butter and Co.
Click to enlarge
Calimocho1 part red wine
1 part Coca-Cola
Splash of fresh lemon juice
Ice
Combine the wine and cola into a cup with ice and add a splash of lemon juice. Adjust the ratio of Coke to wine to your desired sweetness.
xxxxxxxxx