Cooking for Canines
Maintaining a balanced diet is essential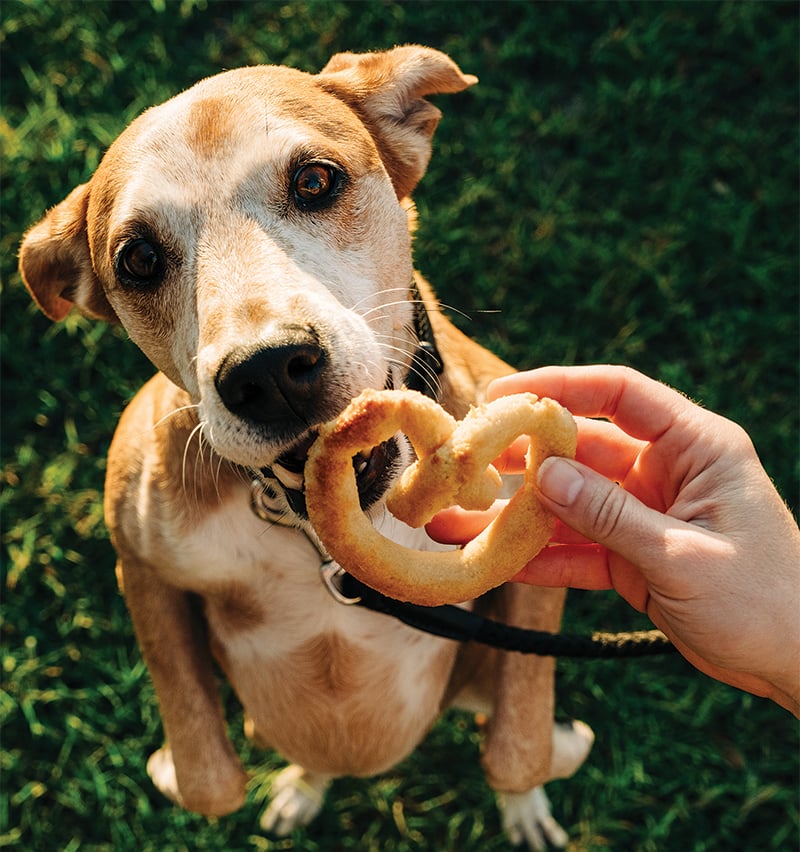 Pets have become part of the family in ways they never were before. And what better way to express love for a family member than through a good home-cooked meal?
But before you sit down to dinner and share a plate, keep in mind that a pet's nutritional needs differ from our own.
"I definitely think home-cooked diets are cool if you do them right," said Dr. Lauren Combs, medical director of Ox Bottom Animal Hospital in Tallahassee. "Pros of a home-cooked diet might be that you get to use fresh ingredients. You get maybe a higher palatability, maybe higher digestibility with some ingredients, and you're bonding. You are making something for your pet. They're enjoying it, and you're feeding it to them. And that's fun.
"Some of the drawbacks, I would say, would be possibly making an unbalanced diet. Costs can come into play, especially with food prices going up."
Doing it right, Combs explained, means choosing research-based, veterinarian-backed recipes, which can prove difficult in today's internet culture, overflowing with recipe-blog and -vlog content.
One option is to find a recipe online that works with your pet's palate and request approval from your veterinarian. Combs recommends utilizing BalanceIt.com, a veterinary nutritionist-backed recipe creator.
"Balance It was something I learned about in school from our veterinary nutritionist who taught us," said Combs. "I think they've really done a good job with their website."
Users can select the desired ingredients, and Balance It will calculate proportions, providing exact measurements and directions. You can choose recipes designated for cats or for dogs and change specifications to fit your pet's exact needs.
"If there is any homemade diet, I would recommend using a supplement to make sure that you're getting all the micro vitamins and minerals that they need," Combs said.
She suggests a powdered multivitamin, which can be added to your pet's meal instead of administering a pill, and recommended Balance It's multivitamin powder.
Combs warns of risks that come with a raw diet, recommending fully cooked meals for pets to avoid salmonella and E. coli, which can result from uncooked meat and fish. Pets may not show signs of food-borne illness, but they can be carriers, transferring those infections unknowingly to their humans.
On the other end of the spectrum, a vegetarian diet can be risky, too. "It's very difficult to do correctly, and in cats, it's basically impossible," said Combs. "Cats are true carnivores and need meat protein. But dogs potentially can have a safe vegetarian diet. Combs suggested that pet owners work with a veterinarian nutritionist.
She also warned against using seasonings and flavoring ingredients. Many can be toxic to pets. And while others may be safe, pets have a heightened sense of smell and taste, so they are not necessary for palatability.
Foods to avoid include grapes, raisins, macadamia nuts, onion, garlic, chocolate, kabocha squash and anything containing xylitol sweetener. Xylitol can be a sneaky one. Be sure to check for it in ingredients lists on products such as peanut butter.
---
Apple Pretzels (for dogs)
As listed on the AKC website and recommended by Dr. Lauren Combs, medical director, Ox Bottom Animal Hospital
Ingredients
» 3 cups almond flour
» 1 egg
» 1 cup plain, unsweetened applesauce
Directions
Preheat oven to 350 F. Line a baking sheet with parchment paper and set aside. Beat egg and set aside. Mix applesauce and almond flour in a large bowl. Pour 1 tablespoon of the egg into a bowl and set aside. Pour the rest of the egg into the bowl with mixed ingredients. Stir the mixture until a dough forms.
Take a two-tablespoon-size piece of dough and roll into a cylinder. Turn each tube into a "U" shape, then twist the ends together and fold back to the top to make a pretzel. Place the pretzels onto the baking sheet. Brush the top of each pretzel with the remaining egg. Bake for approximately 25–30 minutes, until they're slightly browned and firm. Remove from the oven and allow to cool before serving.
---
Baked Chicken with Roasted Potatoes and Squash (for dogs)
Created using the BalanceIt.com recipe creator. Opt for human supplements in place of the Balance It Canine powder. This recipe provides 907 calories, which is enough for a daily meal. Use the "edit" option to change the batch size or pet specifications.
Ingredients
» 6⅛ ounces skinless, boneless chicken breast, baked
» 2–3 small white potatoes, unpeeled, baked
» 7¼ teaspoons walnut oil
» ⅜ cup butternut squash, cubed, baked
» 4⅛ teaspoons Balance It Canine powder
Directions
Measure or weigh and then chop large pieces. Ingredients should be cooked or prepared as indicated in the list above. Any large pieces should then be cut into bite-sized pieces. Combine all ingredients and mix well.
If batch cooking, mix in any heatable supplements before refrigerating or freezing. If using non-heatable supplements, mix them in after any cooking or reheating (heat degrades vitamins).
---